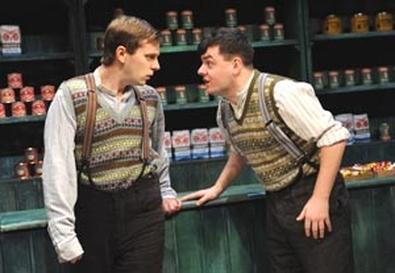 The characters in Martin McDonagh's stirring 1996 tragicomedy "The Cripple of Inishmaan" sometimes seem full of blarney as they trade barbs ranging from mildly sardonic to vicious, yet there's a sense of rueful desperation behind their exchanges, leavening the sting. McDonagh writes with keen insight into the heart and soul of the Irish culture, conveyed within the context of universal human truths. Director Garry Hynes' splendid touring production of the Druid and Atlantic Theater Company staging captures the play's full range of virtues, from uproarious characters to underlying pathos and ultimately despair.
The playwright's knack for spinning a good yarn, filled with twists and turns, is in full bloom here. In 1934 Ireland, the coastal town of Inishmaan is beset by poverty and ennui, until the news of a Hollywood filmmaking team coming to shoot a documentary—the real-life film "Man of Aran," by Robert Flaherty—stirs up excitement. Particularly anxious to be cast and break away from his woeful existence is the teenage orphan Billy (Tadhg Murphy), who has a seriously deformed leg and is the object of much derision by the local citizens. He whiles away his time gazing at cows and wishing he could be kissed by a girl.
Two shop proprietors who raised him following the deaths of his parents—the chatty sisters Eileen (Dearbhla Molloy) and Kate (Ingrid Craigie)—muse about who in the world would want to kiss him, though they also express their love for him. Billy pines for affection from arrogant local lass Slippy Helen (Clare Dunne), who has a mean streak, loving to belittle Billy and pelt her dimwitted brother Bartley (Laurence Kinlan) with eggs. Other characters include the town's rumor-mongering opportunist, spiteful JohnnyPateenMike (beautifully played by Dermot Crowley), caring for an alcoholic mother (drolly hilarious Nancy E. Carroll); and the sea captain BabbyBobby (the excellent Liam Carney), who takes Billy to the island of Inishmore, where the film is being cast. Paul Vincent O'Connor adeptly plays the outspoken local doctor.
Murphy strikes an ideal balance between humor and poignancy in portraying the gawky disabled youth. His depiction of Billy's physical defect is masterful, and his characterization is profoundly moving. Molloy and Craigie are nonstop delights as the eccentric sisters, and Kinlan is irresistibly funny as the brash, candy-obsessed Bartley. The superb Dunne makes a potentially vile character so wittily amusing that it's hard to despise her.
Francis O'Connor's gritty and wonderfully detailed sets—dominated by a rich shamrock green—and his authentic-looking costumes are terrific, and Davy Cunningham's finely textured lighting enhances the dramatic transitions. John Leonard's sound design and composer Colin Towns' original music add to the crisp atmospherics. Hynes and company have fashioned a richly entertaining rendition of a consummately crafted modern classic.
Presented by Center Theatre Group and Druid and Atlantic Theater Company at the Kirk Douglas Theatre, 9820 Washington Blvd., Culver City. Apr. 6–May 1. Tue.–Fri., 8 p.m.; Sat., 2 & 8 p.m.; Sun., 1 & 6:30 p.m. (Dark Sun., Apr. 10, 1 p.m.; Sat., Apr. 16, 2 p.m.; Sun., Apr. 24., 6:30 p.m.) (213) 628-2772. www.centertheatregroup.org.