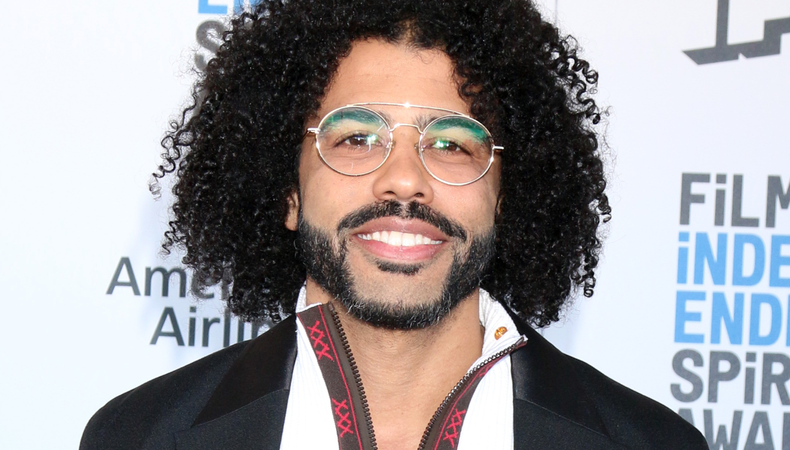 "In the Envelope: The Actor's Podcast" features in-depth conversations with today's most noteworthy actors and creators. Join host and Awards Editor Jack Smart for this guide on how to live the creative life from those who are doing it every day.
When Daveed Diggs advises his fellow artists to savor the early phase of their careers, he does so knowing full well how difficult that is; before he became an award-winning actor-writer-producer and singer-rapper-songwriter, Diggs would browse Backstage in New York City bookstores, too financially strained to purchase the magazine.
"It's a really special space—that you totally hate and take for granted while you're in the middle of it," he says with a laugh. "[But] there are some ways in which it is easier to be a creative person when you're not really making any money out of it. When there is very little invested in it, nobody tries to put restrictions on what you create.
"There's lower expectations on you, too," he adds. "Be fully creative and really experiment with things and then learn what your process is.... Keep pushing yourself and enjoying yourself and having fun and trying things and trying things and trying things because, at a certain point, people start restricting the freedom that you have to try those things."
Born in Oakland, California, and studying theater at Brown University, Diggs ventured into the music industry as a hip-hop artist and the theater industry as an ensemble member, honing his skills by adhering to the notion that a project is greater than the sum of its individual parts. "In order for me to be successful, I need to really be able to trust my collaborators," he explains. "When I do plays, I like rehearsal. I like performing, too, but rehearsal is where all the fun is."
That philosophy made Diggs a perfect match for what would become his big break: the game-changing Broadway phenomenon "Hamilton." While performing in regional stage gigs and touring with Marc Bamuthi Joseph's choreopoem "Word Becomes Flesh," Diggs worked with creator Lin-Manuel Miranda and director Thomas Kail on early versions of the founding fathers musical, helping develop his dual portrayals of Marquis de Lafayette and President Thomas Jefferson. The 2015 Broadway production, which won Diggs the Tony Award for featured actor, was last year released as a filmed version on Disney+, earning him a 2021 Screen Actors Guild Award nomination.
"More people saw it the first day [on Disney+] than probably will ever see it in a theater," says Diggs of the show's reappearance in pop culture's mainstream. "The reason it is the kind of success that it is is because everybody can see themselves in it and is given this opportunity to feel some ownership—over a thing that feels so not ours at times, like America."
Since "Hamilton," Diggs has expanded into several different areas of the biz, continuing to stay in touch with his raw creativity while balancing process and product. "I'm not particularly business-minded," he confesses, "which is why it feels weird to say that I chose anything as opposed to just continued to walk towards things that allow me to live close to the kind of life I wanted to live."
Those projects have included an array of musical collaborations, including his experimental hip-hop group Clipping, and working with writer-performer Rafael Casal, with whom he wrote, produced, and co-starred in the award-winning 2018 film "Blindspotting," which the two are now adapting into a spin-off series on Starz. Diggs also leads TNT's dystopian drama "Snowpiercer" and this year played Frederick Douglass on Showtime's miniseries "The Good Lord Bird." He stars on AppleTV+'s animated musical series "Central Park" and in Disney's Oscar-nominated "Soul," has appeared on "The Get Down," "Black-ish," and "Unbreakable Kimmy Schmidt," produced ABC's "The Mayor," and more. He'll next star in "The Starling" and a live-action remake of "The Little Mermaid."
What guides his path through such an eclectic mix of projects? "I love a thing that probably won't work!" he exclaims. "Especially in the bigger film and TV world, when you get those projects, to me, if you happen to really like one of those and it feels like a big swing that has a bunch of different ways it might fail, you've got to say yes to those."
Listen to more of Diggs' valuable craft and career advice at any of the podcast platforms below. Also featured in this episode is Elyse Roth, Backstage's senior editor, discussing the takeaways from the 2021 Oscar nominations. And casting insider Christine McKenna-Tirella's recommended Backstage notices of the week include a branded content video, indie TV drama, and Netflix original film series.
Listen now on:
Looking for remote work? Backstage has got you covered! Click here for auditions you can do from home!