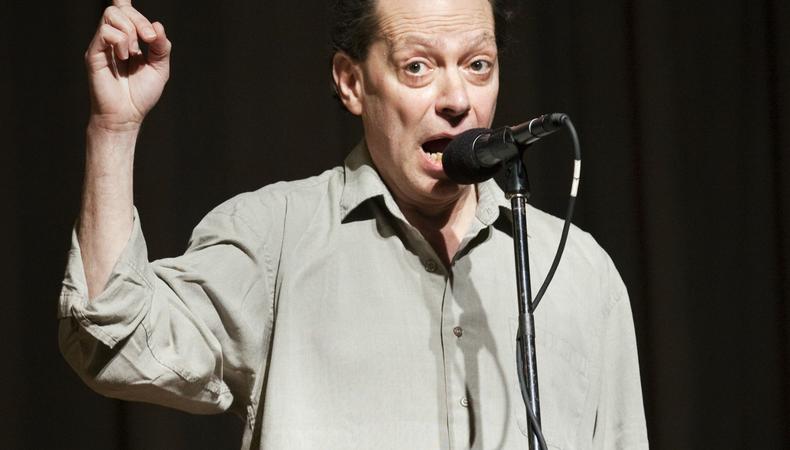 In "Helen & Edgar," storyteller–performance artist Edgar Oliver weaves together a patchwork of incidents from his rather gothic upbringing in Savannah, Ga. It was far from an idyllic childhood, but Oliver exhibits no rancor. Rather, the performer, in his exceptionally distinctive manner, seems to joyfully relish the telling of it—and the pleasure is infectious. There are hints of pathos, but the laughs far outnumber them.
Oliver is a favored performer of the Moth, an organization that puts together programs of personal histories from varied walks of life. Its offerings have been presented internationally and can be heard on public radio. Oliver's work is defined by his deep melodious voice, exaggerated diction, and extended vowels, with pronunciations that seem to come from another planet.
As he spins his tale, we learn how Oliver, together with his one-year-older sister, Helen, grew up under the dominance of their widowed mother, a deeply paranoid and eccentric woman. She warned her children to "Beware Savannah," he tells us early on, and to beware "other people" as well. "We are artists," she would say, insisting that other people would not understand them. When old friends came to visit, she chased them away by accusing them of listening to "vicious gossip" about her. The three all slept in the same bedroom, and roaches climbed up and down the kitchen walls. Almost all meals were eaten in restaurants. The above-ground swimming pool in the backyard was unused, and the murky water looked like it was inhabited by monsters. Family activities included reading a Ouija board, which warned that a killer was coming that very night and they should run from the house. As the siblings moved through their teenage years, an urge to escape their mother grew, and as Oliver winds things up, we're told how the two, instead of going to college, used trust money to take off for Paris without telling her.
Under the direction of Catherine Burns, the Moth's artistic director, the production is simply mounted. Some audience members sit onstage on either side of Oliver, who stands behind a microphone. The narrative is divided into five sections; between them, Oliver exits and re-enters, the lights dim and come up as an image is briefly projected on a back curtain (mostly paintings and presumably done by Oliver's mother, but we're never told what they are). On the downside, the narrative is so subtly sculpted that it can seem shapeless. Additional technical elements might give the presentation more of a forward thrust, but there's no denying that Oliver's persona makes for an enthralling show.
In a post-performance discussion, George Dawes Green, the show's producer and the founder of the Moth, assured the audience that Oliver's stories are totally unembroidered. If so, Oliver deserves congratulations, not only for his storytelling prowess but for surviving into adulthood.
Presented by the Moth at Theater 80, 80 St. Marks Place, NYC. Oct. 9–27. (212) 352-3101, (866) 811-4111, www.theatermania.com, or www.helenandedgar.com.
Critic's Score: B+