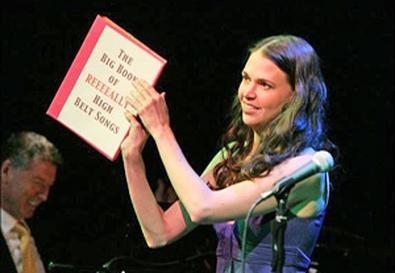 "I don't wanna encore no more/Keep 'em shoutin' for more no more/Disappear through the floor no more/I don't wanna show off." So croons actor-singer Sutton Foster in the delightful comic number "Show Off," which she originally sang when playing reluctant superstar Janet in "The Drowsy Chaperone." Yet one would hardly describe what the enchanting and unpretentious Foster does in her two-night concert vehicle as showing off. Talent like this owes no apologies.
After the career of this luminous performer entered the stratosphere when she won a Tony for her 2002 performance as Millie in "Thoroughly Modern Millie," she became the go-to gal when major Broadway musicals were being cast (including the aforementioned "Drowsy Chaperone," "Little Women, The Musical," "Young Frankenstein," and "Shrek the Musical"). In this "Evening," performing numbers that showcase the versatility of her singing voice and the breadth of her acting prowess—peppered by chatter that reveals her sparkling personality—Foster is bedazzling throughout the fast-paced 80-minute show. It's enhanced greatly by the crackerjack support of music director–accompanist Michael Rafter.
Foster quickly touches upon three of her Broadway shows in an opening medley about a girl new to the wonders of the city, in snippets of songs from "Millie," "Little Women," and a 1997 "Annie" revival, in which she played a bit part. After it appears that Foster is inexplicably going to bypass "Gimme Gimme," her smashing 11 o'clock number from "Millie," she pays that showstopper its due during her encore selections, to triumphant effect.
She offers other fine show music from Stephen Sondheim (a galvanizing "Being Alive" and a lovely "Anyone Can Whistle"); Jeanine Tesori (two lovely ballads from "Violet"), who composed songs for "Millie"; and Frank Loesser ("Warm All Over"). In a wonderfully spontaneous bit, Foster has an audience member draw one song title out of a can that includes five knock-'em-dead show tunes ranging from "Don't Rain on My Parade" to "Defying Gravity." At the reviewed performance, the selected song was "I Am Telling You," the explosive "Dreamgirls" lament. Foster provided a little funk, plenty of sass, and bombast to spare in her surprisingly amusing take on the iconic number.
Foster also smoothly navigates through a diverse assortment of other styles, including pop classics: Carole King's "Up on the Roof," John Denver's "Sunshine on My Shoulders," the offbeat "Air Conditioner" by Christine Lavin.
Beat the drums for the thoroughly irresistible Foster. A new cabaret star is born.
Presented by Center Theatre Group at the Kirk Douglas Theatre, 9820 Washington Blvd., Culver City. April 29-30. Thu.-Fri., 8 p.m. (213) 628-2772. www.centertheatregroup.org.