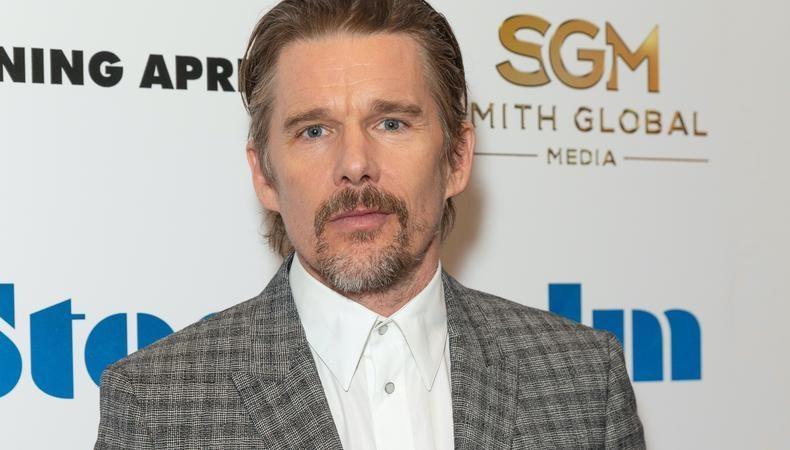 They say everything's bigger in Texas, and that includes the talent! Before they were big-name performers, many of the industry's best actors got their start in their Lone Star State hometowns. Here are 15 of them!
Matthew McConaughey
McConaughey attended the University of Texas at Austin, where he changed his major from law to film. After graduating, he worked on a number of student and short films in Texas, but found true success after being introduced to Oscar-nominated director Richard Linklater and landing a role in "Dazed and Confused." McConaughey went on to win an Oscar for his role in the 2013 film "Dallas Buyers Club."
Ethan Hawke

Although he spent much of his life in New Jersey, Hawke was born in Austin. The Oscar-nominated actor gained notoriety after starring in 1989's "Dead Poets Society," and recently starred in "Boyhood" as well as horror flicks like "The Purge," "Sinister," and "Sinister 2."
Renée Zellweger
Born in Katy, Texas, Zellweger is a Lone Star success story. After taking an acting class at the University of Texas at Austin, Zellweger auditioned around Houston, where she built up her acting résumé with credits including "Reality Bites" and "Empire Records." She went on to play the iconic titular character in "Bridget Jones's Diary," and won an Oscar for her 2004 performance in "Cold Mountain," opposite Jude Law and Nicole Kidman.
Eva Longoria
From Corpus Christi to Wisteria Lane, Eva Longoria obtained a degree in kinesiology (the study of human movement) at Texas A&M University before moving to L.A. and landing a spot on the TV series "The Young and the Restless." It preceded her breakout role on "Desperate Housewives" as Gabrielle Solis. She's continued her successful TV track with "Brooklyn Nine-Nine."
Jennifer Garner
Garner grew up in Houston as a ballet dancer. Graduating from Denison University with a drama degree, she moved to New York to pursue acting. Garner gained recognition for her role on the ABC series "Alias," for which she also won a Golden Globe. The established actor also appeared in the Oscar-winning films "Dallas Buyers Club" and "Juno."
Owen Wilson
This Dallas native's acting career kicked off after attending the University of Texas at Austin, and meeting and collaborating with the then unknown six-time Oscar-nominated writer-director Wes Anderson. The two eventually moved to Los Angeles together, and collaborated to write "Bottle Rocket," "Rushmore," and "The Royal Tenenbaums."
Chace Crawford
Now the star of the new ABC series "Blood & Oil," Crawford is a former Hollister model from Lubbock, Texas. Crawford made his acting career playing Nate Archibald on "Gossip Girl."
Jensen Ackles
Acting runs in the family for Dallas native Jensen Ackles. His father, Alan Ackles, is a film and TV actor, as well as a voiceover specialist. The Emmy-nominated offspring is known for his soapy roles in "Days of Our Lives," "Dawson's Creek," and sci-fi shows like "Smallville," and "Dark Angel," and most recently, "Supernatural."
Jim Parsons
Before winning multiple Emmys and a Golden Globe for his role as Sheldon Cooper on "The Big Bang Theory," Jim Parsons was a theater student at the University of Houston. After moving to California, and later New York, Parsons worked on several commercials and television series before finally landing his most famous role, which lead to his turn in HBO's Emmy–winning film "The Normal Heart."
Jennifer Love Hewitt
Born in Waco, Texas, Hewitt started her acting career as a Disney kid on "Kids Incorporated." Her most famous role in "I Know What You Did Last Summer" made her a '90s pop culture icon. Most recently, Hewitt played FBI agent Kate Callahan on "Criminal Minds."
Alexis Bledel
Before she was known as Rory Gilmore, Alexis Bledel's parents suggested she try theater in Houston to overcome her shyness. Far from a shy little girl today, Bledel is now known for her film, television, and theatrical career, and for her roles in films like "Tuck Everlasting," as well as the "Sisterhood of the Traveling Pants." She also had a three-episode role on "Mad Men" as Beth Dawes in 2012.
Patrick Swayze
This Hollywood icon was born and raised in Houston, where he took classes at his mother's local dance studio. Although he lost his battle with pancreatic cancer in 2009, Swayze made a lasting impact on the industry with his turns in films such as "Dirty Dancing" and "Ghost."
Debbie Reynolds
Born in El Paso, Texas, Reynolds' impressive film career took off with the 1952 classic "Singin' in the Rain." Just over 10 years later, she was nominated for an Oscar for her role in "The Unsinkable Molly Brown." In 2015, she was the recipient of the Lifetime Achievement Award at the SAG Awards.
Rico Rodriguez
Born in College Station, Texas, the "Modern Family" actor moved to L.A. when he was 6 to help his sister pursue her acting career. After getting bit by the acting bug, Rico Rodriguez enrolled in acting classes and made appearances on a number of TV shows before his breakout role as Manny Delgado.
Steve Martin
This funnyman was born in Waco, Texas, but relocated to Inglewood, Calif., at age 5. Today, he is known for films like "The Jerk" and "Shopgirl," in addition to Hul's hit series "Only Murders in the Building." Despite never being a cast member, Martin hosted "Saturday Night Live" 15 times. He held the record for most frequent host until 2011 when he was beat out by Alec Baldwin.
Inspired by this post? Check out our Texas audition listings!