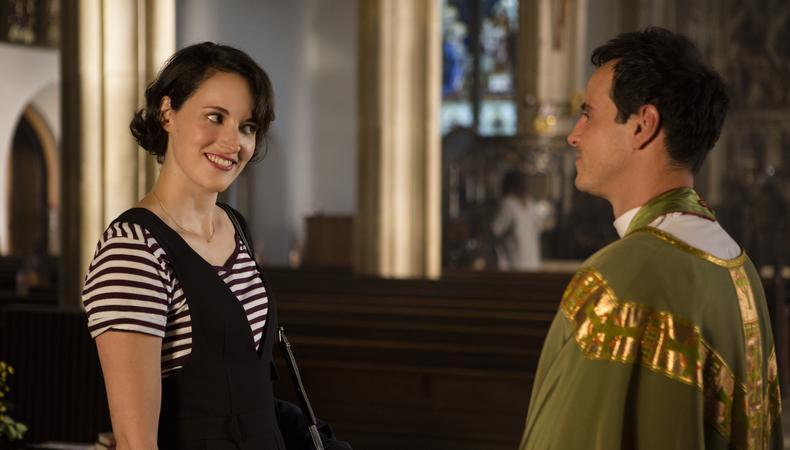 With this Year in Review, we at Backstage have picked through the weeds and found 2019's true gems of the best big- and small-screen ensemble work. And don't worry: We've got you covered with everything else you need to know this awards season right here.
Distributed by: Amazon Prime Video, BBC
Created by: Phoebe Waller-Bridge
Casting by: Olivia Scott-Webb
Cast: Sian Clifford, Olivia Colman, Hugh Dennis, Brett Gelman, Bill Paterson, Jenny Rainsford, Andrew Scott, Fiona Shaw, Hugh Skinner, Phoebe Waller-Bridge
Humble actors often palm off the credit for a great performance to great writing. But in the case of "Fleabag," it really is hard to discern where more talent lies: in Phoebe Waller-Bridge's pen, Andrew Scott's restraint, Olivia Colman's fake laugh, or Sian Clifford's side-eye. Yet even describing the subtle characteristics that make a fictional person appear real on camera feels reductive when looking at the work of this tremendous ensemble cast.
READ: Phoebe Waller-Bridge on Why—and How—Actors Should Create Their Own Work
"Fleabag" masked itself, in its first season in 2016 and the Edinburgh Fringe Festival play that preceded it, as a dark comedy about a hapless London woman known only as Fleabag, dealing with her sadness and crumbling self-worth with casual sexual encounters, deflective jokes (always witty ones), and a sky-high bar tab. But by the end of writer-producer-actor Waller-Bridge's second season, which dominated the comedy races at the 2019 Primetime Emmy Awards, this simple story evolved into a profound meditation on grief, purpose, and emotional bonds.
Early in Season 2, Fiona Shaw, making an appearance as a voucher-bought mental health counselor (rubbing lotion into her elbows, an award-worthy gesture itself) asks Fleabag if she's close with her family. Fleabag responds: "We get on with it." Much of the show's delight comes from watching them try.
At the top of the season, for instance, their forced joy at an engagement dinner feels familiarly uncomfortable, the actors believably balancing both the playfulness of the scene, its subtext-laden dialogue, and the escalation that ensues. It's a master class in using comedy for dramatic ends. Waller-Bridge shines brightest in these dual moments, her signature straight-to-camera asides somehow still getting laughs while deepening in nuance.
Coloring Fleabag's world as the members of her family are the caustic and hilarious Clifford as her sister, Claire; Brett Gelman as Claire's horrendous husband, Martin, a bumbling Bill Paterson as her father; and a pitch-perfect Colman as her conniving Godmother. And then, of course, there's the Priest. Scott's character is representative of a deep moral struggle, and the actor plays every note of that dilemma with gorgeous perspicacity, not to mention wondrously disarming charm—it's impossible to resist falling for him.
It's an emotional balancing act in six episodes, to which each actor contributes more than the sum of their parts. From one installment to the next, they get to play darkly funny—as when Fleabag, in a flashback, turns up to her mother's funeral looking accidentally gorgeous and Claire and Boo (Jenny Rainsford) are incredulous—then heartfelt—as in the exchange between Fleabag and "Woman in Business" award winner Belinda Frears (a wonderful Kristin Scott Thomas). "People are all we've got," Belinda tells her. And that's "Fleabag" at its core: a love letter to the people who see us.
At times, watching Waller-Bridge's story feels like watching magic, a sleight of hand trick that fools you into thinking you know the cards being dealt, until, suddenly, the color of the deck has changed and your name is inexplicably written across the two of spades. It becomes, somehow, personal: You know it's just a television show, but you can't help but feel it's much more.
This story originally appeared in the Nov. 13 issue of Backstage Magazine. Subscribe here.
Want more? Stay in the loop with everything you need to know this awards season right here!