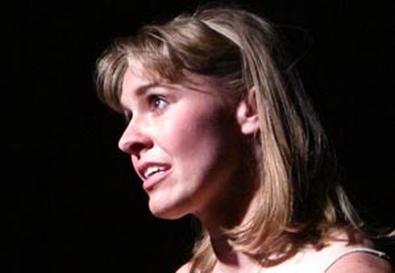 The title of Christina Cigala's comedy comes indirectly from "The King and I," wherein Yul Brynner's monarch sings of women being like blossoms, men like honeybees, etc. It's an apt simile for this slight yet beguiling study of a newlywed Christian couple who need sexual jump-starting—and the cosmetics salesperson who supplies it.
Welcome to Plano, Texas, where Tom, a youth pastor, and Anna, a dental hygienist, are at an essentially unconsummated impasse four months into their union. Nervously dogmatic Tom thinks the couple's bedroom issues are a matter of time and God's will. Anna, on the other hand, sees no contradiction in pursuing erotic possibilities within marriage while leading a devout life—not when those Hugh Hefner playmates on cable are having such fun.
In that, Anna correlates to foul-mouthed James, Tom's opposite-number brother, his attitudes at once politically incorrect and hilarious. Then one day, while Anna attempts to bend a spoon with her mind as a sign from God, enter Martha, a coolly hip Mary Kay representative. Between the free makeup demo and several mimosas, something clicks in Anna's mind—and other regions. To disclose more details would be sinful.
Author Cigala doesn't disrespect either Christianity, swinging, or Texans, but rather juxtaposes them, to screamingly funny effect. Director John Ennis stages each vignette of her sweet-natured parable with airtight economy, knowing just how far to push the envelope, and his charming cast follows suit. As Tom, boyish Joseph L. Roberts uses fine-tuned physical comedy and facial reactions to illuminate a self-deceptive do-gooder that Ned Flanders of "The Simpsons" might recognize. Marie Lively has a field day as Anna, attacking the character's wacky inner life and experimental glee with delightful abandon.
At the reviewed performance, understudy Amy K. Harmon impressively went on as Martha, her ace timing and tartly deadpan delivery hardly suggesting a fill-in turn. As plot pivot James, Ben Fuller's gimlet-eyed demeanor and raucous timbre, which recalls the emerging Gary Sinise, nearly steals the show. One could cavil about the play's brevity, except that it makes its case with coherent aplomb, as do the accomplished players, resulting in a more satisfying light comedy than many a long-form property provides.
Presented by the Brimmer Street Theatre Company at the El Centro Theatre Chaplin Stage, 804 N. El Centro Ave., L.A. May 6–June 4. Thu.–Sat., 8 p.m. (213) 290-2782. www.brimmerstreet.org.