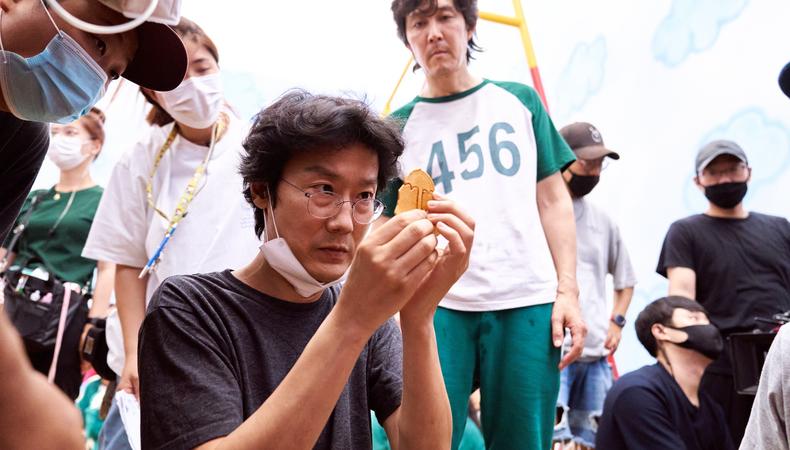 Greenlit means a project is officially a go, so all you have to do is follow these leads to stay up to date. You never know where you'll find an opportunity to land an audition!
From "Squid Game" to fame, creator Hwang Dong-hyuk will now chronicle the success of his series through a new satire. Want to learn more about this new project? Here's everything we know about the new satire, titled "The Best Show on the Planet."
The New Series Is Based on the Success of "Squid Game"
According to Deadline, "Squid Game" series creator Hwang Dong-hyuk is working on a new series. Hwang revealed that he is now developing a satire about the creation of his series. Currently titled "The Best Show on the Planet," the new satirical comedy "would be a reflection on 'Squid Game''s overnight success, based on his personal experience of being thrust into the limelight."
This is one of three projects Hwang is working on at the moment (and the one with the fewest details to reveal, as it is still in its earliest stages). The other two are "Killing Old People," a feature inspired by Italian essayist Umberto Eco and, of course, the second season of "Squid Game."
The hit Korean survival thriller became Netflix's most-watched series and highest-earning series—reaching more than 100M households faster than any other show in the streamer's history. "Squid Game" has gone on to win multiple top accolades, including Outstanding Performance by a Male Actor in a Drama Series for Lee Jung-jae, Outstanding Performance by a Female Actor in a Drama Series for Jung Ho-yeon (who has since landed a role on Apple TV's "Disclaimer"), and Outstanding Performance by a Stunt Ensemble in a Television Series at the SAG Awards and Best Supporting Actor–Television for O Yeong-su.
As we reported back in January, Netflix co-CEO and CCO Ted Sarandos has commissioned a second season for "Squid Game." Hwang has also confirmed that the series protagonist Lee Jung-jae and Front Man portrayer, Lee Byung-hun, would return for Season 2.
While you wait for more "Squid Game" and now "The Best Show on the Planet," learn more about the hit original series through its deadly production and set design, and check out our interview with Jung here.