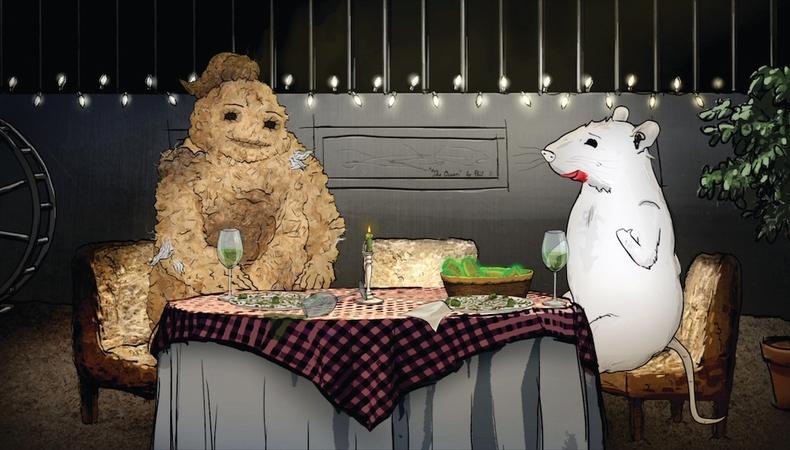 Most people don't get their big break inside an office supply closet, but Phil Matarese and Mike Luciano are not most people.
The minds behind HBO's acerbic and gritty animated series "Animals" were working at a New York City ad agency when they spotted a pair of pigeons perched outside their office window and were inspired to give them an internal dialogue. Matarese put the pigeons and their fabricated voices to visuals, and a web series began. Between the hours spent at their day jobs, the two created a 13-minute segment that went on to win top honors at the New York Television Festival. From there, it captured the attention of super producer team Mark and Jay Duplass.
"We took a Skype call with them in a supply closet of our ad agency," Matarese recalls. "[They] basically laid it out: We could pitch it right then with our 13-minute version of it…or [they'd] give us some money and we'd try to make this thing on our own independently."
Upon choosing the latter, Matarese and Luciano quickly bid adieu to their corporate gig; that, however, was when the real work began. The pair swapped coasts and holed up in a Los Angeles apartment, keeping their heads down and putting hour after intense hour of love and labor into "Animals" over the following months. With the Duplass brothers behind them, Matarese and Luciano screened two episodes of the series at 2015's Sundance Film Festival. That's when HBO sought them out to strike a deal.
READ: How to Get a Show on HBO
Now "Animals" is returning with its second season and continues to be unlike anything else on TV. A Saturday morning cartoon this is not. The half-hour comedy projects an urban dreariness and cynicism while humorously sympathizing with the wild rats and pigeons that call the concrete jungle home.
"The manmade-ness of New York City just became part of the aesthetic," Luciano explains. "These pigeons and rats are housed by concrete buildings and phone poles and wires. It's interesting to think about what these animals are dealing with, living in the most manmade place on earth."
"We always reference the tiny turtles they sell on Canal Street in Chinatown," Matarese adds. "Having that as the setting for a cartoon is not something we've seen before. Keeping it in the sewers, where we can turn up the hyperbole, keeping it on the rooftops—just all the fun nooks and crannies. We're not gonna go into the zoo."
Because the series is grounded in realism, it's essential that the voice acting for these animated creatures is authentic. "I hate cartoon voices," Matarese proclaims. "Inorganic is awkward, especially in comedy. Who wants to hear a fucking cartoon voice in a comedy? A lot of times people will come in with the big voice and we have to chip away at it and get to the truth of the person."
In order to reach that truth, both creators have found the most success by being in the recording booth with their actors. "We get what we want, and we're pointed with our direction sometimes," Luciano admits, even when working with talents such as Jessica Chastain, Aziz Ansari, and Molly Shannon in Season 1. "But we can push the actors to get to a place that's really fun and really natural and really themselves and uninhibited because we get them to a place of trusting us."
And that trust is important to seeing their vision through. Matarese says that he and Luciano have approached their work with a similar do-it-yourself mentality since the beginning. Without that (and some trust from the Duplasses) there would be no "Animals." He advises other aspiring creators to do the same.
"We did as much of it as we physically [and] monetarily could on our own," Matarese says. "[The more] you can create of your thing to present to people, the less they can interpret it incorrectly and not see your vision as well as you can."
Want to get cast in an animated series? Check out our voiceover audition listings!