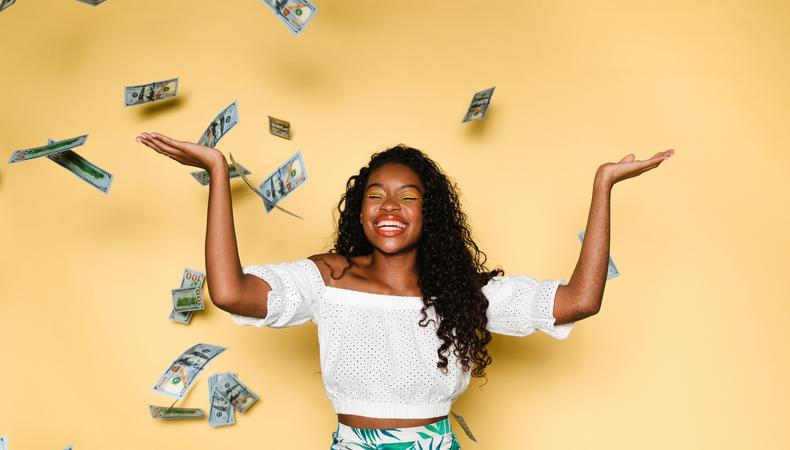 Whether you're appearing on the runway, on the biggest billboard in your city, or doing a commercial modeling shoot, knowing what you should earn is critical. Become a model with money savvy so you can know your worth and empower yourself in your career choices.
How do I make money in commercial modeling?
Commercial models are hired for everything from catalogs to editorial gigs. Commercial modeling is generally considered to include everything outside of runway and fashion magazine editorials. There is much more work available for people working in this field, so it's easy to do freelance modeling or work with an agent. The latter is recommended; however, many models network and use social media to find commercial jobs.
Both SAG-AFTRA and Equity negotiate basic minimums for their members, but there is no official union for fashion and commercial models. The amount of money you earn will vary regionally and from project to project. The bigger the city and the larger the client and campaign, the more money a commercial model will make.
What kind of pay should I expect from different types of commercial modeling jobs?
Commercial modeling jobs tend to pay well. Here's a typical breakdown:
Magazine, newspaper, and brochure ads:
Beginners and more experienced models alike can receive $125–$175 per hour, with a two-hour minimum for all jobs. In smaller markets, commercial models can earn anywhere from $25–$75 per hour. Plus-size and catalogs models will generally be paid the same hourly, half-day, and full-day booking rates.
Natalie Fletcher, the owner of nxt|Model in Colorado, says that most agencies take a 20% commission. Typically, taxes are not withheld from modeling gig pay, so it's up to you to budget for your yearly taxes.
Half-day vs. full-day bookings:
Typically, if a model is booked for a half day (four hours), they will gross $500, or $1,000 for a full day (eight hours).
Pharmaceutical and health-care modeling jobs:
This type of modeling typically pays the most. According to Will Ball, the founder and CEO of VIE Model & Talent Agency, pharmaceutical bookings depend on many factors. They can pay anywhere between $2,500 and $20,000. If the company asks for exclusivity from the commercial model, meaning they can't work for a competitor for a specific number of years, a bonus is typically paid to the model. It is not unusual for a model to receive a bonus of $3,000–$10,000 on top of the session fee for up to three years usage.
Editorials for commercial models:
These jobs are not advertising a product or company. Instead, the photo of the model helps explain the article. Since the publication doesn't make any money from advertisers, this is the lowest-paid type of job for a commercial model. According to Tom La Sala, an agent at Bella Models in New York, you can expect anywhere from $200–$500 for the day when shooting an editorial.
Billboards and other high-exposure formats:
If you're featured in an ad in a high-exposure format like a billboard, poster, on the side of a truck, or on the packaging of a product, you should receive a bonus on top of the session fee. Bonuses are given for potentially lost future jobs due to overexposure from a large format and noncompetitor bookings.
How do I negotiate a bonus as a model?
Clients usually pay a bonus if you are asked not to work for a competitor for a period of time. It is not unusual for a model to receive a bonus on top of the session fee of $3,000–$10,000 for up to three years usage.
Three things factor into how you can secure a bonus: usage (what is the format of the ad?), location (is it running regionally or nationally?), and the length of time the ad will run.
Ball says that the starting point for a high-exposure format is $1,000. If the billboard is running nationally, you can be paid anywhere from $5,000–$20,000. If the client wants you exclusively for one year, that could mean an additional $10,000 bonus.

If the year ends and the company wants to run it for a second year, the model could receive a 10–25% increase.
Aside from bonuses, look out for booking scenarios in which overtime becomes an issue. Fletcher charges clients overtime in full-hour increments if the modeling job goes beyond their booking time agreement.
How much money can I make as a fashion model?

A fashion model's main role is to promote high-end designer clothes. Want to get booked? You need the required statistics and the look the agency wants, live in an area where fashion model bookings run high (such as big cities), and have the skill set required to walk the runway.

Here are some types of fashion modeling gigs:
Runway Shows: According to Rodney Harris, the owner of Atlanta-based company Slamm Management, a new fashion model may not be paid at all for their work on a runway. You could earn between $200–$1,000, or, instead of payment, get to keep some clothing from the show.
Gabriela Pierantoni, the owner of Corestone Models, says experienced runway models could earn $500–$2,500 per show. Supermodels, on the other hand, could make up to $20,000 for a runway show.

Showroom and Fit Modeling: Pierantoni has found that her models earn anywhere from $95–$200 per hour, depending on the market and model's experience.
Editorial Fashion Modeling: Fashion editorial photos feature models wearing designer clothes. These run in publications such as Elle and Vogue. Some models take the job for free in order to build their portfolios and connect with great fashion photographers. Others with more experience can earn around $100 per hour.
It is common for beginner fashion models based in the United States to be sent to Europe and Asia to get experience doing editorial work. Sometimes, models stay abroad for up to three months, attending go-sees in the hopes of booking editorial work for international publications. Pierantoni says that, like those who do editorial work in the U.S., some models break even after their time overseas. Others could earn $2,500–$7,000 after expenses (such as agent fees and taxes). More experienced models can earn between $10,000–$25,000 while working overseas.
Making a living as a full-time fashion or a commercial model today can be challenging. Some companies pay influencers instead (people with a large social media following) to promote their designs. Some fashion magazines feature famous actors on their front covers instead of models.
Still, if you are truly committed to commercial or fashion modeling, use what you've learned and the experience you gain to keep pursuing your passion.