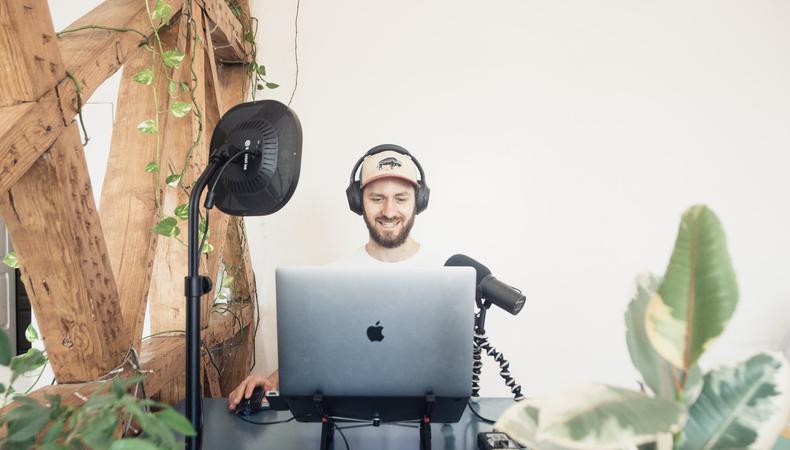 From remote viewing and production programs to no-contact studios-in-a-box, tech was already revolutionizing the way marketers and creators thought about branded content, but COVID-19 has led to even more cataclysmic change in the industry.
Largely due to pandemic-related roadblocks, branded content revenue for publishers is expected to be down this year between 20% and 40%, according to Digiday—but considering that up to 40% of digital ad revenue comes from branded content, you can bet that brands are adapting their branded content strategies in an attempt to make up the difference.
Now more than ever, content creators need to be tuned into the latest innovations to keep up with demand in a changing world. Here's how new technology is morphing the way branded content is created.
Mastering the tools of production: The Content Creation Stack.
Getting experimental.
As AW360 (Advertising Week's year-round editorial platform) points out, we're now in the "third wave" of the internet, which is ushering in tech like VR and AR, artificial intelligence, and voice. That means brands are no longer limited to screens—and those with the means are jumping on the opportunity to get creative.
Amazon, for example, is working with brands to create custom voices for their Alexa skills through Amazon Polly, a service the tech giant repurposed to "create custom voices for a specific brand based on recordings of voices of an actor or actress picked by the brand in partnership with Amazon," reported The Verge earlier this year.
Making user-generated content king.
Thanks to social media and editing apps, now more than ever, everybody and their mother has a platform, meaning they don't need to trust advertising—they can trust each other. Savvy brands are using this to their benefit by leaning into user-generated content (UGC).
Chris King, creative director at growth marketing agency Bamboo, told Backstage earlier this year that in the absence of a professional team, talent has been shooting their own content, leading to a rise in UGC. "What's really started to work during this time when we're all stuck at home is that people can see real people using [brands'] products," King told Backstage. "It's honest, and people can relate to a lot of it."
That level of authenticity is why microinfluencers are on the rise—and it's what will likely keep UGC in the branded content game for the long haul.
Bringing it all home...to stay.
It's no secret that COVID-19 has the vast majority of professionals working from home, to the point where Apple made a highly lauded three-minute spot about it over the summer.
But don't make the mistake of thinking the trend from in-person to remote is entirely temporary. Considering that a recent study found that many employees would rather continue working from home even after the threat of the pandemic has eased, and that another recent survey found remote work largely hasn't harmed productivity, odds are that these changes are here to stay—and the tech is here to make that possible.
Remote casting, for example, was already gaining steam pre-pandemic and has only accelerated in recent months. "We will definitely consider casting remotely in the future, based on the time efficiency and success we're seeing during this time," King told Backstage about his agency's future. "Ideas that seemed crazy a few months ago may be just the strategy needed."
How one production team has been producing almost entirely remotely.
Teaming up with the little guys instead of the giants.
When creating branded content, some brands are moving away from the big glitzy agencies in favor of more niche plug-and-play companies. Why? Because tech has transformed every stage of the production process: There are now plenty of smaller companies and tools that specialize in performing exactly what brands need them to do. Not only that, brands are finding a smaller, more personal approach to their brand messaging tends to strike more of a chord with today's audiences.
That's why Backstage created the Content Creation Stack, which keeps track of all that production technology so brands can produce a higher volume of content more efficiently at a lower price point.
"The emphasis of digital collaboration ingrained in the technology behind these tools promotes this shift we are seeing in production altogether, hiring out contractors for specific roles versus an agency giant," producer Megan Soh told Backstage. "This is a world built on efficiency, where the production process is cheaper, faster, and easier, with a higher output of high-quality content."
That's why, for many brands, the show must go on, even in the midst of a pandemic. The industry is adapting to find flexible, social-distancing-friendly ways to cast—including through Backstage's casting platform, allowing brands to post notices for remote auditions.

"Projects are still being made," Fabianne Meyer, casting producer at First Media US, told Backstage in May. "[The industry] is looking for ways to keep casting; it's about finding more creative ways to do it."