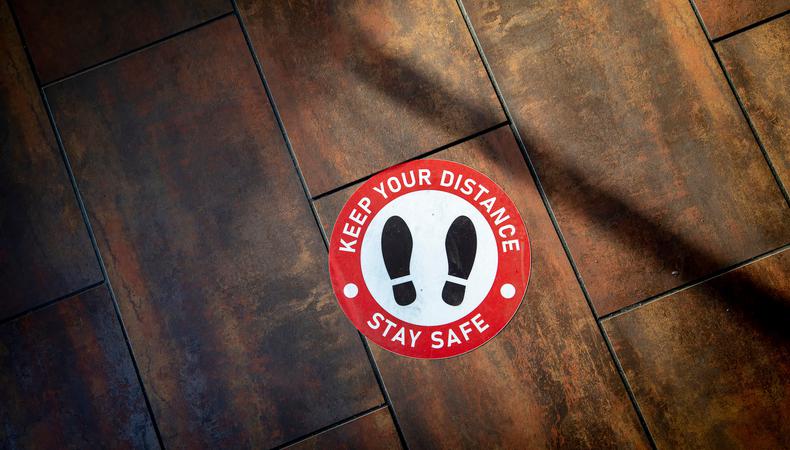 A new role emerged over the last 18 months in the entertainment industry: the COVID-19 compliance officer (CCO). As recent casting calls reflect, many screen and stage projects are requiring officers to enforce health and safety protocols—and will pay between $200 and $300 an hour. Actors and artists of various backgrounds are stepping into this new territory.
So how does one become a CCO, and what are the responsibilities involved? We turned to Jackie Crawford Matalon, who serves as lead CCO on union and nonunion films, series, commercials, and live events; Tony Toka, a filmmaker and production assistant maintaining COVID safety on sets; and Pamela Remler, who serves as the COVID-19 safety manager for Antoinette Chinonye Nwandu's "Pass Over," the first play to open in the new 2021 Broadway season.
What types of certifications do you need to become a CCO?
JCM: I'm certified with Safe Sets Level A and B for TV and film; Johns Hopkins health and wellness: COVID Compliance; Johns Hopkins contact tracing; and AEA [Actors' Equity Association] CCO for theater. Day to day, I oversee COVID compliance on set, order PPE [personal protective equipment] needed, and check vaccination and testing status.
PR: I am certified as a COVID compliance officer for film, but I got certified with Dr. Blythe Adamson with Infectious Economics for "Pass Over" to be a COVID safety manager specifically for theater. They are very different [industries] with very different needs, situations, and economic realities.
What are the day-to-day tasks of a CCO?
PR: The day-to-day is testing, contact tracing, [conducting] daily health checks on everyone that enters the building, checking the space to make sure air ventilation and all HEPA filters are working properly in every room and space, making sure protocols are followed in the building, scheduling and giving clearances to those needing to attend a rehearsal or perform, and keeping the stage door up to date with all clearances. No one can be backstage if they have not either tested in our PCR pool tests that we do four times a week or provided a negative PCR test result 24-48 hours prior to their day of work at the theater.
What's your best advice for someone who wants to become a CCO?
PR: The job is challenging, as you are juggling a lot as a department head. I would definitely recommend this job to a seasoned stage manager or company manager, as both of those jobs already understand the formula of production. That's not something you want to learn on the job.
TT: The most important qualifications for a CCO are patience and empathy. I practice meditation and it really helped me get over negative thoughts and feelings that I felt working as a CCO.
Has the distribution of vaccinations changed any of your responsibilities?
JCM: All the sets I have been on have conducted regular PCR testing and continued with social distancing and PPE. Nothing has changed since vaccinations.
PM: I think our industry [and] our theater owners are making the right decisions: leading the way with mandating [that] everyone be vaccinated and wear masks; and, for our show, PCR tests four times a week. With vaccinations, we can all begin to live a bit more.
TT: Once the majority of crew members were able to get vaccinated, I feel some productions dropped the ball and let their guards down. Some studios allowed no masks indoors and some productions stopped testing altogether. The Delta variant was the wake-up call and really checked our expectations of how long these restrictions will be in place.
What challenges do you see ahead?
TT: I find the biggest problem is using the phrase "when things get back to normal." This sets unrealistic expectations and will inevitably cause frustration and COVID fatigue. The COVID safety rules and precautions, and CCOs on set, is the new normal. We can't get back to normal, we can only accept the situation. And once we do that, we can move forward a lot smoother, easier and lighter in our lives, our goals, and our spirits.
JCM: We need to continue with all safety measures in place for the near future. Producers must not try to cut costs in the COVID department.
PR: I hope that soon we can move away from the need for such rigid testing and protocols, but until we reach herd immunity and more Americans and the world get vaccinated, we will have to continue to keep our artists and our theaters safe by testing, wearing masks, and following our protocols. I am optimistic, looking ahead. I feel that theater brings joy to people who are desperate to have it in their lives. So hopefully, the desire and the pull toward entering a theater to experience a great play is the reason [audiences] get vaccinated.
This story originally appeared in the Oct. 14 issue of Backstage Magazine. Subscribe here.
Looking for remote work? Backstage has got you covered! Click here for auditions you can do from home!