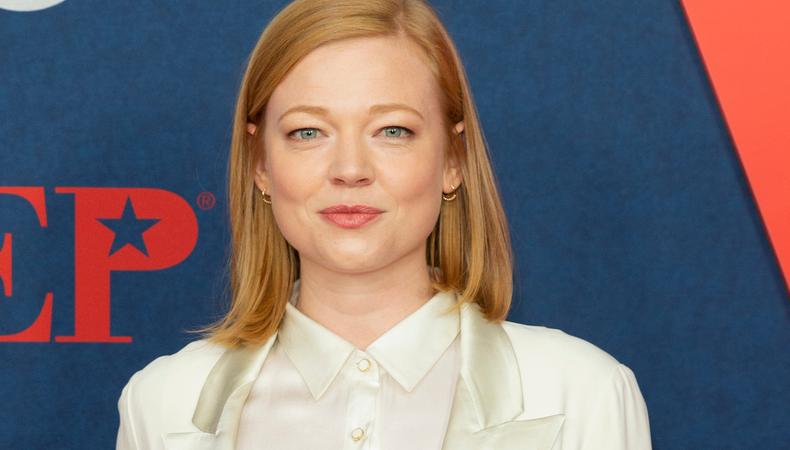 "In the Envelope: The Actor's Podcast" features intimate, in-depth conversations with today's most noteworthy film, television, and theater actors and creators. Full of both know-how and inspiration, "In the Envelope" airs weekly to cover everything from practical advice on navigating the industry, to how your favorite projects are made, to personal stories of success and failure alike. Join host and Awards Editor Jack Smart for this guide on how to live the creative life from those who are doing it every day.
Working actors everywhere can take Sarah Snook's advice to heart, particularly when it comes to the many rejections that follow auditions.
"It's not some fundamental core value or essential part of you that they're saying 'no' to," she tells Backstage. "They're saying 'no' for you in this character, for this moment, with all the many variables that you make up as an actor for this moment, for this character, for this time.... It's not because you're a bad actor or you're a bad person or you aren't very good or you'll never get a job. It's just 'no' for the moment. I think we take every 'no' to heart."
The Australia-born actor, who attended the National Institute of Dramatic Art in Sydney and worked in theater before splitting her time with film and television jobs in the U.S. (including "Sisters of War," "Predestination," "The Dressmaker," and "Jessabelle"), is perhaps best known to audiences as Siobhan "Shiv" Roy, the fabulously ruthless daughter of a media mogul family, in HBO's Emmy-winning hit "Succession." In her in-depth "In the Envelope" interview, Snook reveals her first impressions of Shiv, the keys it took to unlock the character, and how creator Jesse Armstrong and his writing team utilize improvisation and alternate dialogue to give the ensemble such vivid life.
She also remembers the moment that officially launched her acting ambitions: seeing her older sister play Peter Pan onstage, especially the flying. When a bed was tipped vertically, her sister laying across it as if soaring through the air, Snook thought, " 'Oh, my God. I didn't know my sister could fly.' This understanding of what reality was, that's a bed and then they can do that and then you could pretend to fly, but then also at the same time going, 'I can't believe she just knew how to do that, obviously she can fly!' "
That initial inspiration seems to fuel Snook's creative process; acting for her is about "where you as a person and a character meet, that imagined creation." Unlocking a character is about finding their vulnerabilities, their "cracks," as she calls them, and the most satisfying acting jobs involve roles she's grappled with, the ones she's "had to learn something from."
Her number one recommendation for getting into a character's shoes? Live life. "If you're a person who's never traveled outside of your hometown and are expected to play a character who grew up in Alaska in some oil field," Snook says, "your imagination can only take you so far.... Have experiences, go traveling, meet people. Fail in other areas so that you can bring it back to your work."
Of course, the topic of our global pandemic comes up as well, and Snook speaks candidly about her attempts at coping with the crisis. As she points out, most people working in creative arts industries know what it's like to live with uncertainty, both existential and financial. "You're employed for six weeks and then you're not for 12 weeks, and then you're employed for a day and then not. We're quite good at keeping ourselves busy or being used to volatility, I guess, where you don't know when that job is going through. And right now none of the rest of the world knows!"
Snook also recalls a distinctly gut-wrenching audition horror story—a self-tape rather than in-person audition. Both before and after the pandemic's disruption of Hollywood, self-taping remains an important, if grueling, tool in the actor's toolbox. "I remember doing my first self-taping the year after graduating," she says. " 'This sucks. This absolutely blows. Now I have to be conscious of myself? Now if I look at myself on tape and see all my flaws and mistakes? Oh, you're the worst actor ever, Sarah.' But I think that's a good thing in the end. It's like, okay, well, it's not as if no one else can see that when you're performing. That's kind of the point. You're afraid of revealing yourself? You're meant to as an actor."
Hear more of Snook's wisdom at any of the podcast platforms below. And with Emmy nominating gearing up, subscribe now and stay tuned for two "In the Envelope" episodes a week!
Listen now on:
Looking for remote work? Backstage has got you covered! Click here for auditions you can do from home!