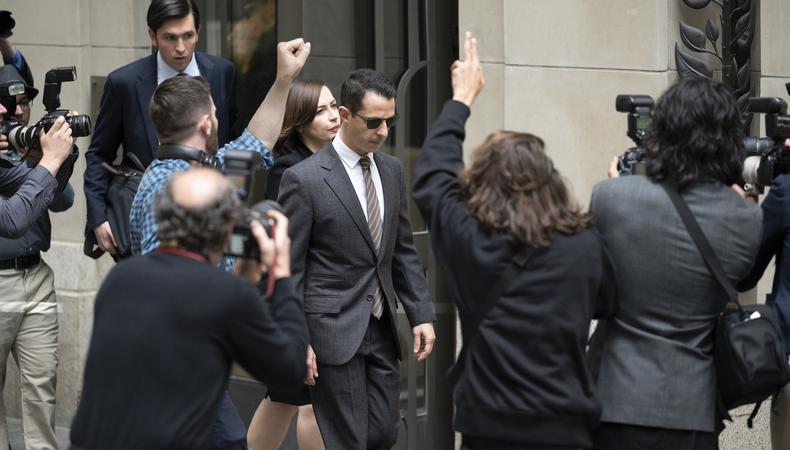 As we prepare for the 28th Screen Actors Guild Awards, Backstage is breaking down this year's film and television ensemble work for your consideration. For more voting guides and roundups, we've got you covered here.
Main cast: Nicholas Braun, Juliana Canfield, Brian Cox, Kieran Culkin, Dagmara Dominczyk, Peter Friedman, Jihae, Justine Lupe, Matthew Macfadyen, Dasha Nekrasova, Scott Nicholson, David Rasche, Alan Ruck, J. Smith-Cameron, Sarah Snook, Fisher Stevens, Jeremy Strong, Zoe Winters
Casting by: Avy Kaufman
Created by: Jesse Armstrong
Distributed by: HBO
Did any show this year generate as much buzz as the long-awaited third season of "Succession"? The drama about a family-run media empire is brutally funny and watchable. Showrunner Jesse Armstrong ("In the Loop," "The Thick of It") gives his actors plenty to work with, from intricate plotting to barbed-wire dialogue, and the cast elevates that material to dizzying heights.
The show orbits around the Roy family's imperious patriarch, Logan, an old-media mogul played with bad-tempered authority by industry vet Brian Cox. After fending off coups, Logan sets out to shore up his company Waystar Royco's holdings, ferret out whistleblowers, and puppeteer his adult children to his own ends. As his character veers from paranoid fury to schoolboy infatuation, Cox's craggy baritone and imposing presence suggest a man used to bending the world to his will from inside the prison of his own god complex.
But the emotional center of this series is "No. 1 boy"–turned-traitor Kendall (Jeremy Strong). A striving, self-sabotaging addict, Kendall is a brittle husk of a human being who's wracked with guilt following his involvement in a fatal car accident. Last season, he got the courage to stand up to his old man in his own bid for power. Strong's glassy eyes and faraway stare sell the vacancy of a man who's both a hilariously shortsighted, power-hungry scion and a lifelong victim of his father's ruthlessness. Strong is nothing short of revelatory.
Sarah Snook shines as the aptly named Shiv, who was once tapped by her father to succeed him as Waystar Royco's next CEO. But the succession's failure to manifest curdles her characteristic self-assurance into arrogant insecurity. Whether Shiv is talking a sexual assault victim out of testifying against the company or getting caught red-faced at the podium as Nirvana interrupts her over the loudspeakers, Snook is a master at modulating her body language and tone to signal empathy while hiding psychological manipulation.
Rounding out the central Roy siblings is Kieran Culkin's Roman. Long the so-called "fuck-knuckle" of the bunch, Culkin delights in slinging Roman's cutdowns; you can practically see his inner child operating the levers. The last two seasons have seen him mature beyond just playing the jester to reveal a budding business savvy. Culkin aptly highlights the neediness and doubt that come with being the runt of the litter.
Outside of that power-hungry trio, there are also Alan Ruck's outstandingly clueless Connor, Nicholas Braun's awkward Cousin Greg, and J. Smith-Cameron's deliciously dry Gerri. Perhaps most impressive is Matthew Macfadyen as Shiv's husband, Tom Wambsgans, a vain coward who punches down in order to soothe his impostor syndrome. Macfadyen imbues him with such interior turmoil that his heartless actions are, at least, understandable.
Watching these actors and the rest of the excellent ensemble bounce off each other is a pleasure. Always in lockstep with Armstrong's sardonic-yet-serious perspective, they turn every interaction into a Rorschach test of sincerity versus ulterior motives. To make a roiling viper pit of today's ultra-wealthy so compelling is no small feat.
Want more? Stay in the loop with everything you need to know this awards season right here!