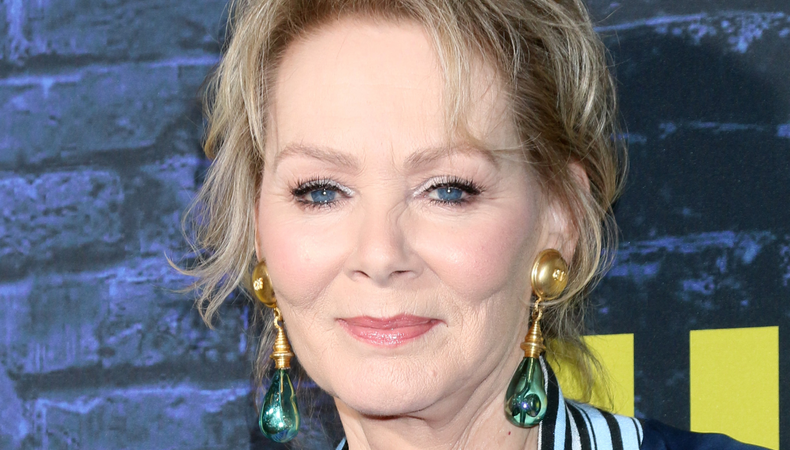 "In the Envelope: The Actor's Podcast" features intimate, in-depth conversations with today's most noteworthy film, television, and theater actors and creators. Full of both know-how and inspiration, "In the Envelope" airs weekly to cover everything from practical advice on navigating the industry, to how your favorite projects are made, to personal stories of success and failure alike. Join host and Awards Editor Jack Smart for this guide on how to live the creative life from those who are doing it every day.
"Who knew at this stage of the game I was going to become an action hero?," says Jean Smart, laughing wryly. Since starry-eyed beginnings studying theater in her home state of Washington, there's little the three-time Emmy Award–winning actor hasn't taken on, from silly sitcoms to dark dramas. But holding up a bank and gunning down a masked vigilante within moments of her introduction as FBI agent Laurie Blake on Damon Lindelof's limited series "Watchmen," she's proving how much more she has to show.
"Lots of times I'll read something and I just instantly hear [a character's] voice," Smart says when asked during her "In the Envelope" interview about taking on roles. That was the case with Floyd Gerhardt's steely menace on Season 2 of "Fargo," and Laurie Blake's bone-dry sense of humor on "Watchmen," roles that have earned Smart her eighth and ninth Primetime Emmy nominations. (Her 2020 nod for "Watchmen" is one of its 26, the most of any series.) Other times, she admits, making the material work presents a tricky actorly challenge. "If I can't hear the character's voice in my head—literally hear it—then I think, OK, this is going to be a little tougher."
What should actors do when it feels difficult to connect with a character? Smart recommends open communication with writers and directors, but only after being honest with yourself. "If I get to some dialogue and I just think, That doesn't sound right, I have to stop and question myself and say, 'Well, is it not comfortable for you, or natural? Or is it not natural for that character?' "
It's the kind of pointer that only an actor with Smart's breadth of experience could provide; her breakout role as the naive Charlene Frazier on "Designing Women" was followed by "Overkill: The Aileen Wuornos Story" as the titular serial killer. In addition to Emmy-winning work on "Frasier" and "Samantha Who?," she's stolen the show on "24," "Fargo," "Legion," in "Sweet Home Alabama," "Garden State," and "A Simple Favor," and on Broadway, earning a Tony nomination for "The Man Who Came to Dinner."
Playing enough vastly different characters to avoid pigeonholing in Hollywood is no easy feat. "Sometimes you're making purely a business decision, but other times you're making a decision totally from the heart," she says of her path. "I have very few regrets about decisions I've made of either things I didn't do or did do.
"The thing I've learned is, especially as an actor, to constantly beat yourself up and think, Why didn't I do this? Why didn't I do that? Why did I do that? Everybody feels this way. Regret is the worst feeling in the world. It's so non-productive and so unhealthy. All you can do is tell yourself, 'I made choices. At the time, I made them for a reason and I'm not going to regret it. I'm just going to decide that I'm right where I should be.' "
Smart has plenty of other advice for her fellow performers, from preparing for an audition or acting job ("Research is great up to a point, but then if it gets in the way or if it conflicts with the script, then that's not helpful," she says) to the importance of hair, makeup, and costuming ("There's a lot to be said sometimes for working from the outside in"). Ultimately, she says, taking on a character requires anything and everything at an actor's disposal: "It's whatever gets the job done."
As for life in lockdown amid a pandemic, Smart reminds us that "this too shall pass." Since production has halted on her next project, HBO's "Mare of Easttown" opposite Kate Winslet, she's focused on cooking and being a good neighbor. "Make a list of the books you've always wanted to read because there's nothing like a great book that will take you a million miles away," she recommends. "Try to take the chance to really pay attention to your health, really notice what makes you feel relaxed, really notice what makes you feel good." To hear more, tune into Smart's interview wherever you listen to podcasts.
Listen now on:
Looking for remote work? Backstage has got you covered! Click here for auditions you can do from home!