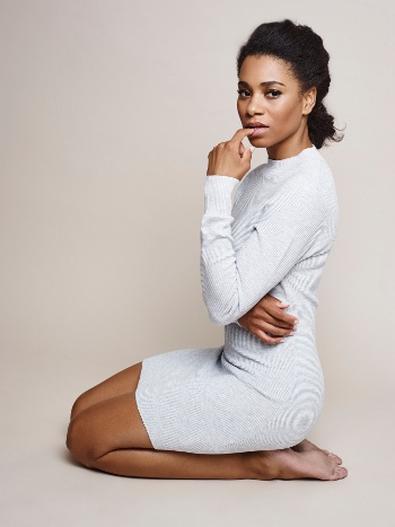 Newcomer Kelly McCreary has already stolen our hearts as "Grey's Anatomy" cardiothoracic surgeon Dr. Maggie Pierce. As Meredith's neurotic half sister, Season 12 has her grappling with the cards she's been dealt.
On being cast in "Grey's Anatomy."
"I came on in the very last episodes of Season 10, so that's when the character interviewed for the job and was then introduced as Ellis Grey's daughter. When I auditioned, all they told me was that the character might recur a little bit into Season 11; they did not tell me it was Meredith's sister and there was long-term potential. I had no idea the scope of it in terms of how [she] fit into the mythology of the series. Her character ties into a lot of things that have already occurred in these people's lives."
On filming Season 12.
"I've really been enjoying exploring Maggie's neurotic, existential, meltdown side. It's allowed for so much humor and so many really fun moments to play. Maggie first came across as all business. To watch her process the world while she's kind of melting down on the inside—I don't know that she means to be funny, but it is really funny."
On finding catharsis.
"[Maggie's meltdown is] really fun and cathartic, actually. It's very energizing. Just like in real life, I think when you put your finger on what it is that has been causing you stress or that you've been repressing, when you actually have a chance to release it, it enables you to free yourself from that stress. As an actor, that's what I've been experiencing."
On putting her work first.
"One of my very first episodes on the show was an episode that centered on Maggie. She was literally on every single page of the script. I think the workload itself was too daunting to be worried about anything else. It felt like doing a one-woman show in a week's time. There was just too much work to be focused on anything like fitting in and being liked by the cast or the crew or even the audience. It was like, I just have to figure out who this character is and figure out how to tell this particular story."
On the series' lasting appeal.
"[These characters] started out as very complex people whose behavior was maybe unexpected for TV, but very, very human. I think that the audience immediately connected to that and that initial ensemble. The audience gets to see their best and worst sides reflected back at them. There's a lot to learn about the world and through these characters, once you've spent so much time with them, you just want to keep spending time with them, 'cause you feel you like you know them. You're invested."
Like this story? Read more of our Spotlight On interviews!