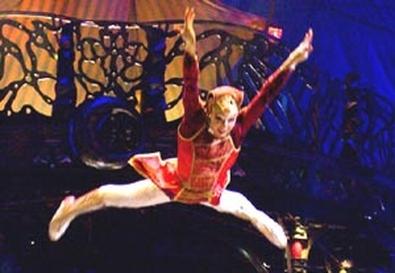 The creators at Cirque du Soleil maintain consistently high standards of inventiveness and execution. With their new show
Kooza
, they prove that simple can also be sensational.
Billed as a return to Cirque's origins,
Kooza
focuses on two key circus traditions: acrobatic performance and the art of the clown. Shaking off the pretensions of shows like
Alegría
and the Beatles-inspired
Love
, the show uses a simple but evocative framing device: A young, innocent boy (Stéphan Landry) is out flying a kite and meets a Trickster (Adam Mike Tyus) who introduces him to a variety of marvelous new characters and adventures. That includes a king (a terrific Gordon White) and his two foolish footmen (Christian Fitzharris and Manon Gauthier) and a pickpocket (Lee Thompson). The boy also encounters a marvelous mix of performers doing everything from mind-blowing contortions to more-traditional stunts like tightrope walking, trapeze, and assorted acrobatics—on steroids.
The show has been written and briskly directed by David Shiner, who brings a nice balance of bawdy fun and touching emotion to the performances. A highlight includes the New Orleans–tinged skeleton dance choreographed by Clarence Ford to a vivacious score by Jean-François Côté. The magnificent array of colorful costumes, which serve the dual purpose of being both functional and eye-popping, were designed by Marie-Chantale Vaillancourt.
With
Kooza
, the Quebec-based troupe adds another success to its long line of entertaining spectacles.
Presented by iShares at Randall's Island Park, NYC. April 23
–
June 21. Tue
.–
Thu
.,
8 p.m
.;
Fri. and Sat
.,
4 and 8 p.m
.;
Sun
.,
1 and 5 p.m
. (
No performance Tue
.,
May 12
.) (
800
)
450-1480 or www.cirquedusoleil.com. Casting by Line Giasson
.