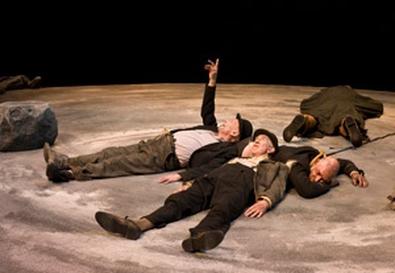 Can the depiction of monotony become riveting? One only has to view a finely wrought production of Samuel Beckett's absurdist masterpiece "Waiting for Godot" for an affirmative answer to that question. Without making any attempt to reinvent the wheel, director Michael Arabian, an unerring five-member cast, and a gifted design team have revisited the 1953 classic, bringing a sparkling vitality to Beckett's perpetually relevant exploration of the inescapable mysteries and anxieties of our journeys through life.
In this consummately crafted rendition, a strong sense of human connection leavens the themes of desperation at the play's core. As the title suggests, life is perhaps in many ways a waiting game: from birth to death, from sunup to sundown, from confusion to enlightenment. But human interaction remains tangible, a point that's evident in the understated but palpable bond between vagrants Estragon (Alan Mandell) and Vladimir (Barry McGovern), which evokes robust humor and warmth. Mandell's sweet-spirited Estragon moves stiffly and cautiously and barely speaks above a whisper. The vulnerability he projects makes him very endearing. He is clear in his basic needs: for example, a preference for a pink radish over a black one. The far more agile Vladimir is restless and becomes preoccupied with intellectual musings but doesn't neglect Estragon's requirements.
Both actors nail the rhythmic quality of Beckett's dialogue. They also deliver Beckett's repetitive lines and phrases with subtle shifts in intonation and emphasis, bringing irony and added clarity to the words. Beckett's charming vaudevillian segments—such as an ingenious bit about the passing back and forth of hats and Vladimir's ditty about a bread-stealing dog—are performed with panache. Arabian smartly avoids overemphasizing the baggy-pants flavor, which can become indulgent. The director's instincts in providing the proper milieu are likewise spot-on. The play's mystical setting is beautifully established by John Iacovelli's eerie but lovely set design and Brian Gale's awe-inspiring lighting and projections. Christopher Acebo's costumes have an appropriately timeless feel.
As the bombastic and brutish Pozzo, who first enters with his human slave Lucky (Hugo Armstrong) tied to a rope like a dog, James Cromwell gives a forceful portrayal. During the first act Cromwell deftly illuminates two sides of Pozzo's nature: his gross mistreatment of Lucky and his cordial attitude toward Vladimir and Estragon. In the second act, after Pozzo has lost his sight, he's more enlightened but embittered, acknowledging that misfortunes can occur in life, ultimately leading to a date with mortality. As the subservient Lucky, Armstrong is mesmerizing during a bizarre stream-of-consciousness monologue in which he is forced to perform for the other characters. LJ Benet gives a credible turn as a boy who comes to inform Vladimir and Estragon that the elusive Godot, whom they keep waiting to meet, is on his way. Appearing at the conclusions of both acts, the boy claims each time not to have been there before. This underlines Beckett's themes about life's repetitive occurrences and the seeming intangibility of time. Thankfully, everything about this gorgeously staged and flawlessly acted production is grounded in the reality of first-rate theater.
Presented by Center Theatre Group at the Mark Taper Forum, 135 N. Grand Ave., L.A. March 21–April 22. Tue.–Fri., 8 p.m.; Sat., 2:30 and 8 p.m.; Sun., 1 and 6:30 p.m. (213) 972-4400 or www.centertheatregroup.org. Casting by Erika Sellin.