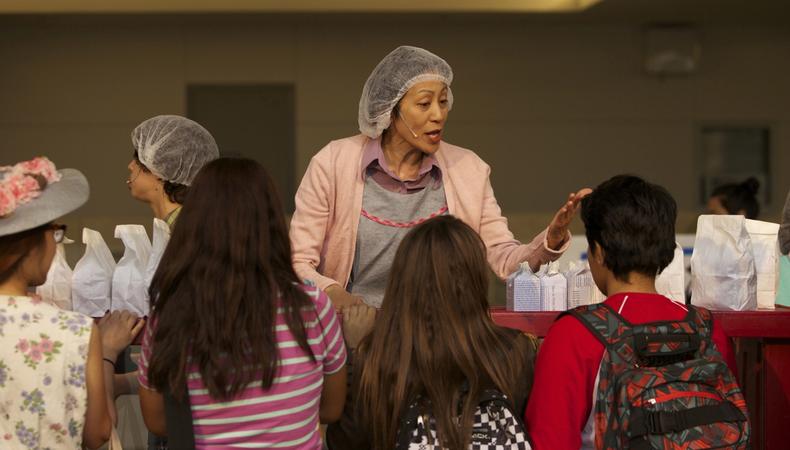 "Wake up!" the company of Cornerstone Theater Company's "Lunch Lady Courage" yells toward the end of the show. But by that point you've already woken up. The cast of local teenagers, community members, and professional actors revives old material to tackle modern social issues and creates something that is relevant, memorable, and moving.
In this world premiere, playwright Peter Howard twists Bertolt Brecht's "Mother Courage and Her Children" to fit inside a Los Angeles public high school. But our heroine isn't caught in medieval wars of religion like her Brechtian counterpart; she's fighting modern social battles: obesity, income inequality, and slashed public-education budgets. She arrives at the crowded school with her three children and a mission for change. She wants the students to make healthy choices, to work hard, and to take off their hats in the cafeteria. A chorus of hair net–wearing cafeteria workers guides us along through the passage of class periods and semesters. As Lunch Lady Courage's son, Queso (David Toledo), struggles to read Brecht's original work for a book report, his assignment reminds us of the original play's themes. Brecht's symbolism doesn't translate to the schoolyard perfectly, but more often than not the adaptation is spot-on and powerful.
Director Chris Anthony pays homage to Brecht's penchant for nontraditional theater. "Lunch Lady Courage" is staged in a real high school, with the first scene played outdoors and the rest in the auditorium. Anthony's staging is fun and creative. The scene in which students sneak bags of Cheetos to one another through the school hallways, swaggering like stars of a mod spy movie, is particularly enjoyable. The musical interludes are a bit weak but help to keep things varied.
Brecht is challenging material, so it's impressive that many of the actors are making their theatrical debuts. The cast features several students from Los Angeles High School of the Arts, as well as a real LAUSD cafeteria worker and a handful of professional actors. The mix makes the show feel earnest and genuine. In the title role, Page Leong is a mighty force. She rides in atop a wheeled food counter with the stance of a warrior and maintains that stubbornness throughout the play. As a dedicated teacher who keeps getting pink slips, Banhi Turpin offers convincing tough love and frustration. As nature enthusiast Mia, Arely Diaz-Loza gets laughs for her emphatic declaration "This school could learn a lot from worms!" Michael Mejia is charming as resourceful student Diego, selling contraband tortas out of his backpack. Overall, the students in the cast perform with confidence, speaking to strong direction and their own talents. Once opening-night jitters wear off, the acting will likely become even more polished.
Cornerstone Theater and the Los Angeles High School of the Arts have created something different and thought provoking with "Lunch Lady Courage." Calling out society's injustices over plastic lunch trays, these students prove they have a lot to teach.
Presented by Cornerstone Theater Company and Los Angeles High School of the Arts at Robert F. Kennedy Community School's Cocoanut Grove Theater, 701 S. Catalina St., L.A. March 28–April 13. (213) 613-1700 or www.cornerstonetheater.org.
Critic's Score: A-