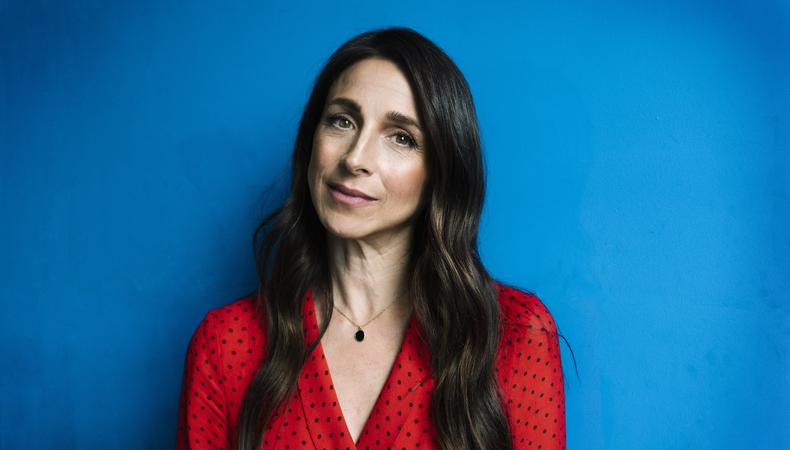 The following Backstage Live was compiled by Backstage readers just like you! Follow us on Twitter (@Backstage) and Instagram (@backstagecast) to stay in the loop on upcoming interviews and to submit questions live on camera.
Marin Hinkle, who plays matriarch Rose Weissman on Amazon Prime's Emmy-winning "The Marvelous Mrs. Maisel," wasn't always on top of the world. In fact, before booking "Maisel" opposite Rachel Brosnahan, Alex Borstein, and Tony Shalhoub, the longtime stage and screen actor hadn't worked for over a year and was even close to losing her health insurance. But thanks to creators Amy Sherman-Palladino and Daniel Palladino (and a scene-stealing, globetrotting character arc on Season 2), Hinkle is nominated for her first Emmy Award this year. She recently sat with Backstage to dish on it all.
Her advice to actors without an agent might sound familiar…
"My honest-to-god only way in was to read Backstage. It was my daily thing. I sat there circling, and then I would also buy American Theatre magazine. I'm sure there's so many things online now, but at that point, it was the way in which I got to see all the regional theaters, what they were doing, and I would circle the plays. I would go to the drama bookstores [and] would read all the plays that had just come out, the new works. You would go see all the new plays to find roles you thought were right for you and then know that they were gonna be done regionally. Then I would call up and write letters to be a casting director's assistant where I could be a reader for the people coming in, and then I secretly hoped, at the end of the day, the casting director [would be] like, 'Maybe you can read for the roles, too.' Once in a while I did that, and I actually ended up getting a role, and that led to the Equity card, which then led to doing a lot of Equity shows out of town, which led to an agent seeing me in all those because they represented people I was working with. And then one day it was J. Michael Bloom, an agency at the time, that I called up; it was like a cold call, I was shaking and was like, 'Would you be able to take me?' And someone got on the line: 'Yeah, let's give it a shot.' I wanted bells to go off because I thought, How come this just worked? But it took three or four years of pounding the pavement, reading Backstage, going on all the auditions, asking to be a reader."
READ: How to Get Cast on 'The Marvelous Mrs. Maisel'
Channel people you know into your roles.
"[To become Rose], I think a lot about women in my life, whether it's my mom or my mother-in-law, or I had this dance teacher, or I had the head of [Graduate Acting at NYU] Zelda Fichandler—all these women that were fierce trailblazers, all these women that knew to trust their own instincts and put their insecurities aside. I try to find them, and then enter. I'm a much more nervous, maybe kooky, fragile person; but Rose has this strength about her, and that's the way I try to look toward that."
Don't be afraid to dress the part.
"For the ['The Marvelous Mrs. Maisel'] audition, I actually didn't quite know what I was doing, and I thought, You know what? I'm going to embrace the period and go rent a wig. And then I went to a costume shop that does theatrical stuff. Actually, the character description when Rose enters was: 'She enters the room as if in an MGM musical.' I think she even said something about a feather boa. So I went to this costume shop, I got these two pieces, and I took one off with a feather boa and this beautiful robe that I think was like a queen from 'Snow White' or something, and I embraced it in a way that you would for a theater audition. So I went to the [San Fernando] Valley in California and the [casting director] put me on tape, and that's all I did. Then the next thing, maybe about a month or two later, I heard I could be flown to New York and I could meet Amy Sherman-Palladino and her husband, Dan, and then we met. I'm sure there were a lot of people still up for the role, so I flew back and I was like, I'm sure I didn't get it, and then I get another phone call saying, 'You gotta fly back again.' So I entered the room with about four different costumes, tried on all of them—wore a lot of them in the audition, even. I actually exited the room and said, 'Can I take a moment?' Then I changed because I wanted to…show them a different look, a more regal look, and then I got the role…. I do feel for auditions, don't hold back. If you feel the character should have a glass of wine, bring in something that looks like wine and a glass and actually sit it there and drink. It makes you feel like you got the role, inside you."
READ: How Rachel Brosnahan's Costumes Help Her Become 'The Marvelous Mrs. Maisel'
Even Tony Shalhoub gets nervous sometimes.
"I lose my lines sometimes on set and I suddenly find myself covered in sweat and heart palpitations. But I guess the only thing to do is to forgive yourself and to say, 'You know what? Everybody, everybody, even the Meryl Streeps or the Cate Blanchetts or whoever, probably has these deep insecurities.' And just allow yourself to know that it's OK. Tony Shalhoub, he's a hero. But he has days in which things are harder, and he does the same thing. He bucks up against, like, 'Wow, how am I gonna move through this?' And he just sort of breathes and he's like, 'OK, here we go.' You just have to be your own cheerleader."
This story originally appeared in the August 22 issue of Backstage Magazine. Subscribe here.