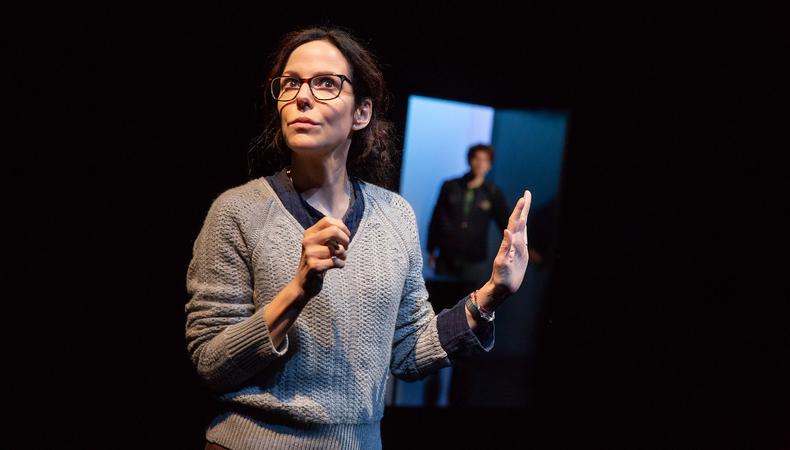 "She just came up to me and said, 'I want to eat stuff,' " recalls playwright Adam Rapp.
He's discussing Mary-Louise Parker, who stars in his two-hander "The Sound Inside" on Broadway at Studio 54. Parker's instincts for her character—a literary professor at Yale who receives a grim cancer prognosis—and more specifically, her character's at-once voracious appetite, is precisely descriptive of the actors Rapp seeks; those who make his words vibrate off the page.
"I'm more interested in finding the right creature for the role than the extremely skilled observatory actor," says Rapp, whose play "Red Light Winter" was short-listed for the Pulitzer Prize in 2006 and who makes his Broadway debut with "The Sound Inside." "I believe in my ability to get a performance out of somebody, and as long as I know the person is a good citizen, that they'll show up, that they're not going to be difficult to work with—if I can get a sense of that from the audition or the callback or the second callback, I definitely would rather choose the guy or the woman who is the right creature for the role and not just the person who has a longer résumé."
READ: How to Get Cast at the New York Theatre Workshop
All of the above is true of Parker, who stars opposite newcomer Will Hochman in the stark piece and who's been attached since its world premiere at Williamstown Theatre Festival in 2018. And the Tony Award winner, Rapp insists, has been as seminal to the play's narrative and structural development as he or its director David Cromer.
"She's one of the most intelligent actors I've ever worked with, and I think her instinct as a writer gives her a sort of dramaturgical skill that not a lot of actors have," he explains. "She had such an instinct for where the play was hollow and where the play wanted another moment, where it wanted more depth. Sometimes it's just another line or an added image to a phrase. Obviously, they're all my words in there, but whenever there was something that needed to be discussed, she was incredibly articulate about what she felt needed to be there."
Generally, Rapp adds, an actor's dramaturgical contribution to his plays is helpful when it is in fact in service to the broader piece. Those in pursuit of a self-centering "moment," however, will be sniffed out. "I'm going to want someone who's going to have intelligent questions about where a character's heading who's invested in table work, not just coming in to tear up the scenery," he explains. "I want the right creature—but I want someone who is going to respect the text."
And just as actors have to trust the words their playwright has put on the page, Rapp has to trust the actors who are interpreting them; a learned collaboration he worries falls too frequently by the wayside with emerging writers. To that end, like many theater-makers who've made their way to the main and mainer streams, Rapp considers his work on the frays foundational.
READ: Don't Call 'Slave Play' Scribe Jeremy O. Harris a Genius
"A lot of young playwrights are taught to sort of go in and protect your play, and I think that is important, but I think you also have to develop the skill to listen and identify who the intelligent actors are, [those] who have dramaturgical instincts," he says. "With all the training I did Off-Broadway and Off-Off-Broadway, I think what that allowed me to [gain] was trust for actors."
That extensive work in downtown theater also informed his practices inside the audition room—and outside of it afterwards.
"Sometimes you watch an audition and they're so prepared, they nail it, you couldn't ask for a better rendition, you couldn't even give them a note. But they're just not tired enough looking, or not quite thick enough in the middle, they're not quite old enough, and that's hard," he says. "But I've reached out to some of those people, because I've had them in mind for something else and I'll occasionally get their information and just send them a note and say, 'That was an amazing audition. I just want you to know you're not quite right, but I'm thinking of you for something else.' I try to do that, especially when I feel really strongly about it."
More than anything, as a playwright who never imagined his work would be viable as a "Broadway commodity"—whatever preconceptions that bears—Rapp encourages fledgling writers to look beyond traditional pathways to success. Instead, just do the damn thing: Write it, put it up, repeat.
"What's most important for young playwrights to do is to see your work happen, and by that I don't mean send your plays out to 17 not-for-profit theaters and then just accept that rejection," he says. "If you feel strongly about a piece, put it up in your living room. When you start to experience an audience—whether it's 12 people or 40 people or 99 people—once you see them contending with your play, there's so much learning going on. That's a healthier way to get to the second, third, fourth play than putting it in your drawer after several rejections. Find a way to get the work done, because that's what's going to feed you to do the next thing."
Want to hear more from the best creators in film, TV, and theater? Get it right here!