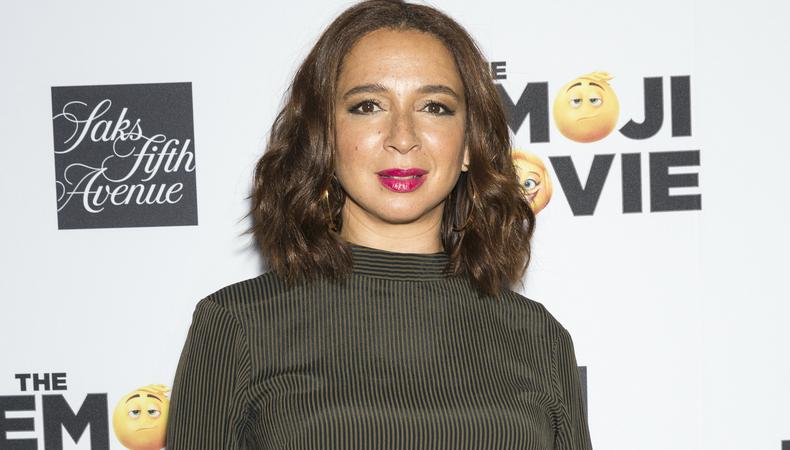 "In the Envelope: The Actor's Podcast" features intimate, in-depth conversations with today's most noteworthy film, television, and theater actors and creators. Full of both know-how and inspiration, "In the Envelope" airs weekly to cover everything from practical advice on navigating the industry, to how your favorite projects are made, to personal stories of success and failure alike. Join host and Awards Editor Jack Smart for this guide on how to live the creative life from those who are doing it every day. This episode is brought to you by HBO.
"I think so many actors, when you talk about it, will admit to this imposter syndrome," says Maya Rudolph. "We all kind of feel like we don't belong, we don't know what we're doing, we don't fit in, we're not good enough." She rolls her eyes. "Blah-bitty-blah-bitty-blah."
The solution, at least for Rudolph, is to harness the inherent power of acting: by pretending to be other people, you're empowering yourself to channel different energies and explore vulnerabilities, even therapeutically.
"I think one of the amazing things that I discovered about my own strength is that, without being aware of it, I created something stronger out of what I saw as a deficiency," the six-time Emmy Award nominee says in her revealing "In the Envelope" interview. "My version of [acting] comes with a suit of armor and allows me to protect my little, sensitive insides."
The daughter of composer Richard Rudolph and the late singer-songwriter Minnie Riperton, Rudolph was born in Florida but raised in Los Angeles, "a kid performing for my parents in the living room—maybe even a no-pants-on kid," she remembers. Despite roots in the music industry, it was always acting—especially the idea of a diva being herself unapologetically in front of a crowd—that captivated her. Madeleine Kahn's performances in Mel Brooks movies demonstrated "the combination of how fabulous a woman can be, and at the same time funny," she says. "There's something about a woman onstage that's always really appealed to me. It's probably watching my mom onstage singing in all these beautiful dresses and flowers in her hair and being adored." And yes, she admits, a lot of it came down to wanting attention.
READ: 'Saturday Night Live' Director Don Roy King
Talks 14 Years of Mishaps + Magic
Early comedic and musical influences set Rudolph on the path that would lead her to eight stellar years on "Saturday Night Live" and beyond. After her time at the University of California Santa Cruz, she performed in the rock band The Rentals and worked for years at The Groundlings in L.A., plus in service jobs and as a costume assistant on music videos. Eventually cast on hospital drama "City of Angels" and invited to join "SNL" in 2000, Rudolph has gone on to steal the show in "Away We Go," "Bridesmaids," "Grown Ups," "Wine Country," and films by her partner Paul Thomas Anderson, as well as produce and star on the variety show "Maya and Marty" with Martin Short and "Forever" with Fred Armisen. "I'm polyamorous to the arts, I don't just love performing," she says.
Rudolph is currently nominated for three Emmy Awards, for her voiceover work on Netflix's "Big Mouth," and for outstanding guest comedy actress on NBC's "The Good Place" and the Eddie Murphy–hosted episode of "SNL" (as vice presidential candidate Senator Kamala Harris), making her the first actor in Emmy history nominated twice in the same guest category, and one of only a few ever in contention for three performances.
Asked for the secrets of a great sketch show impression, Rudolph says her strategy is to think of them as characters rather than imitations of real people. "It's sort of like playing dress up, or like when my son puts on superhero costumes," she explains. "You want to emulate that person. I think in the world of comedy, for me, what I like trying to go after is finding the thing that creates a character that's got some sort of a goofy joy."
She also breaks down what went into creating Connie, the Hormone Monstress on "Big Mouth": "She's got a very melodic voice, for sure. The elements of her being a monster and hormonal, I was trying to create this game of highs and lows as well as big. She's a big, hairy lady!" Voice acting is another challenge and opportunity to push yourself in directions you may not otherwise go, says Rudolph. "That really speaks a lot to the joy of doing voiceover and animation: you can really be anything."
One of Rudolph's best pieces of advice for "In the Envelope" listeners is passed on from "SNL" producer Lorne Michaels: "If it's funny to you when you're writing it, it's funny. I think that's a really important thing for me to constantly remember, especially when you're creating content.
"And if you're trying to fit into something and it doesn't feel good to you, it's probably not," she adds. "You're not conveying it the way that you want to. I've noticed that after I've written something that is making me laugh, that can be more infectious. It's just human nature stuff." To hear more, tune into Rudolph's full interview wherever you listen to podcasts.
Listen now on:
Looking for remote work? Backstage has got you covered! Click here for auditions you can do from home!