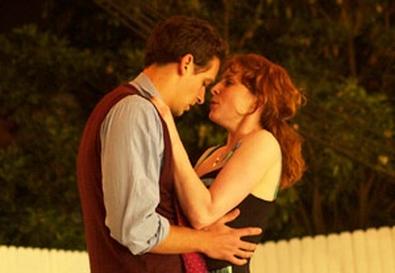 First of all, this production is presented free to the public. Second, it's presented outdoors, in the currently temperate Santa Monica evening. By that alone, it warmly welcomes its audiences. The costumes are modern-day, the staging is minimal, the crowd is allowed to eat during the play. It has a happily casual feel. And yet the crowd on the night reviewed remained rapt throughout.
Despite static blocking that leaves actors standing with their backs to us for too long on the thrust stage, the evening seems to pass quickly, in large part because director Jonathan Redding trusts much to the audience's imagination. The set (James W. Sudik) consists of platforms of weathered wood; various strands of holiday lights help set scenes. Ultimately we care not that Flute is played by a woman, because Madeline Harris is an adept comedian. More wise casting comes in the form of Kyle Cadman, who with great talent plays Bottom very much like that guy in acting class with all the ego but only some of the talent. The hempen homespuns swagger delightfully, rehearsing ineptly but performing their socks off at play's end, appropriately with a rendition of Queen's "Somebody to Love." But the most pleasant treat here is the work of Brian Ruppenkamp as Puck. He obeys the verse while seeming completely contemporary and natural. He toys with the dialogue (a reluctant "I go, I go"). He moves lithely, he listens, he calibrates the outdoor air for just the needed vocal and facial effort. And because these talents are not enough for him, he accompanies the Queen song on electric guitar.
Unfortunately, some of the remaining cast less than amply fits the bill, but on balance let's just say all is well met by evening, dusk, and moonlight.
Presented by the Los Angeles Theatre Ensemble at the Powerhouse Theatre,3116 Second St., Santa Monica.July 8–31. Fri.–Sun., 7:30 p.m.(800) 595-4849. www.powerhousetheatre.com.