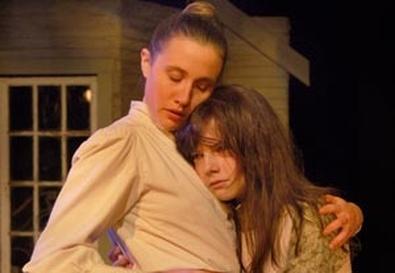 Director Joel Daavid renews his production of William Gibson's play, originally at the Matrix Theatre, with a stunning show that includes several of the original cast. Familiar to many from a TV special (1957), a Tony-winning play (1960), a film (1962), and
The Story of My Life
by Helen Keller herself, it's a telling drama, shocking and emotional. Carlie Nettles as the young Helen is extraordinarily good as the blind, deaf child who can only "speak" through physical outbursts against those who love, but almost regret, her. Guiltily catered to by her parents—Captain Keller (a sternly inflexible Stuart W. Howard) and her overindulgent but ultimately brave mother, Kate (a hauntingly beautiful Julie Austin Felder)—Helen grows into the persona of an undisciplined terrorist and tormentor, shattering the family's physical and psychological peace with her mutinous tantrums. Nettles is immensely moving, as Helen battles for connection in a silent, unseen world she can't understand or conquer. Nettles' performance reaches a dramatic zenith when 20-year old Annie Sullivan (a superb Erin Christine Shaver) is hired to teach Helen to behave—and succeeds, against odds and expectations and through violent physical battles of will, in connecting with the dissociated child. There's great work by Christopher Irving as Helen's misunderstood stepbrother; Tara Thomas as much-used and sometimes abused housekeeper Viney; and Viney's grandchildren (Brianna Hodge and Theodore Martinez Jr.); and a Servant (Theodore Martinez), who also engineers the scene changes, which are sometimes longer than the scenes they are setting.
Daavid, also an award-winning scenic designer, has created a superb two-story setting for the play but must limit his passion for design to maintain the momentum, force, and through-line of the drama, which could also stand some strategic cuts; letters read aloud, unnecessary narrative enhancement, and ghostly visitations from Annie Sullivan's other world could disappear without a trace. Especially fine are Shon LeBlanc's costumes, Peter Bayne's original score, and Judy Pisarro-Grant's stunning choreography.
Presented by Russell Nichols and Joel Daavid at the Edgemar Center for the Arts, 2437 Main St., Santa Monica. May 22–June 28. Fri.–Sat., 8 p.m.; Sun., 2 p.m. (Except Sun., 1 p.m., June 7). (310) 392-7327. www.edgemarcenter.org.