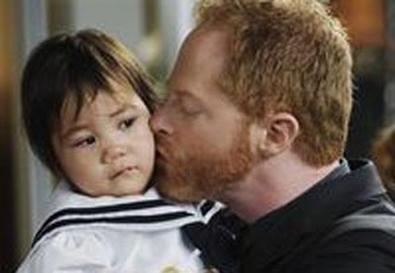 E! Online reports that the producers of the ABC series "Modern Family" have posted a casting notice for an "Asian, 3- to 4-year-old daughter of Mitchell and Cameron" as a series regular role, apparently to permanently replace twins Ella and Jaden Hiller, who play gay couple Cameron and Mitchell's adopted baby Lily on the show.
Cast members and producers have hinted in recent months that they might need to recast the role for next season, since Lily is supposed to grow quickly from a baby to a toddler. So are the Hiller twins out of a job?
"At some point, Lily has to stop being a silent baby and has to become a little girl – a laughing, acting little girl," "Modern Family" executive producer Steve Levitan told EW.com in May. "We all may determine that as gorgeous and sweet as Jaden and Ella are, it's not what they signed up to do or what they love. Maybe they don't love to be on a set and have to listen to us do a scene 10 times. Maybe they would be happier being kids."
Did Ella and Jaden lose their shot at Olsen twins-type fame? (Or, a better way to ask that question might be: Did Ella and Jaden luckily avoid the curse of Olsen twins-type fame?)
"Honestly, we can't stress enough, that it comes out of wanting to do what's best for them," Levitan told EW. "We don't want them to be unhappy. If we feel it's not in their best interest to stay, we will replace them, and ask that people forgive us for doing so."
READ MORE ON BLOG STAGE