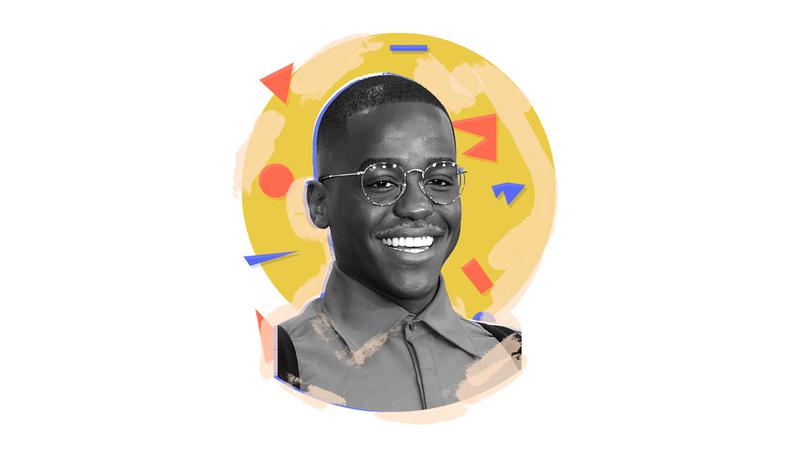 From the stages of Scotland—where he studied drama at the Royal Conservatoire of Scotland and acted in multiple productions at the Dundee Repertory Theatre—to the set of a Netflix show—starring as the effervescent and unforgettable Eric on "Sex Education"—Ncuti Gatwa broke through to an international audience thanks to his training and sense of humor. On the heels of the hit series' second season (and fresh off a BAFTA TV nomination!), Gatwa looks back on how playing Eric has informed his acting and the risk he took in the audition to get the role.
Tell us about your first day on a professional set.
My first professional set was 2014, and it was for a show called "Bob Servant" for BBC Scotland. I was working in theater for Dundee Rep Theatre doing "Hecuba," and I also got this other job, "Bob Servant." It was only three days filming. That was my first time around cameras and a full professional crew, hair and makeup, and having a call and drivers. It was very weird, because I was doing two different jobs; one was theater and one was a TV sitcom, [and] they were two very different worlds. It was exciting to see how the other one works. A set runs like a militant operation; you've got the ADs there calling time, and it was very exciting to see how everyone works together all at the same time, from costume to hair and makeup to the ADs to the cameras. In theater, your experience as an actor is just you in the rehearsal room with the director and the other actors. You interact with the other departments, but not as much as you do in TV and film. I think I played Customer No. 3, that was my character's name, and I ordered a burger. After I ordered my burger, I walked around the back—I was trying to get a peep of the scene, but I didn't realize I'd walked in front of the cameras and ruined the whole take and they had to go again. They were very, very nice; the director was laughing and very much took me under their wing and took care of me.
How did you get your first big break? Who was the casting director who cast you?
My first big break would have to be "Sex Education," and the casting director was Lauren Evans. She's amazing. The lengths that she goes to to find the actors that she does to be brought into our weird and wonderful world is amazing. She's so, so, so hard-working. I think she had discovered me because she used to work with a very prominent casting director in the U.K. called Nina Gold. I think I had done a couple of takes for Nina. And [Lauren] had the idea to bring me in for Eric. I remember talking to her, I think I was auditioning for Edmund in "King Lear," the naughty brother, and I don't know how she got from that take that I would be good at playing Eric, but she did somehow. She brought me in and was really cool and made the audition process calm and cool and very familial. She was down-to-earth and made the whole audition process very fun.
How do you typically prepare for an audition?
It can vary with each project. I'll try to read the script as many times as possible. I went to drama school so I had quite a regimented classical training, regimented process of analyzing a script. I'll go through the whole script and highlight everything my character says about me, and in another color I'll highlight what other characters say about me, and I'll highlight all the things I say about other characters. It's different with each role, my process going in. But what remains a staple when I come out of the audition room is I have to forget what I've just done and everything that just happened, because you might not get it and you might be upset you didn't get it.
Now I'm going to make you remember your worst audition horror story.
[Laughs] Maybe six months out of drama school, I was working at the Dundee Rep Theatre, I worked there for about a year, and I had an audition for the National Theatre of Scotland. I went into the audition room and when I came out I realized my fly was undone. I did this whole dramatic speech with my fly hanging low. Also, I had read the wrong play. [Laughs] I had to try and improvise that I knew what the hell they were going on about. They were asking me what I thought about the character, I just threw random things out of my head to make it seem like I had read the appropriate play, which I had not. They were very nice, though! I think they were aware that I had no idea what they were going on about or what the play was about. But they were very kind and at least gave me a go at doing the speech that was in front of me. Needless to say, I did not get that job. It was a good learning curve to read the right material.
What advice would you give your younger self?
I think it's quite natural as an actor to compare yourself to how well other people are doing and how other people might've played that role you auditioned for. There's a lot of comparison you can do as an actor, which is natural, because it's a competitive industry. However, we're all individuals, so you can only ever be yourself. I would've told myself it's OK, calm down, you're doing fine. Things might not make sense now, but they will eventually. You know that Kris Jenner meme "You're doing amazing sweetie"? I would have that playing in my head.
What's the wildest thing you ever did to get a role?
I'd say the craziest thing I've done in an audition was for Eric. [Before] my final audition for "Sex Education," I'd actually been offered another role on another TV program. A couple of weeks before I started auditioning for "Sex Ed," I was very convinced I was going to quit acting. Then I had gotten into the final stages of "Sex Education" and then I'd been offered this other TV role. "Sex Education" was a very long audition process, but by the time I got to the end of it, I kind of didn't care anymore—I was like, I'm either going to quit or do this other job. I just started twerking. My final audition for Eric, I was reading a scene with another actor reading for Otis, and it was a scene where they were getting ready to go to Aimee's party in Season 1 and Eric gives Otis a hat and calls him "Hat Man." I just thought, Eric needs to twerk now, and so I did. I've never done that in auditions before, and I don't know if I ever would again. But I looked at all the producers' faces and they were all crying with laughter. And I was like, Oh, my God, twerking has booked me this job.
How did you first get your Equity card?
The job that got me my first Equity card would have been "Victoria" at Dundee Rep Theatre. When I graduated drama school, I won a place on this scheme at Dundee Rep, and the scheme basically picks two graduates and puts them in all the shows for a year. You're in six shows back-to-back. It was a very good training I underwent after my training. The first show in that scheme was "Victoria," and I played three characters: Callum, Gavin, and Patrick.
What performance should every actor see and why?
A performance I'd say to watch would be "Moonlight." I thought the storytelling was very beautiful and very subtle. I thought the acting was also very beautiful and very subtle. And the way that those two elements worked together in portraying this character at three separate stages of his life was amazing; how it didn't need to explain anything and yet explained everything perfectly. I hadn't seen anything like it. Literally each one of the actors, the three boys [Ashton Sanders, Trevante Rhodes, Alex Hibbert], as well as Mahershala [Ali] and Janelle [Monae]. Everyone had such a quiet intensity to them and told so much of their story with just a look. It was very inspiring to me as an actor.
Looking for remote work? Backstage has got you covered! Click here for auditions you can do from home!