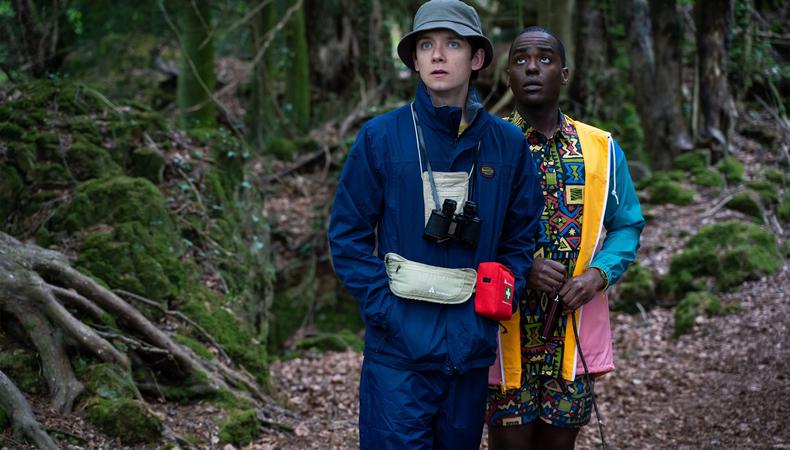 "Every day I'm googling incredibly strange things," says "Sex Education" creator Laurie Nunn. "There's a website I use that has all the different slang words for penis that's constantly up on my laptop. When I work in cafés, I have to be really careful to not have it up around children."
The admission won't shock fans of the British Netflix series, which follows high schooler Otis Milburn (played by Asa Butterfield) as he acts as a sex therapist for hire to his classmates. With his best friend Eric (newcomer Ncuti Gatwa) and his "business partner" Maeve (Emma Mackey, also a newcomer), Otis uses what he's learned from his mother's (Gillian Anderson) legitimate career in sex therapy to solve his classmates' wildly varying intimate problems.
"The more you watch television, the more that you innately learn about structure. I think one of the only ways that you can learn structure is by watching it. "
Conventional knowledge might have you believe only a TV veteran could navigate the tricky territory of such explicit teenage sexual exploration. But Nunn was a true rookie when she sold the series. "I definitely went all-in, in terms of pitching for it," she says, admitting that she sent along photos of herself as a teen to reinforce her connection with someone navigating unfamiliar territory, highlighting her lack of screenwriting credits in the process. "I went from not ever having been in a writers' room to running my own; I had to learn a lot very, very fast."
The "Sex Education" CD shares her advice to young actors.
Even with a master's degree in screenwriting and a passion for the small screen, Nunn finished school without ever having written a television script. "When I graduated, one of the first things my agent said to me was, 'You need to write some TV scripts we can send out,' " she remembers. "You're asking people to take quite a big risk on you when you don't have a writing credit, so being able to create work for people to read at a certain standard was a valuable lesson I learned in school."
But much of creating "Sex Education," Nunn admits, was sheer on-the-job training. "The whole thing's just been a gigantic learning curve," she says. Collaboration, she contends, is the key to success no matter how much professional writing experience you have (or don't have) on your résumé: "It's incredibly important to have a team of people around you that you trust. Sometimes the writer notes can feel very brutal and quite hurtful. You have to be surrounded by people you know want the best for the show."
Nunn now tries to create that mutually trusting experience for her own writers in order to foster storylines that range from masturbation to sexual assault and make them both resonant and humorous. She takes care to choose writers whose perspectives and voices she wants to incorporate into the show, but that also comes with a responsibility. "People have to feel like it is a safe environment to share personal information and know that we're going to write about it in a way that they feel they can impart their trust in us," she explains. "That's a very important aspect of running the room, I think, probably more than anything else."
"Sex Education" actor Tanya Reynolds shares her advice for performers.
Her method so far has worked. The show was a near-instant hit in 2019, and soon after Season 2 was released in January 2020, a rare glimpse into Netflix metrics showed the new crop of episodes on track for a 40 million-household viewership. A Season 3 renewal followed shortly thereafter.
Still, that success does not mean Nunn now considers herself a pro. "I feel like I'm learning all the time, to be honest," she says. She also thinks you can be doing your own TV writing homework, even from your couch. "It's important to watch as many different genres as possible. The more you watch television, the more that you innately learn about structure. I think one of the only ways that you can learn structure is by watching it.
"If you want to write TV, you really do have to love it," she insists. Sounds like you've got some binge-watching to do.