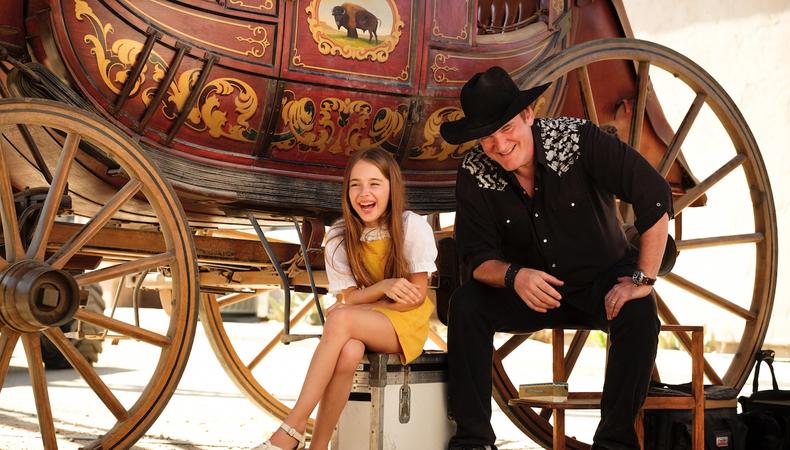 Trudi Fraser, Julia Butters' character in Quentin Tarantino's "Once Upon a Time...in Hollywood," says to Leonardo DiCaprio's Rick Dalton at one point, "That was the best acting I've seen in my whole life." And for Butters, watching DiCaprio really was the best acting she'd ever seen in her whole 10 years.
As her scene partner, DiCaprio served as a role model to Butters on set. "Watching him was the advice," she tells Backstage. "He's very professional and so sweet. He takes in everything you say; he really listens to you, and that was amazing."
Tarantino's ninth film, nominated for four Screen Actors Guild Awards including best ensemble, and now 10 Academy Awards, features Butters in a scene-stealing performance opposite DiCaprio. The 10-year-old star began her career on an almond commercial, which led to a role on CBS' "Criminal Minds." From there, she recurred on ABC's "American Housewife," which Tarantino had actually seen himself prior to bringing her in the room.
When she came into the audition, Tarantino greeted Butters by her "Housewife" character's name, "Anna-Kat," which took her mom by surprise. "She did not think he would have known a family sitcom," Butters remembers. "That was very cool because it really proved he was already kind of a mentor. Even just seeing him walk around, I was thinking, 'Wow, this dude's amazing.' "
That mentorship from Tarantino continued onto the set. "He would sit me in his director's chair, put headphones on me, give me the monitor, and let me watch the scene," Butters says. "When Leo throws me, when I would lie down for that scene, he would get down on the floor, too, and direct me from there."
As for that stunt? That was all Butters. "Zoe Bell was there to protect me," she says of the stunt performer and frequent Tarantino collaborator, who guided the young actor through the move.
Quentin Tarantino's Go-to Cinematographer on How to Act on Camera
For Butters, the audition is the most important part of the performance. "It's to prove to casting and the director, whoever is in the room with you, that you are capable," she says. "Because if you don't get it, that's really the performance."
While the precocious Trudi, Butters' character, might have strict on-set rules she follows, the young actor's rules for herself are a little more lenient. "It's mostly just to try to be professional, know my lines and focus," she says. Professionalism is only second to awareness while on set, according to Butters. "You have to be aware of where you are, who you're with, and what's happening. That's the most challenging part."
Though Butters couldn't stay for its uproariously violent ending during the premiere, she was permitted to watch most of Tarantino's latest. As for seeing herself on the big screen, she says, "It was unreal. Magical!" For Butters, the joy of acting is embodying a new person. "Getting to have another personality inside of you is amazing; you get to feel their feelings and see what they see."
As the SAG nominee looks to her acting future, she would like the chance to play a real-life person; she points to Renée Zellweger's Oscar-nominated Judy Garland in this year's "Judy" as an example. "I would get to do the research on them and see what they were like. I feel like that would be really fun."
For now, Butters has been relishing in the thrilling success of "Once Upon a Time"—from filming to the premiere to the Golden Globe Awards and beyond. "My favorite part has been seeing the process of how everyone's really in it together," she says. "It's a family."