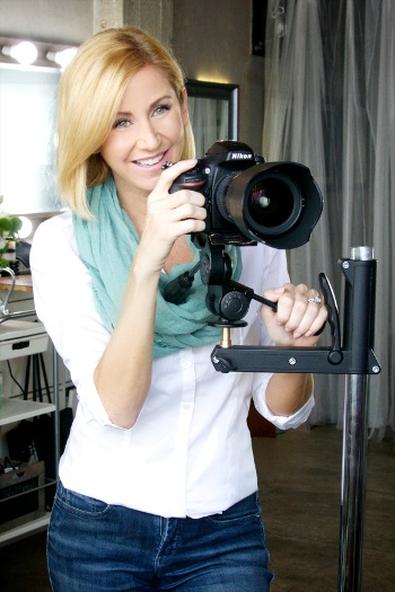 In Stephanie Girard's headshot studio, perfection is relative. "The goal of a great headshot is not to look perfect, but to show your personality," says the photographer. "You want the person looking at your photo to have an emotional connection to you. They should feel that they know you or want to meet you."
A daunting task for anyone other than a seasoned pro. Girard has been in the headshot business for over seven years; her work in fashion and commercial photography for Variety, Los Angeles Confidential, and Social Life Magazine has taken her to shoots as far-flung as Paris and Brazil. Now based in L.A., she slowly discovered her passion in New York after buying her first camera. "Looking back now, I realize I was always looking at life through a lens," she says. "[I] just didn't know I was a photographer."
With her fun, friendly demeanor, it's no wonder Girard has been recognized by loyal Backstage readers. "I am so grateful to wake up and do what I love every day, and having it recognized by people in the industry is such an honor," she says. Her enthusiasm comes through in sessions with clients, who leave numerous reviews on her website praising Girard and her makeup artist, Leila Carmelita. "We keep a very fun and comfortable atmosphere in my studio so the actors can relax and be themselves. Then my job is to guide them and capture it!"
"It" can prove elusive in an industry that, as Girard points out, is "constantly changing and evolving." Between personal Web pages, casting sites, and social media, self-promotion has become a cornerstone of the actor's lifestyle. "I shoot actors in so many different stages of their careers," she adds. Depending on the client's goals, as well as what casting directors are likely to determine is their type, Girard will curate each session to familiarize herself with the strongest, most marketable aspects of her subject.
The results speak for themselves. Actors who turn to Girard have obtained agents, booked bigger and more frequent jobs, and feel more professionally legitimate. When asked what she's most proud of in her work, she responds, "Many [clients] tell me that they have confidence in who they are as an actor after their headshot session. The best is hearing, 'Finally, headshots that capture me!' "
Check out interviews with all of the 2014 Readers' Choice winners, coming to you throughout the week!