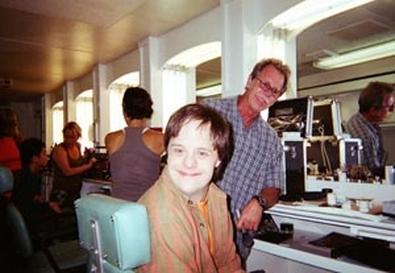 Brenda Hampton, executive producer of ABC Family's
The Secret Life of the American Teenager
, is not being sentimental when she says actors Luke Zimmerman and Michelle Marks are a lot easier to work with than many actors without disabilities. Zimmerman has Down syndrome, Marks has mild cerebral palsy, and both have recurring roles on the show. They're also trained performers, and Hampton appreciates that. "They're darn funny—they're both comedians," she says. "We're now writing material for them." Equally important, she adds, they come to work enthusiastic and prepared, thanks in part to their Performing Arts Studio West coaches, who accompany them to the set and rehearse with them each night.
Based in Inglewood, Calif., the 12-year-old PASW, which is privately owned and state-funded, offers classes in acting, dance, and music, among other subjects, for adults with developmental disabilities. These include autism, intellectual challenges, seizure disorders, and cerebral palsy, says John Paizis, an actor who spent close to 17 years working with developmentally disabled students before founding PASW. "The school now has 69 students, between the ages of 17 and 63, and we meet five days a week between 9:30 and 2:30," he says. "Two to three classes run simultaneously throughout the day."
The students are divided into two groups: those who are high-functioning and literate, and those who are lower-functioning and for the most part cannot read. The majority of students are aspiring performers who have been referred to the program by social service agencies.
"Whether it's realistic or not, these students are very bold, especially those with Down syndrome," says Paizis. "They have seen others who look like them on television, and they have support from the community and their families, which gives them freedom and fearlessness. There may be some nervousness about an individual audition, but it's not an existential response."
The school's acting classes are fairly straightforward, despite the accommodations that have to be made, Paizis says. "We do a little bit of Meisner, a little bit of the Method, some sense memory, and some improvisation. We're demanding but also realistic, and we have to discern how everyone learns best. In some cases, that may mean we demonstrate what's needed in a scene by doing line readings for the students."
Throughout the year, students put on shows, and some—like Zimmerman and Marks—perform professionally in film and TV. Casting directors may contact the school for referrals, while Paizis and his talent department read the breakdowns regularly and make pitches to CDs. They also study the scripts of all the projects the students are auditioning for, to make sure the material is not exploitive. Paizis says 850-plus roles have been cast with his students: "Almost everyone has worked in something, from voiceovers to print ads to background work to recurring featured roles."
Physicalizing a Performance
PASW may have the most comprehensive program of its kind, but it's not the only training ground for performers with disabilities. Budget cuts have had an impact on many, eliminating some and redefining others. At one time, Deaf West Theatre in North Hollywood, Calif., offered a three-week summer conservatory for deaf and hearing-impaired actors, attracting performers from across the country. That program no longer exists, but this spring the theater offered a modified version for 10 local actors ages 22–35. One of the students' two acting teachers was deaf, while a translator signed for the other.
Laura Hill, Deaf West's general manager, says scene study and script analysis were taught the way they are anywhere else and employed a variety of methodologies. "What's unique for us is the time we take with translating the script into American signing," she says. "Sign language is not a word-for-word translation. You can sign in many ways, and some ways are more theatrical than others. Actors really have to know what the script means so that they can translate it truthfully and dramatically." The other challenge for deaf and hearing-impaired actors, Hill says, is learning to act with their bodies, not simply with their hands and their facial expressions.
Deaf West's Tony-nominated revival of
Big River
helped increase awareness of hearing-impaired performers. Well-known deaf actors include Phyllis Freilich, Linda Bove, and especially Marlee Matlin.
By contrast, there are few well-known blind or visually impaired actors working professionally, and few training opportunities for them. At New York's Theater Breaking Through Barriers (previously Theater by the Blind), Pamela Sabaugh, who has been a member of the company for 10 years and is legally blind, teaches a kind of Meisner technique to visually impaired performers. Certain adjustments have to be made, she says; for example, the script must be memorized before rehearsals begin. Freed from having to hold a script, the actors can use their bodies more, including their hands, which would ordinarily be running across a Braille page.
"Practice and consistency is another key," Sabaugh says. "That means the actor has to know where exactly the glass is on the table and how many steps he will have to take to get to that glass. The actor relies on audio and often tactile cues as opposed to visual cues."
Sometimes actors may have to move along a wall, touching it as they go, which is incorporated into the performance. It's not a barrier to spontaneity, Sabaugh says, but an alternative form of expression. The goal of the training is to help blind and visually impaired actors move into the company and work seamlessly with other blind and some sighted actors. As the theater expands its mission to include actors with a range of disabilities, Sabaugh hopes future classes will accommodate their needs.
At the moment, she is working privately with a woman who has cerebral palsy. For her, mobility and balance are the issues. There are moments when her body rebels against her, Sabaugh says, and the focus of the training is to teach her—through physical and breathing exercises—how to anticipate and avoid those moments. Once she's physically stable, she can address the same acting issues that any other performer faces.
The Wheelchair Aesthetic
There are also dancers with disabilities. But the term
"disability
isn't a one-size-fits-all," says Kitty Lunn, a paraplegic who teaches dance to students with spina bifida, multiple sclerosis, cerebral palsy, polio, and other conditions. Some of them were previously able-bodied; others have had their disabilities since birth. A few are interested in dance careers in companies like Lunn's Infinity Dance Theater, a nationally known New York–based troupe that features able-bodied and disabled dancers, some of whom employ wheelchairs on stage. The choreographic use of the chairs is one of the company's artistic hallmarks.
In Lunn's classes, everyone uses a wheelchair, whether or not they use one in everyday life. It's an important aesthetic, she says, but it also helps with balance issues. "I want to take pressure off the spine," she explains. "I want the students to be able to have movement opportunities without issues of falling down." But that's just the first step.
"Someone with C.P. may be tight in the shoulders with significant scoliosis, which means that person has to be seated one way, while an amputee—someone missing the right leg, for example—has to be seated in the chair differently. The amputee has to compensate for the lack of a right leg. And with each student, I have to tailor exercises to strengthen and stretch those parts of the body that need help."
Lunn's program is a five-day-a-week four-hour intensive, including an hour and a quarter of ballet, another hour and a quarter of modern dance, followed by a 45- to 60-minute lecture on "wheeling technique, which is very specific," she says. The class concludes with students choreographing a piece that incorporates a phrase they learned that day.
Dancers who study with her are well-versed in the formal aspects of dance. They "must know the structure of a ballet class, the structure of a modern class, and know the difference between Graham versus Horton," Lunn says. "And they must be able to utilize the vocabulary of wheelchair technique that I've developed."
Down the Road
Among those interviewed, Paizis is the most optimistic about the future, despite the economic downturn. PASW expects to expand its program and has a long waiting list. "Referrals are coming in all the time," he says, and he's in the process of helping to create a Web series for the school's students. "It's called
Sir Glen of Glenwood
, and it's about a middle-aged man who fancies himself a knight of the Round Table. His sidekick is a street hustler named Sammy the Spider. And it's very funny. These are four-minute episodes that we'll be able to pump out regularly. They'll be seen by hundreds of thousands. The future is bright for our guys!"