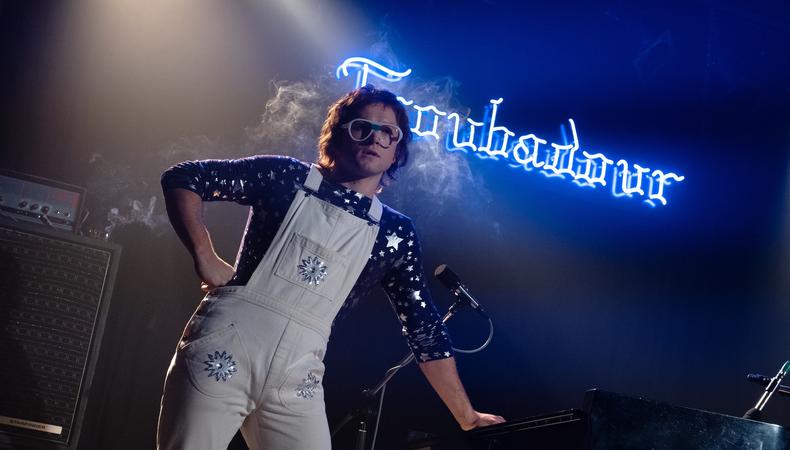 Between last year's Oscar-winning Freddie Mercury biopic "Bohemian Rhapsody" and this year's Elton John feature "Rocketman," costume designer Julian Day has gone from fabulous to, well, fabulous-er! That is to say, he knows the importance of sartorial excellence for both principal actors and background performers. Here's how he helps his extras create rounded portrayals and how he navigates some of the "stronger" personalities in showbiz.
READ: 'Rocketman' Star Taron Egerton Offers His Best Audition Advice
Can you describe the duties of the costume designer?
The obvious answer would be you're clothing the actors. Within that, you're also helping create characters. You're helping create the mood of the piece. You're setting the tone—obviously, with the production designer, the hair and makeup designers—for the whole look of the film. We're sort of the paint, really, with the director being the brushes and the producers and the writers being the canvas. An actor walks into a fitting, and you are there to help them find the character; when they have that moment of "I completely understand my character now," that is always very complimentary and encouraging, because you want to do that. The last thing you want is for an actor to walk on set and say to the director, "I can't do this scene because my shoes hurt," or "I can't do this scene because I can't move."
What is your working relationship with actors like on a given project?
Generally, with an actor, even when I'm making clothes, I find an approximate jacket or pair of trousers that I know are going to work, and then I can make from that. When you've got so little time with people, you've got to get right in there, and I think finding something that fits somebody really well, [as a] tailor, it helps you to figure out what you're doing. You can exaggerate the shoulders, the waist length, whatever you want. Bu, if you have a basic shape, the actor gets to understand what they're going to wear straight away, and then you can adjust from there. I got Taron Egerton [who plays Elton John] in and we did a three-hour fitting where we looked at shape, we put hats on, we put shapes of glasses [on] just to see what suited him and what didn't. You know the tone, but you also don't know the tone. All of that comes through meeting the actor and this very fast pace process of how film works. Taron's not literally at my beck and call. He's got other commitments.
Elton John and fashion are inextricable; how did that inform your process for "Rocketman"?
What I loved about it was the freedom we were allowed to have. It's looking at Elton John's life through his addictions and him looking back, in a sense, with rose-tinted spectacles. We were given complete freedom, first by Elton himself and then by [director] Dexter Fletcher, to create the look of the film that we wanted. It's a musical fantasy, so there weren't really any restrictions. We all know what Elton wore—everyone knows the Dodgers outfit. It's a baseball outfit, so that was the silhouette I wanted to use, but within that silhouette, I changed it. Not many people know that he wore a Louis XIV outfit at the Sydney concert, or that he wore Lycra shorts and a tailcoat for Royal Albert Hall. I was given license to do what I wanted—to create a character, in a way, which is fantastic. First and foremost, I wanted to make sure Elton liked what I did, because there was no point in doing it otherwise. He came down to Bray Film Studios and I showed him the concept designs. I went to town on it, because you've got an incredible starting point with what Elton wore. I just wanted to ramp it up a bit—if it were possible to ramp up what he's already done!
Does input from actors make your job more or less difficult?
You have to take every case as it comes in front of you. I've had actors come into fittings and say, "I don't wear stripes." Once they're in front of that camera, they are the star and you've got to tread a fine line between trying to create a character and understanding somebody's needs. I'd be a terrible actor. I'd be like, "Give me the money! I'm going out shopping. I don't care what you think. I'm gonna get what I like." If I think that myself, I've got to understand that when somebody says, "I don't quite like these jeans because such and such," I [have to] go, "OK, fair enough." I think I've got not bad taste, so, therefore, I'm going to always make sure, even if an actor has to look bad, they look really good at looking bad. I love dressing people. I love putting clothes on people. It's one of the nicest things you can do. And, often, actors are so well-proportioned, which makes it easier. Rami [Malek] is incredible. You could put literally anything on Rami and he'd look amazing because it's all about proportion.
How do you navigate working with some of the stronger personalities in film?There are certain people who walk into a fitting and go, "I only want to wear blue because that's my favorite color." It's like, well, "This character actually is called Mr. Redman, and he only wears red." So, you've got to try to navigate those sorts of things. As I said, the most important thing is creating a layer within the film—a layer not only for the lead actors but also throughout the film for the background, as well. The background is so important, because when you're doing a portrait, you need a background. If you don't have the right background, it just becomes a very dull painting because you've got one image. They're just as important to me as the lead actor, and I treat any background [actor] as I would a lead actor. I create personalities for them. I'll personally dress the crowd. When I'm not needed with the principal actors, I go into the crowd with dress for those people, and I say, "You look like you're a doctor," or a playboy or a nurse or whatever. You create different personalities, you give them names, and I think that adds to their performance, as well. All of those things, I think, is the job of a costume designer.
Is there a project you didn't work on whose costumes have inspired you in some way?
I really love "Dune," the David Lynch film. The costumes were designed by Bob Ringwood, and they're absolutely incredible. When you look at Alfred Hitchcock's films, Hitchcock heroines wear the best suits. They really inspire me. One of my favorite films is "North by Northwest." Cary Grant in the gray flannel—it might be the most boring idea, but sometimes the simplest thing is more difficult to get right. I shouldn't really say this, but there's this idea that you can hide a lot when you do extravagant things. When you do films that are, say, 16th, 17th, 18th century, there's all this sort of Victorian glamour. People love Victorian [clothing], and modern clothes don't get appreciated as much because they don't shout—but, really, they sing.
This story originally appeared in the Jan. 2 issue of Backstage Magazine. Subscribe here.