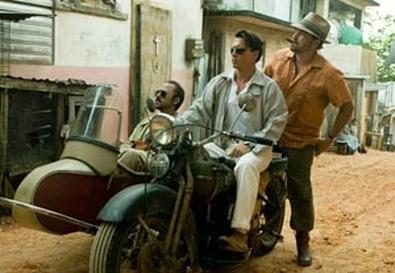 In "The Rum Diary," Johnny Depp again channels his literary hero, Dr. Hunter S. Thompson. Not content to just play the journalist as the drug-deranged Raoul Duke in Terry Gilliam's 1998 surrealist road trip "Fear and Loathing in Las Vegas," or to recite the author's words as narrator of the 2008 documentary "Gonzo: The Life and Times of Dr. Hunter S. Thompson," Depp slips on the patent-leather loafers of the Wild Man of Woody Creek once more. But this time out, Depp dips into Thompson's younger years.
Best known as the creator of Gonzo journalism, Thompson was a rabble-rouser, aiming to expose the cynical underside of politics and culture—which he dubbed "a savage journey to the heart of the American Dream."
"The Rum Diary" shows a completely different side of the writer. He wrote the story years before 1966's "Hell's Angels: The Strange and Terrible Saga of the Outlaw Motorcycle Gangs" brought him renown, but it wasn't published until 1998. The novel recalls a brief period around 1960 in which the 22-year-old Thompson worked for a small newspaper in Puerto Rico, when the island was on the cusp of being transformed by big-money interests from a sleepy backwater to a glamorous vacation destination. The young journalist was trying to find his voice as a writer. As Depp's character, Paul Kemp, says in a rare revealing moment, "I don't know how to write like me."
At the film's outset, Kemp is dropped into the newspaper's staff of oddballs. Richard Jenkins expertly plays Lotterman, the tightly wound editor with an ill-fitting toupee. As Moburg, Giovanni Ribisi saunters in and out as a crazed alcoholic former journalist who loves to play Hitler records. With world-weary humor, Michael Rispoli plays Sala, a photographer who becomes Kemp's closest friend. Kemp, Sala, and Moberg get into a great deal of trouble together, much of it involving cockfights, jail, and large quantities of high-octane alcohol. (Hence the title.)
In the story's central conflict, Aaron Eckhart plays Sanderson, a smooth-talking entrepreneur trying to get Kemp to promote his illegal land deal on a nearby island. "Land—there's not enough of it," says the smarmy Sanderson. "He who knows how to get it gets the gold." Sanderson offers Kemp a chance at a dreamy lifestyle of beachfront homes, fast cars, and—of course—gorgeous women.
Sanderson's girlfriend Chenault, played by Amber Heard, is the ultimate unattainable blonde. Heard channels the cool luminescence of Grace Kelly in "To Catch a Thief." Kemp quickly falls for the enigmatic young woman, which endangers his relationship with Sanderson. The film becomes a choice for Kemp: whether he should grab at wealth, or search for personal integrity. Anyone familiar with Thompson's work will know what the choice will be.
Depp was friends with Thompson for many years. He reportedly found the unpublished manuscript for "Diary" in Thompson's basement, and encouraged him to release it. Now, 13 years after the book came out and six years after Thompson's death, the film version is less a fictional tale than an homage to the writer—a portrait of the Gonzo as a young man.
Though the 48-year-old Depp should be way too old to play Kemp, many younger actors would have had a hard time making the cynical dialogue snap with humor the way Depp does. Writer-director Bruce Robinson has a pitch-perfect ear for Thompson's unique voice. He even throws in a few bits for hard-core Thompson fans, such as Kemp cursing out a Nixon appearance on TV.
"The Rum Diary" is a lot of fun. Depp and Rispoli make a motley duo but it somehow works; you enjoy watching them maneuver through a variety of hair-raising situations. Eckhart is solid as always, though his cynical businessman is little more than a stock character. And Depp and Heard have chemistry, but the pairing ends before it develops into anything more.
Unfortunately, Robinson has a hard time making the larger story into a satisfying arc. The film vacillates between drama and extreme comedy. You never really get why Kemp or Chenault make the choices that they do. And the ending is a bit predictable.
Yet given a choice, I wouldn't mind sitting with a strong cocktail on a tropical evening with Kemp and company. They would make interesting companions. Though I'd probably want to leave before the check arrived.
Genre: Comedy
Written and Directed by Bruce Robinson
Starring Johnny Depp, Aaron Eckhart, Michael Rispoli, Amber Heard, Richard Jenkins, Giovanni Ribisi, Amaury Nolasco, Marshall Bell