You wouldn't be alone if every morning these last few months has felt a bit like "Groundhog Day." But the notion takes on new meaning for Samantha Bee.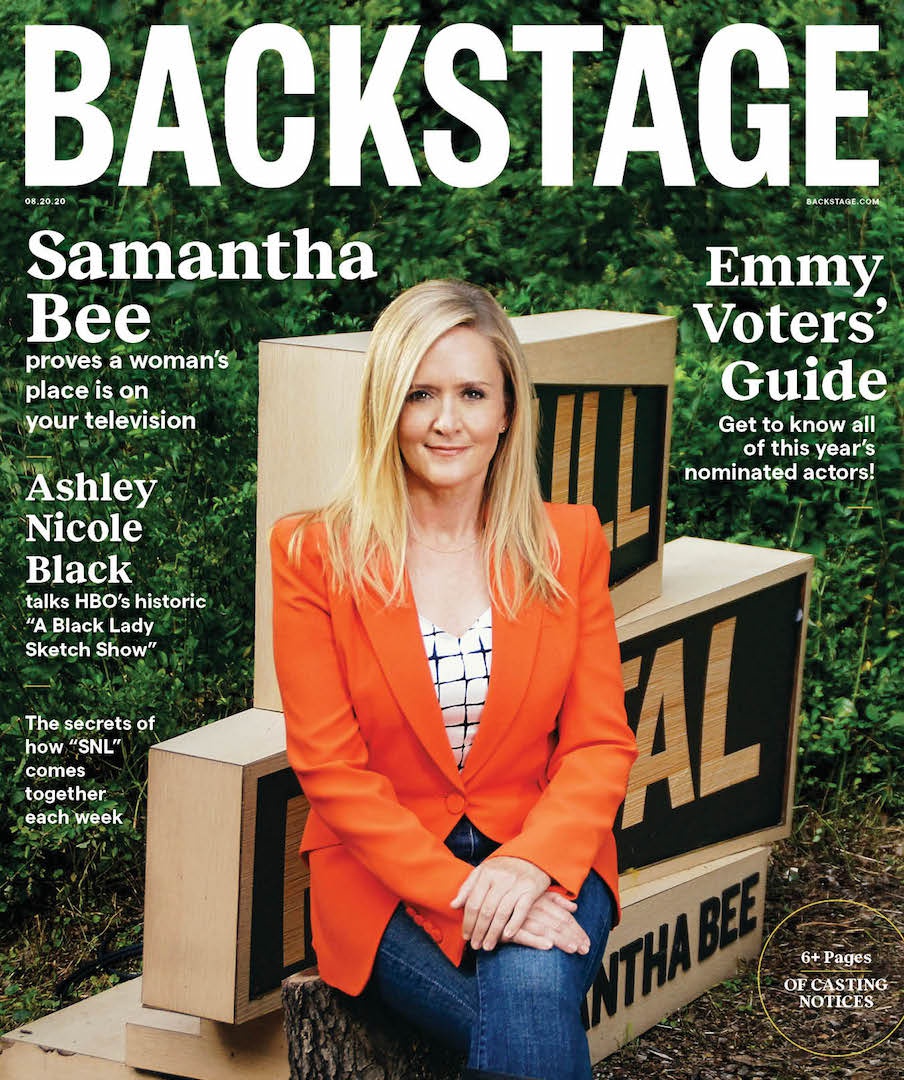 "The true story is that we have a groundhog in our backyard," says Bee, speaking via Zoom from what looks like a wood-paneled cabin. "When all of this was starting, my husband's version of COVID panic was to grow vegetables. He eventually grew this majestic, towering broccoli. And then a groundhog came and gnawed them down to little stumps, and he was brokenhearted. So I want to have the groundhog humanely trapped and relocated to someone else's backyard."
She's laughing as she explains the exasperating situation. Bee has made a career out of finding humor in hysteria, from the 12 years she spent as a correspondent on "The Daily Show with Jon Stewart" to her own news-based talk show, "Full Frontal with Samantha Bee," which she kicked off in the heat of the 2016 election.
In many ways, Bee's has been the seminal late-night show for this era. Crudeness that would have been unthinkable a decade ago is standard in the daily news cycle, and the paper of record has taken to printing phrases like "shithole countries" on its front page because it's directly quoting the president of the United States.
"When 'Full Frontal' came along, we were certainly on the cusp of a raucous—and such a dumb—political campaign. There was promise in the air," the host says. "The driving force behind doing the show was that I thought I would get canceled after six episodes. I was like, 'Let's just make it the most kick-ass six episodes. Let's approach it like we're going to kick the barn doors in and just attack, because that's what's needed.' It was the right moment for a show like this."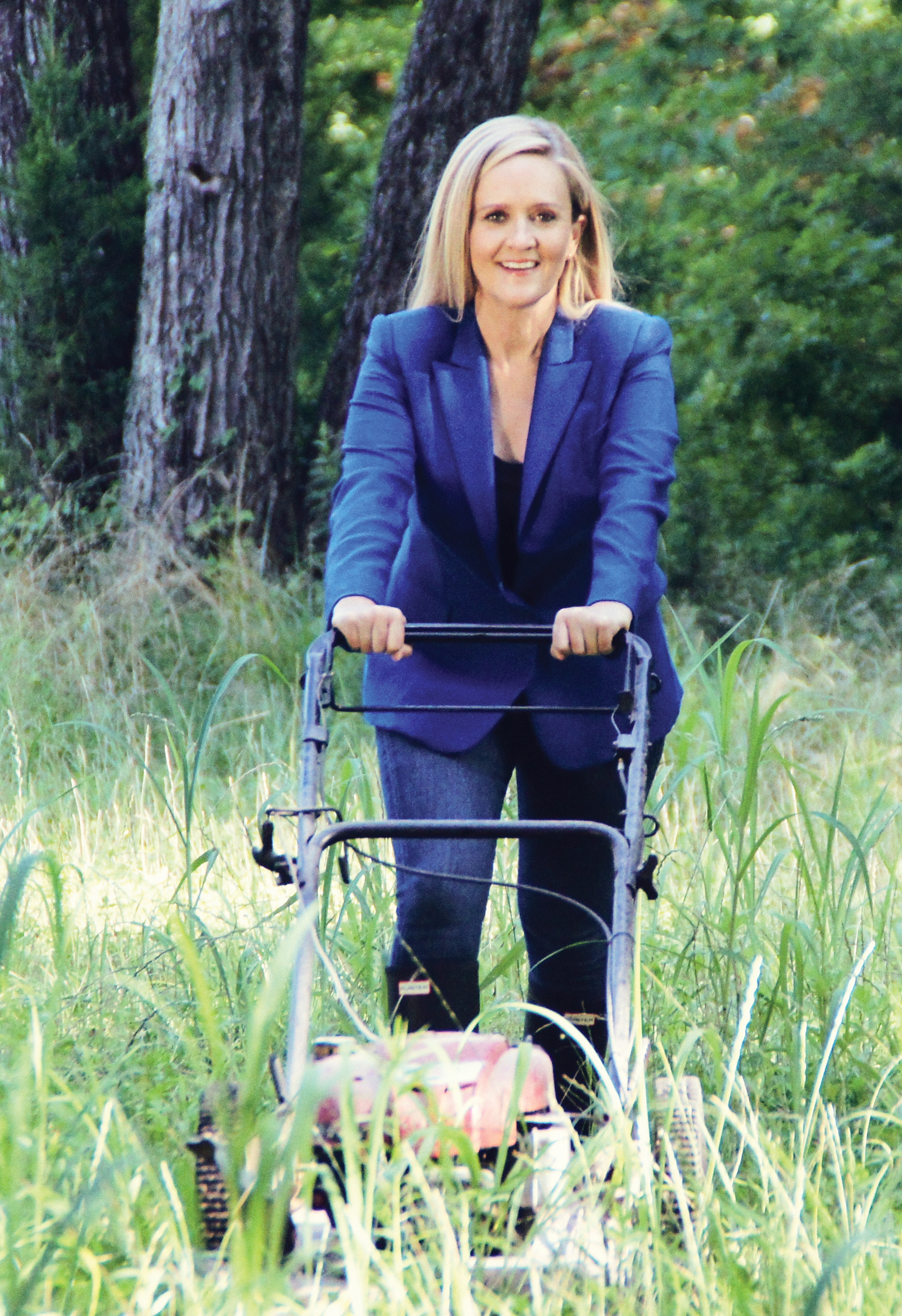 But TBS did not cancel the show after six episodes, which left Bee with another problem: "We were like, 'Oh, we have to do a lot more episodes now.' I had to keep it up!" Now, in Season 5, Bee's burn-it-down approach hasn't waned as she tackles matters ranging from child separation at the border to the rumored "pee tapes," matching the mood of every moment. In one of her most-watched segments to date (clocking 3.6 million YouTube views at the time of publishing), Bee opens the show the day after a mass shooting at a gay club in Orlando killed 49 people by rejecting congressional "thoughts and prayers" with straight-to-camera fury: "Love does not win unless we start loving each other enough to fix our fucking problems."
"Comedy saved me. I came to it late in life, but it saved me because I cared about that so much."
"I do think it has allowed us to process things and be slightly useful in these moments, which is a good feeling," she says of the show, whose creative team is nominated for four 2020 Emmy Awards: variety talk series, writing for a variety series, short form nonfiction or reality series (for "Full Frontal with Samantha Bee Presents: Pandemic Video Diaries"), and short form variety series (for "Beeing at Home"). "It isn't easy for anyone to process the world, but I think it's been helpful for us to have a point of focus. And, of course, it's a gift to have this platform. With every show, we're trying to make the most of it while we can. It's nice, with each episode, to just make a statement about where you are, like you're planting a flag on the right side of history."
Though "Full Frontal" has been a balm for Bee over these last few years, and especially these last few months—she and her team have been producing new episodes remotely since March, with Bee broadcasting from her backyard—comedy itself has been Bee's savior for much longer. Born and raised in Toronto, Canada, she didn't come to performing of any kind until college, when she started studying acting. It piqued something in her, though it wasn't quite right.
"There were so many times where I thought [I'd] be a very serious actor, because I love drama. I was like, 'One day, I'll play Lady Macbeth,' " she says, adopting a chin-up posture. "And then every time I tried to do something serious, people would laugh. I'm not a very good dramatic actor. It's OK. I accept what the universe has told me now." It wasn't until she began dating her now-husband and frequent collaborator, Jason Jones, whom she met while he was performing with his sketch comedy team, that Bee realized what was possible.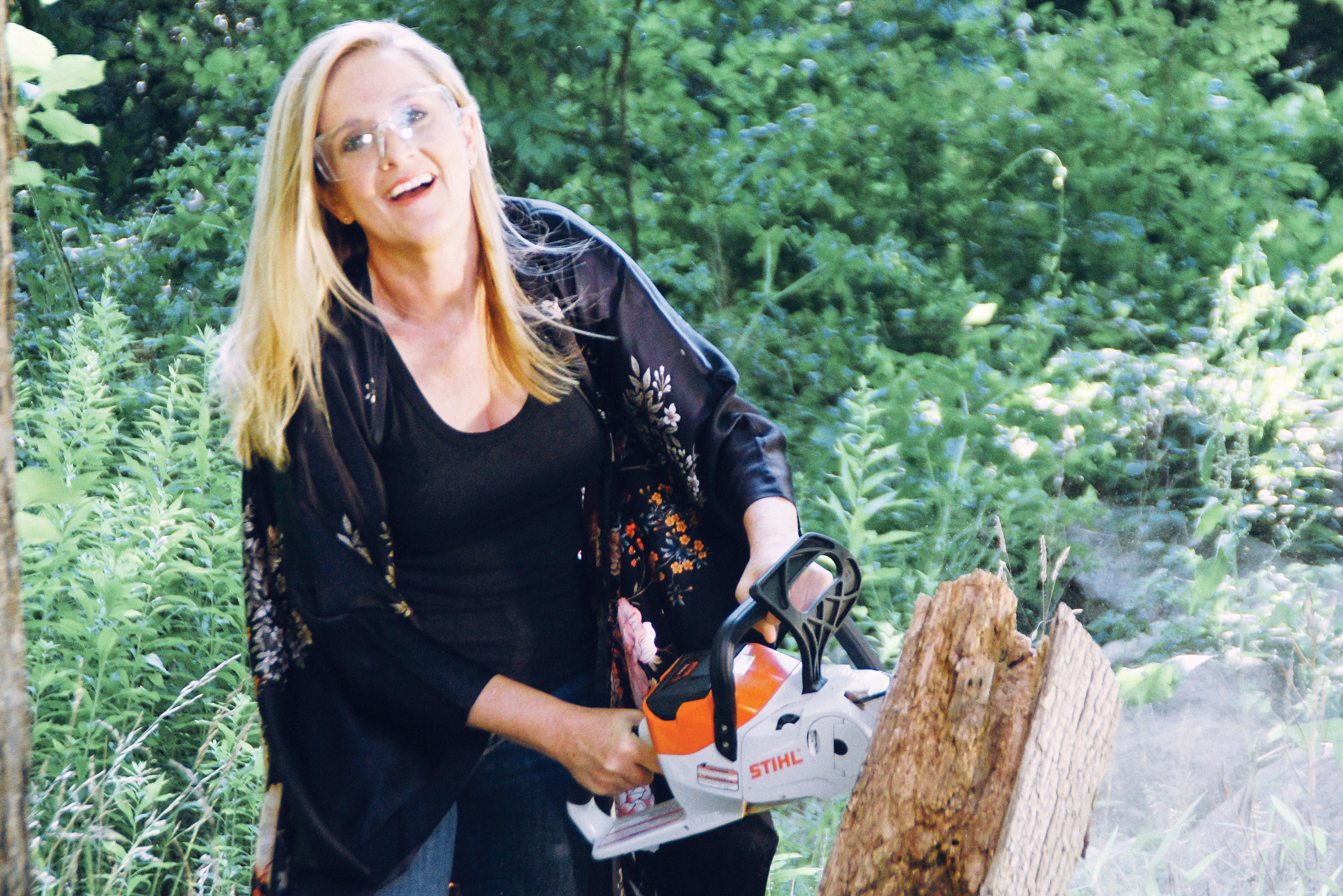 "I didn't know you could want to do comedy and just start doing it. Like, it just didn't compute for me," she remembers. "I didn't particularly aspire to do comedy, even though I think I was naturally comedic. It wasn't something I thought you could really make a career of. So, when we started dating and I observed him doing that, I was like, 'Oh, that's very interesting.' "
But even then, it didn't just "happen." Bee had been buttering her bread with Canadian children's theater, at the time performing a show for teens called "Out of the Closet," which follows "a kid coming out to his friends and [their] acceptance. It was really great." It was there that one of her co-stars asked her to sub for a night in their comedy troupe. That was, as Oprah would put it, Bee's "aha moment."
"I walked out onto stage, and the light hit me, and I was like, 'Oh, my God.' Everything connected for me," she says. "I couldn't wait to hear people's laughter. It was a full mind-body connection to this act of standing onstage and doing jokes that I wrote. I can't really explain it, but I freaking loved it."
READ: Everything You Should Know About Improv
Comedy exploded Bee's world creatively. She first performed with a partner, producing their own shows with abandon. She went on to co-found an all-female troupe, the Atomic Fireballs; she still works with some of its members today. But comedy broke barriers for her in other realms, specifically commercials, which she needed to pay the bills but was having trouble booking. Then, thanks to her comedy endeavors, "not every audition meant everything to me."
"Comedy saved me. I came to it late in life, but it saved me because I cared about that so much," she says. "It's tragic, in a way, that the more you want a specific job, the further out of reach it gets, because they can smell your hunger in the room. It's almost like you have to have this weird, practiced indifference.
"For me, it never worked to actually really invest in getting a job," she adds. "It only worked when I was like, 'I'm very busy right now. What am I reading for? Fine, I'll do it.' And they'd be like, 'You're hired!' "
Part of Bee's journey in giving both less of a damn and less of herself to an industry keen to swallow aspirants whole was also about leaning into, rather than against, the tides of type. In practice, this meant injecting her wardrobe with a selection of high-end casualwear.
"I realized pretty quickly that the way the room would see me, the way they just looked at my body and face and thought of me, [was] as a suburban mom in chinos and a button-up shirt. So I went out and I got some chinos," she says. "It was very much not who I was, but for the purposes of getting paid, I realized it would be good if I dressed how they were all going to see me no matter what I did. That was fruitful. It was so dumb. It took me so long, but then I was like, 'OK, gotta go get coral shirts.' "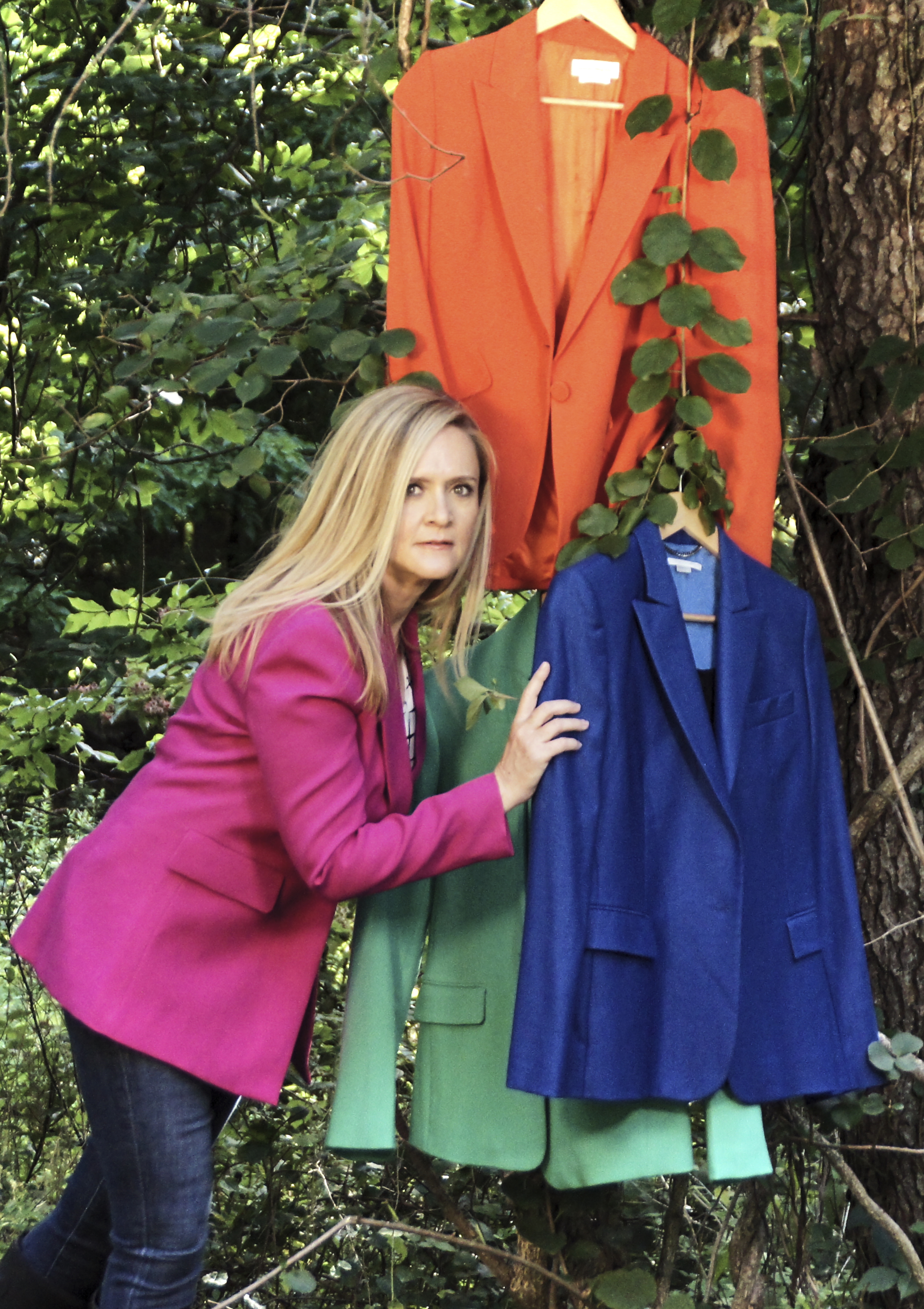 Realizing that the T-shirt she is currently wearing is audition coral, she lights up and pinches a bit of cloth near her shoulder.
"This is the audition color that gets you the job. It's not for everyone to bend to the will of the universe and conform to how other people see you," she says, pausing for a moment, "But I also truly just didn't care, because I had my other shit going on. I was mentally healthy."
When "The Daily Show" came along, however, Bee couldn't pretend not to care. It had been her favorite show for years, but she was also in the midst of giving up on the biz-as-career, having chosen to keep doing comedy while working full time at an advertising agency. It was 2003. The story is a familiar one: She yearned for stability to pay her bills, "to not cry every time the phone rang." The "Daily Show" audition arrived at just the right time. "I thought, 'This is perfect, because I won't get the job. I love the show. I know it backward and forward. I'll train for it like the Olympics, and then I'll peace out of the acting industry.' "
"Daily Show" producers were scouting in Toronto for a woman correspondent and were considering members of the famed Second City company, which Bee was not in. "Second City would never hire me—but my agent was friends with the agent for all of the Second City women! There weren't that many women, so they were like, 'Can you just send some of your female clients so we can round out the day?' " she recalls. "Just some sawdust around these women from Second City, who will definitely get the job."
READ: How to Become a Correspondent on 'The Daily Show'
The audition was also on a Saturday. "You're like, 'Is this a porno?' " she recalls. It wasn't, and Bee had something that day that no one else did: a zealot's knowledge of the show. She was also present in a way that let her relax into the material. "One of the [other women auditioning] brought a collection of crazy hats, like, 'I'm gonna wow them with my hats,' " she remembers. But Bee knew the tone of the show in her bones—so, of course, she got a callback a few weeks later, and was then flown to New York for an in-studio test.
She was nervous, but prepared—she ate fish the night before! Plus, she had another secret weapon: "I wore my coral shirt! My dependable Club Monaco coral shirt." She was hired. And though she may not have had the Second City pedigree or a degree from Harvard or, well, a penis, she thrived there—eventually.
"It's an unusual experience, or certainly frightening, to be this girl from Canada who just beat all these people for a job. And then all of a sudden it's like, 'Come into this room—here's 20 Ivy League writers who've been doing this for 10 years. Do you want to pitch them some ideas?' " she says. "It took me a long time to build trust among everyone. Mainly, what I would do is travel to places the more experienced correspondents refused to go. They'd be like, 'Hey, Stephen Colbert, do you want to go to Sioux Falls, South Dakota?' And he'd be like, 'Fuck no. Send her.' "
Throughout her tenure, Bee was fine-tuning her own editorial voice and learning more each day about how to tell the stories that were meaningful to her in a way only she could. She and her husband—who joined the show two years after she did and with whom she shared an office—also started pitching their own films and pilots, until one of them, "The Detour," got picked up to series at TBS. The network offered Bee her own show, too, which she built around a loose set of guidelines.
"If I don't really want to do the thing I'm being tasked with, it's never very good. I have to really want to do it, or it needs to meet certain criteria," she says. "Is there a growth experience? Do I love this? Why am I doing this? What is the thing I'm doing here? I don't feel that way with everything I do, but I try to feel that way with everything I do. That's how we try to build the show, so that it really comes from a place of, 'Oh, we have to do this.' "
This story originally appeared in the Aug. 20 issue of Backstage Magazine. Subscribe here.
Looking for remote work? Backstage has got you covered! Click here for auditions you can do from home!
Photographed by Jason Jones on 7/16 at their Hudson Valley home