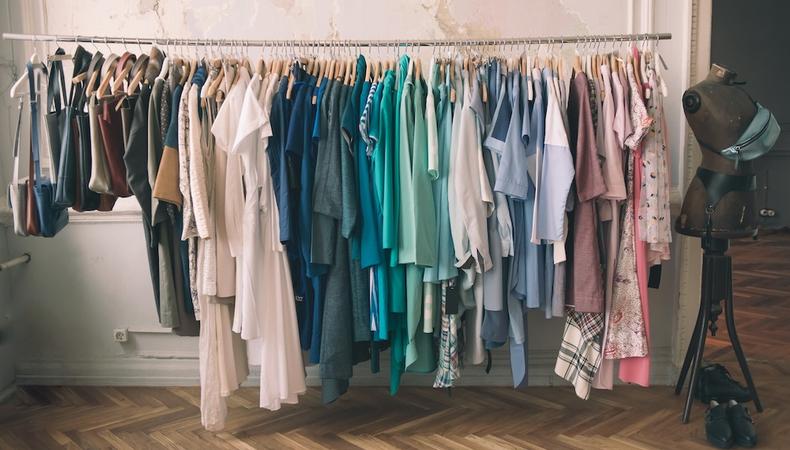 Whether you've got a passion for fashion, or an abhorrence for all things sartorial, as an actor, you cannot avoid the matter of clothing. In fact, when auditioning, what you choose to wear on your body will be one of the very first things the team notices about you. Yeah, yikes.
That doesn't mean you must overhaul every item currently hanging in your closet, nor does it mean you should dress in any way other than that which is comfortable. However, an audition getup could be substantial in whether you book a job, so allow our Backstage Experts to arm you with pointers that'll help you dress to impress while remaining authentic to yourself. After all, you have prepared tirelessly each time you step into an audition room and an ill-advised turtleneck should not thwart those efforts.
1. Prioritize professionalism.
"Don't overthink this one. You're going to a job audition. Be professional without overdressing. Don't dress too 'part specific.'...Learn what colors work on camera. Some just don't work. Plain colors, no patterns, graphics, or words (for most auditions, not all). Learn what looks good for your skin tone. Just trust your judgment, and if you're brand new to the biz, ask a friend!" —Jeremy Gordon
2. Accessorize to a fault.
"Feel free to wear accessories that show personality but don't distract. For guys and girls, simple jewelry or a fun watch goes a long way. We love accessories, but loud statement pieces in an audition can draw attention to the wrong place. This is your moment to shine, and you're shiny enough!" —Kayla Foster and Elizabeth Judd
3. Dress with the part in mind.
"I think actors should consider the part that they are auditioning for and then wear something that fits the part. I'm not saying get into costume, but if you are going out for a corporate lawyer, for example, don't come to the audition in a T-shirt and jeans. Take out as much guess work for the casting director as possible." —Marc Cartwright
READ: "How to Choose an Audition Outfit"
4. Use your wardrobe as a tool to your advantage.
"I try to see wardrobe as one more thing I have control over, and I go so far as to consider it part of my creativity. You should look exactly like your character as he/she would look on television. Television is aspirational; your clothes, hair, and skin all look a little bit nicer and put together—OK, a lot more put together than we do in our normal, everyday lives." —Brian Patacca
5. Don't neglect what's below your ankles.
"This is mostly for the gals, and it's about shoes. Please, please, please wear shoes that help you walk and stand confidently. If you suck at walking in heels, do not wear them to an audition until you've mastered the art of working it! It's a long journey from the door to the X, and you don't want your first impression to look like a baby giraffe and sound like a herd of elephants as you teeter to the center of the room!" —Erika Shannon
6. Leave something to the imagination.
"Avoid wearing clothes that show too much skin or cleavage unless the commercial calls for it. Depending on the actor's body, it can be distracting or send the wrong message." —Carolyne Barry
7. When in doubt, go blue, baby.
"Why blue? Why a color? Colors are a form of energy. When you communicate, you're expressing ideas through energy—your personality, your voice, your appearance, and the COLOR you're wearing…Vibrant and pastel shades are generally the most popular. They're used frequently in nurseries, schools, and hospitals, as they are perceived as happy, relaxing, and healing." —Gwyn Gilliss
8. If it doesn't feel like you, it probably isn't.
"Just be you. If you don't feel comfortable in your getup, change!" —Chritos Garkinos
For even more audition room insight, visit Backstage's YouTube channel!
The views expressed in this article are solely that of the individual(s) providing them,
and do not necessarily reflect the opinions of Backstage or its staff.