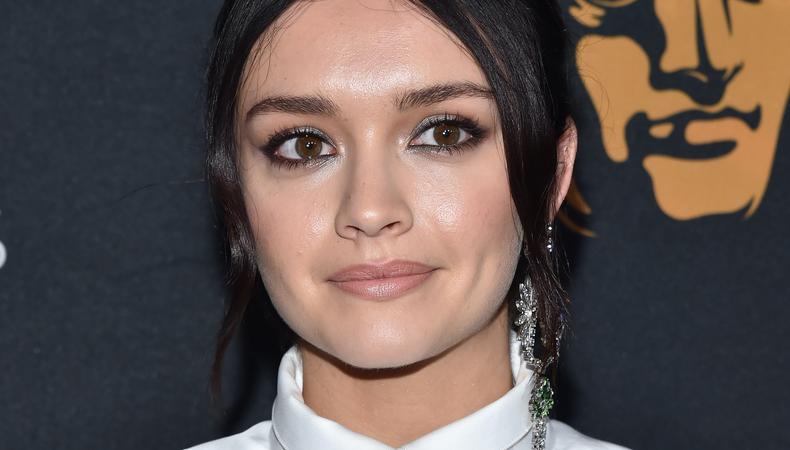 "In the Envelope: The Actor's Podcast" features in-depth conversations with today's most noteworthy actors and creators. Join host and Awards Editor Jack Smart for this guide on how to live the creative life from those who are doing it every day. This episode is brought to you by Amazon Studios.
For Olivia Cooke, the point of inventing a character's backstory, embodying their physicality, and staying present on camera is all to avoid the actor's worst-case scenario: "coming in as you and you're wearing funny clothes." Instead, she says, "you've got to convince yourself" of the storytelling illusion. "Otherwise, it's just really embarrassing."
Cooke hails from Manchester, England, but you wouldn't know it from her impeccable American accent in a variety of screen roles. Inspired to try acting at a young age and single-mindedly focused on it ever since, she acted onstage in U.K. youth theater groups before booking BBC miniseries "Blackout" and "The Secret of Crickley Hall." After not being accepted to drama training programs—"thank God, because I just wouldn't have had the career that I've had," she says in hindsight—Cooke focused on screen work, breaking out in "The Quiet Ones" and, across the pond, "Psycho" prequel series "Bates Motel" opposite Freddie Highmore and Vera Farmiga.
She's since starred in some of the most acclaimed film and TV projects of the last decade, from "Ouija," "Me and Earl and the Dying Girl," "The Limehouse Golem," "Thoroughbreds," Steven Spielberg's "Ready Player One," and the 2018 "Vanity Fair" series, to more recently, "Pixie," "Little Fish," and Darius Marder's Gotham Award–winning film "Sound of Metal" opposite Riz Ahmed. (Next she'll lead the "Game of Thrones" prequel series "House of the Dragon," for which she endured a lengthy and secretive audition process.)
"There's never been a point where I've never not felt lucky to be doing what I'm doing and to have worked with those people," says Cooke. "Sometimes it feels like I do have a bit of impostor syndrome." Nevertheless, she provides "In the Envelope" listeners a crash course in several of her tricks of the trade: accent work, self-tape advice, and even the nuances of crying on camera.
"If you're in front of someone and you're crying, you're wiping [tears] away as quickly as possible and you're just trying so hard and it's all in the lip tremble, it's all in your throat, it's in the voice," she points out. Actors looking to turn on the waterworks should consider how intense emotions overlap with the shame of displaying them: "Whenever I'm embarrassed and feel just exposed, I feel close to crying. I think that's tied quite closely together in crying, the embarrassment."
Cooke also speaks to her process on set, which includes never watching her footage back. "You've just got to preserve your own performance as much as possible because, at the end of the day, that's what's going to be onscreen," she advises. "When I've been shown the monitor before by a director, I'm just looking at the way I look.... It takes you out of the moment in the scene because all of a sudden, it doesn't feel as real to you and you remember the objective: You're making a film, and you're aware that's going to be seen again. So the illusion is dimmed for me."
When it comes to her philosophy towards auditions, both in-person and self-taped, Cooke's advice is simple: "All you can do is learn your lines, do a bit of research.... Remember you're not getting paid." It takes a casting director or producer only about 30 seconds to ascertain whether an actor is right for a part, she adds; there will be more nos than yeses. "I think you create a skin like Teflon at a certain point.
"It's not to say that you don't really want some jobs and you really vie for them. Then you go down fantasy lane, and you spend all that time in your head on the job, in your own fantasy, and then it's a 'no.' But it's always going to be like that. It's part and parcel of the job. You've either got to not let it bother you as much, or I think you won't be able to do this job."
Listen to Cooke's insightful interview in full at any of the podcast platforms below, and stay tuned for Backstage casting insider Christine McKenna-Tirella's advice on auditioning from home!
Listen now on:
Looking for remote work? Backstage has got you covered! Click here for auditions you can do from home!