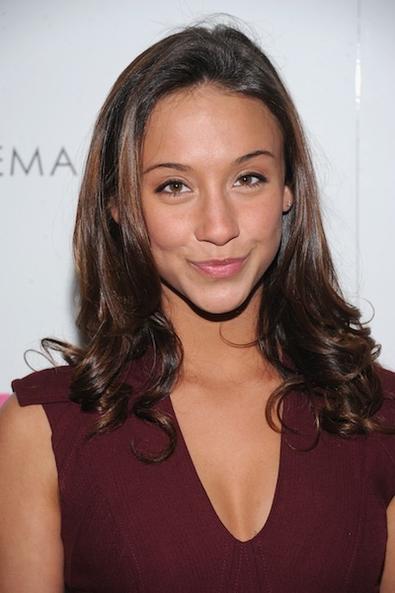 Stella Maeve left New York City at age 18 for Los Angeles, to chase down the acting dreams she imagined as a little girl. Now, the actor finds herself back in the Big Apple for CBS' new crime drama, "Golden Boy," which premieres on Tuesday.
Maeve plays Agnes Clark, the rebellious teenage sister of ambitious young police commissioner, Walter William Clark, Jr. (Theo James). We chatted with Maeve about her struggle to get the part, why she likes playing younger characters, and staying hungry.

What was your audition like for "Golden Boy"?
Stella Maeve: It was really interesting. They didn't want to see me, because they said I was too old. My agent told them it was the perfect role for me. She was like, "You don't understand this role is my client. This is her when she was 17." I had to come in three different times, and they wouldn't even put me on tape. My agent finally pushed for me to meet with producers, and Nick Wootton said the minute I walked in the door he was sold, he knew they'd got their girl.
What appealed to you about the role of Agnes?
Maeve: More and more shows are being done in New York now. When I left New York not a lot of shows were happening there, but "Golden Boy" is such a New York show. They captured the city beautifully, and it is wonderful. Reading the script it was like, yeah man, this is New York life, and these are New York characters. It really focuses on the lives of these people, and that's what drew me to it. Nobody can play the part of this New York girl better than I can.
Agnes is a troubled teen. Did you tap into your own teenage years to play her?
Maeve: When I say that I was like her, I mean that I grew up in New York, and I spent my teen years in New York. I wasn't troubled. For me, it was more about tapping into your teenage years in New York and remembering that habitat and that lifestyle. The character works in a diner, and I worked at The Diner on 14th and 7th. It was so funny. I go and I study acting and then my character works in a diner just like where I worked when I was 17.
Is it a challenge to play a younger character?
Maeve: I am constantly playing younger. I have a baby face. I'm only five-foot-one, so I am used to playing younger. I love it. I still feel like a child, and it's fun. It's a nice challenge to escape your reality. I think that's why actors do what we do. We like to play other people. It's therapeutic.
It's a New York joke that most actors have appeared on "Law and Order," and you're no exception. What is it like working on this new cop drama?
Maeve: We are really like family. It's amazing how we've all become so close so fast. It's so funny, because basically all of us are L.A. transplants. So we got sent home! We got to see our moms and our families and that was so awesome. It's great, because I am kind of the baby of the group, and everybody took me in as one of their own, and really treated me as an equal.
What is your acting background?
Maeve: I've taken classes, I've audited classes, but it's never been my method of choice. I train privately with a coach now. I like working one-on-one with someone, and I think that to go to a school of acting isn't really my thing. I'm named after Stella Adler. My mom worked with her, but you have to find what works for you. I have found that preparing for a role one-on-one works best for me.
Obviously acting is in your blood. Is that where your interest in it comes from?
Maeve: My mother was Stella Adler's assistant for years, and a theater actress, but that's not where it came from, actually. You know, when I was four, I was watching "To Kill a Mockingbird" on television and my parents were like, "Who is this bizarre child who is sitting through a black and white film?" I didn't want to leave and I said, "I want to be there! In the TV!" Ever since then, I have always wanted to act. I loved film, and my parents were very supportive. They thought I was insane, but they were supportive.
Do you have any advice for young actors?
Maeve: Keep going, keep your head up. There are moments even today when I am convinced I will never work again, and then the phone rings. The more you can believe in yourself and the more you know it's possible, the more opportunities will present themselves. So keep on with the positive energy. Continue to strive and do your best, and if you really want it, work for it. You're going to have days when you're the lead on a show, or you're a series regular, and everyone is looking at your life and thinking it's great, but you're at home crying because you think it's over. I don't think in this profession you ever feel like you've made it — you're always hungry.