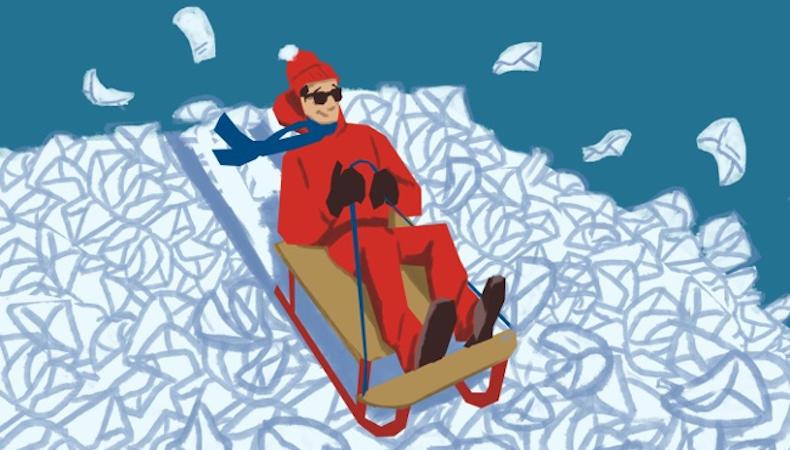 The new year has arrived, and I am doubling down on my efforts to provide you with the kind of inside information that might make all the difference in your career. There are so many advice books for actors, and most of them are written by people who have no business giving advice to anyone. At least here, you know you're getting the straight dope from the real deal.
Now, I'm sure you made a list of resolutions last week, and maybe finding an agent was at the top of that list. Or maybe finding a new agent was your goal. Either way, I'd like to kick off the new year with some basic guidance on how to send out a submission to someone like me.
My office, along with the rest of the industry, was closed for the last two weeks. But you know what? During that time, I received 72 email submissions and 12 hard-copy submissions. I'm not sure what the logic behind them was, but I deleted and threw out every single one. I would never want to represent a person who can't enjoy the holidays without focusing on representation.
But now that I'm back at work, I will look at every submission that comes my way because it's been my experience that every now and then, there's a nugget of gold inside that mountain of mediocrity. And signing that nugget is a big part of my job. So here are a few tips on how to make yours shine.
READ: How to Get an Acting Agent With Backstage
The subject heading in your email should be simple but enticing. "Actor seeking representation" is a bore. "Just got great reviews!" is better. "Referred to you by [insert casting director's name]" is best.
You can also have a little fun. I received one submission right before the holidays that said, "Did you see 'Manchester by the Sea'?" When I opened it, the actor explained how moved he was by the film and how he aspired to be that good.
The attachments should also be simple. I've had actors send me as many as 10 headshots. What is that about? Limit it to three. And a PDF of your résumé is fine.
As for the email itself, please don't send me your life story. I receive gargantuan emails all the time that seem to go on forever. Trust me. You're not that interesting. One or two paragraphs are plenty.
Mentioning a referral is always a good idea, but here's the thing: You could be lying. I have no way of knowing. So the referral isn't really worth much unless the person in question gets in touch with me directly.
And if you're sending me an old-school hard-copy submission, please don't include a flash drive with your reel on it. There's no way in hell I'm going to plug that thing into my computer. I don't know you, and the drive could have a worm or a virus or some other digital disease.
Yes, this is basic stuff, but you'd be surprised by how many actors get it wrong. And one more thing: Always put yourself on the receiving end and consider what kind of submission you'd like to get. That way of thinking, along with my advice, should help your submission stand out from the avalanche of need I receive on a daily basis.