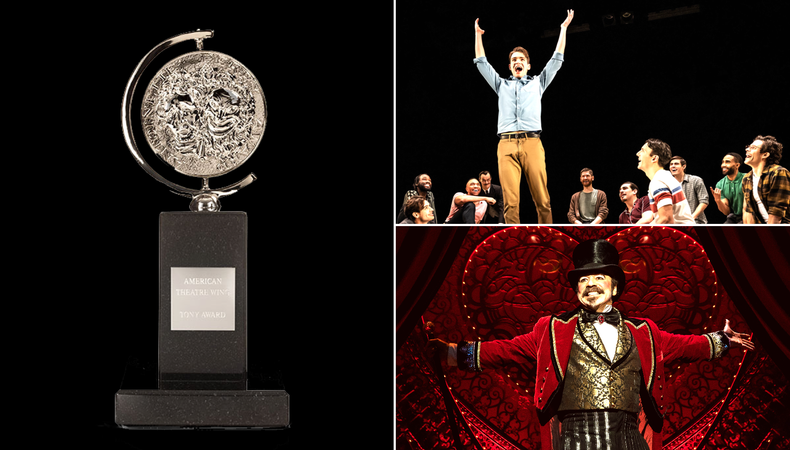 "In the Envelope: The Actor's Podcast" features in-depth conversations with today's most noteworthy actors and creators. Join host and Awards Editor Jack Smart for this guide on how to live the creative life from those who are doing it every day.
In an extra-special (and long-overdue) discussion episode of "In the Envelope," Backstage's awards editor Jack Smart is joined by senior staff writer Casey Mink and industry news writer Diep Tran to discuss the state of the theater industry in 2021—on the heels of the 74th Tony Awards, finally presented after almost two years of uncertainty on Broadway and beyond.
This trio of experts answers many of the questions on the minds of thespians everywhere: How exactly did COVID-19 affect the live performing arts, and what role do vaccinations play going forward? How has the state of New York City theater changed, from the pandemic's disruption to now? What are the facts, resources, and calls to action that casual listeners and diehard Broadway fans alike need to know?
The 2021 Tony Awards, honoring the best of the 2019–20 Broadway season, provide the jumping off point to assess where we stand. A central purpose to theater's highest honors, as Tran points out, is to "act like a big commercial for Broadway shows. And so it does make sense that the Broadway League and the American Theatre Wing, which co-produce the Tony Awards, [wanted] to wait until Broadway reopens so everyone else in America can see the Tony Awards and be compelled to buy a plane ticket and risk COVID to go see theater again."
And since risking COVID is still on everyone's minds, podcast listeners are filled in on the safety policies of NYC and regional theaters as of now. But along with safely reopening, the theater biz, like the film and television world, has gone through something of an identity crisis between spring of 2020 and fall of 2021—perhaps, as Smart says, for the better. "Big picture, years from now, looking at the entertainment industry in general, the pandemic is going to have these great benefits because it was an opportunity—or an obligation—to reassign some values, to reassess, to rebuild, even."
Among the encouraging signs that Broadway in particular is walking the walk when it comes to structural change: more resources to report workplace abuse pervade in the wake of allegations against producer Scott Rudin; a historic high number of Black playwrights are represented on Broadway this season, while the newly formed Black Theater United's "New Deal for Broadway" ensures that level of inclusion continues; and all Broadway theaters will soon be accessible in accordance with the Americans With Disabilities Act.
It may have taken a deadly pandemic to make such a sea change possible, and theater's powers that be may just be adapting for financial reasons—as Mink says, "Broadway is a business, if it comes down to affecting your bottom line, then it's probably going to have a quicker impact than if it didn't"—but real structural change is the biggest takeaway from this unprecedented period of theater history.
"If you are able and you feel comfortable," adds Mink, "please go see a show on Broadway, Off-Broadway, or if you are not in New York, in your local community. There is theater literally everywhere in this country."
For more up-to-date information on the theater industry's gradual reopening, stay tuned with Backstage's reporting. And listen to Smart, Mink, and Tran's in-depth conversation at any of the podcast platforms below.
Listen now on: