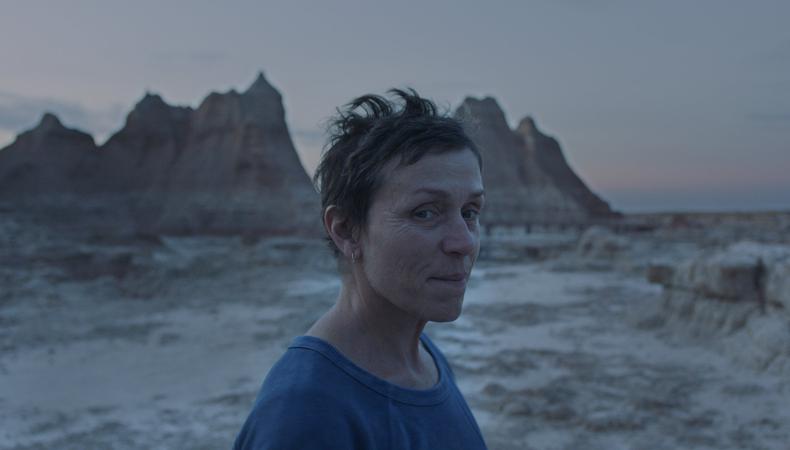 In order to present a safe, socially distanced, yet special celebration for movie buffs and industry insiders alike, the 45th Toronto International Film Festival is getting extra creative this year.
Canada's festival, the 2020 iteration of which takes place Sept. 10–19, is one of the largest in the world, usually attracting close to half a million people annually to the city. Known for its A-list events and ability to predict a film's award season successes, TIFF will this year feature over 50 new films, five programs on short films, interactive talks, film cast reunions, Q&As with casts and filmmakers, and of course, the 2020 Awards—all a hybrid of in-person and virtual events.
For the first time in its 45-year history, the awards ceremony will be broadcast nationally through CTV and internationally by Variety on Sept. 15. Honorees this year will include Academy Award–winning actors Kate Winslet and Sir Anthony Hopkins, Spirit Award-winning director Chloé Zhao, and Academy Award–nominated filmmaker Mira Nair, who will be honored with the Jeff Skoll award in Impact Media. The ceremony will run for one hour and feature special messages from the honorees. Other events include a talkback with Halle Berry about starring in and helming her feature directorial debut "Bruised," which will screen at the festival, and an "In Conversation" evening with Barry Levinson and Denzel Washington.
The festival developed its own app this year which will be made available for festival goers on Sept. 9, when attendees will be able to screen all titles and events digitally. Artistic Director Cameron Bailey and Executive Director Joana Vicente, both co-heads of TIFF, said of this special season, "We're thankful to every filmmaker, company, donor, member, and partner that has joined us on this adventure. We are here today because of our commitment to great programming, to collaboration, to bringing audiences together through the love of film, and to celebrating the amazing audiences we have right here in our city of Toronto."
This year's film lineup kicks off with the Spike Lee–directed filmed version of David Byrne's Broadway musical "American Utopia," which will later air on HBO; the show received much acclaim throughout its run at New York City's Hudson Theatre for covering social political issues and bringing disparate groups together.
Other films screening at the festival that already have the industry buzzing include "Ammonite," a drama about the romantic relationship between British paleontologist Mary Anning and Charlotte Murchison, written and directed by Francis Lee and to be distributed in the U.S. by Neon Nov. 13. The film stars TIFF honoree and Oscar winner Winslet with four-time Oscar nominee Saoirse Ronan, who will appear in a TIFF conversation about her work. The film has had a long journey making it to premiere; it was set to be released at both the Cannes and Telluride festivals, both of which were canceled due to the pandemic, and audiences and critics both seem ready to see it.
"Nomadland," written and directed by Zhao, whose 2017 "The Rider" was met with wide acclaim, stars two-time Oscar winner Frances McDormand in the film that will debut at three screenings of the world's biggest film festivals: Toronto, Venice and New York. Another delayed film insiders are excited to see is a directorial debut from Ricky Staub, "Concrete Cowboy," based on the Greg Neri novel "Ghetto Cowboy." It stars Idris Elba, Caleb McLaughlin, Jharrel Jerome, Lorraine Toussaint, Byron Bowers, and Method Man in a film about a young man discovering the urban cowboy community as he reconnects with his estranged father in Philadelphia.
TIFF has been greatly impacted by the global COVID-19 crisis, having to lay off 31 of its staff, but is ready to rally to the occasion, presenting a limited but mighty 2020 lineup. Selecting a diverse array of projects, festival programmers are again focusing on the representation of women in the film industry and normalizing gender parity and equality. The fest usually generates $200 million for the city of Toronto and is forecasting at least a 50% reduction in revenue this year, but has partnered with Shift 72 to host the digital part of its programming and ensure that the show must go on.
In a statement, Bailey said of this year's festival, "The pandemic has hit TIFF hard, but we've responded by going back to our original inspiration—to bring the very best in film to the broadest possible audience. Our teams have had to rethink everything, and open our minds to new ideas. In countless video calls over the past three months we have rebuilt our Festival for 2020 drawing on our five decades of commitment to strong curation, support for filmmakers, and engagement with audiences. We have listened to this year's urgent calls for greater representation of under-represented voices. You'll see that this year at the Festival. And we have watched as audiences have embraced cinema's ability to transport them through screens of all sizes. You'll see that too. We're excited to present thoughtful, high-impact programming this September that reflects our belief that there's no stopping great storytelling."
Vicente said, "TIFF has a proud history of programming award-winning films, expanding the conversation to include a multitude of voices, and in creating boundary-pushing initiatives for the industry. And this year we've added new innovations and ways to give back to the community. In doing so, we're aiming to advance what a film festival is capable of delivering—for audiences and the film industry. We could never have anticipated the global seismic changes we would be facing in 2020. We tapped into the original spirit of the festival from when it began in 1976 as our guiding light. The distilled edition of TIFF 2020 reflects a deep love of film, passion for our loyal audiences, commitment to the industry, and a whole lot of heart."
For more on TIFF, visit their official website.