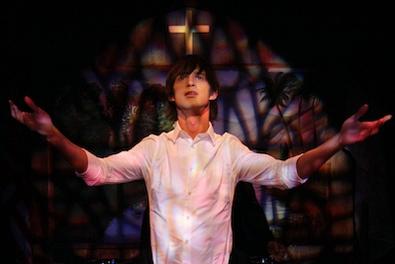 When I was asked to write this essay—for an actor's publication—I thought, "Where do I start? Where do I begin?" And the word "passion" came to me very strongly.
With the release of my film of my play "Southern Baptist Sissies," I must say that if everybody involved had not had passion, this little miracle would not have been made.
My play opened here in Los Angeles at the Zephyr Theatre September 21, 2000. The son of a Southern Baptist preacher, I had to tell this story—to expose, to purge, to vent, to rage and yes, to entertain. I thought I was writing it for me, but I soon found out as letters started pouring in that I had written it for many others as well. I was told how my story was their story and how the church had damaged so many at an early age. The word "healing" came up over and over.
In 2007, we almost got a film version of "Sissies" made, but financing fell through and I was devastated. I put it aside, but the thought of making a film version would not go away. My passion for the subject matter, and for the piece continued to fuel me—okay, haunt me. I had to make this film.
In 2012, I formed a new production company with Emerson Collins and Louise H. Beard. We decided to make films that we were passionate about, that we could shoot economically, and that were character- and story-driven.
One day while brainstorming with Emerson, he reminded me of our passion for "Sissies." We talked about how much more timely the play was with all that was going on in the country—with our strident march towards equality. The religious right had been activated because they were losing this battle. Being the sons of Baptist ministers, we had both been clocking sermons and statements that had gone viral, more anti-gay and louder than ever. Pastors were cherry-picking scriptures to justify their own homophobia, calling for parents to beat the gay out of their "sissy" boy or to "round 'em all up all the gays and lesbians and put them in electric fences."
Passion was reignited and we knew "Sissies" was our first film with Beard Collins Shores Productions. Then Emerson came up with the solution that solved everything.
Film the play.
The audience response had always been like another character in this play, and with the unconventional structure, just maybe this could work.
We took a risk. We launched an Indiegogo campaign in October 2012, raised over $150,000 from fans of the play and the message, borrowed the remainder of our $180,000 budget and green-lit our first film. We cast the play/film using many of the original actors—Leslie Jordan, Dale Dickey, Newell Alexander, Rosemary Alexander, Joe Patrick Ward and Ann Walker, then added Bobbie Eakes and a whole new crop of "Sissies." Emerson Collins stepped into the lead, and I cast Luke Stratte-McClure and Matthew Scott Montgomery from my play "Yellow," along with Willam Belli. Adding Johna Myers, a very hot go-go boy to the mix, completed my perfect cast.
We rented The Macha Theatre, perfect for the church feel and with a balcony that could give me some really cool film shots, and went to work, fast and furious.
We rehearsed the play for two weeks, had four previews, and then shot four live performances in two days with audiences, cameras and the film crew. We used three cameras at each performance and moved them for each show to give us twelve different camera angles. After the live shows, we shot the entire play again for eight days as a film with closeups and coverage.
The task I asked these actors to perform was enormous. They had to create and lock in their performances perfectly for continuity through four live shows and the film shoot. It required actors with passion for the stage and film and the understanding of how to modulate the size of a performance without changing the focus or intensity. This allowed me to edit between the live shows and the film shoot to get the right performance at each moment and make the final film feel like one magical night at the theater.
And it worked.
The journey continued into 25 film festivals, where we won 14 awards, eight of those being audience awards.
We are now self-distributing, using The Film Collaborative to book us directly with theaters, with 10 cities booked and more coming in every week. Social media is key and we work it hard! I'm very lucky to have a strong fan base because of "Sordid Lives," and the actors are passionately supporting the film. We are also partnering with charities, affirming churches, organizations and even individuals to use this unique hybrid film to have important conversations with the audience.
Passion. It's a very good word. Let yours drive you to create. And always be open to an alternative way to tell your story.
Southern Baptist Sissies runs March 7-13 in Los Angeles at the Downtown Independent at 251 S. Main Street, Los Angeles, CA 90012. Tickets are sold at www.downtownindependent.com For more information in Southern Baptist Sissies and other cities it will be playing visit www.facebook.com/southernbaptistsissies.