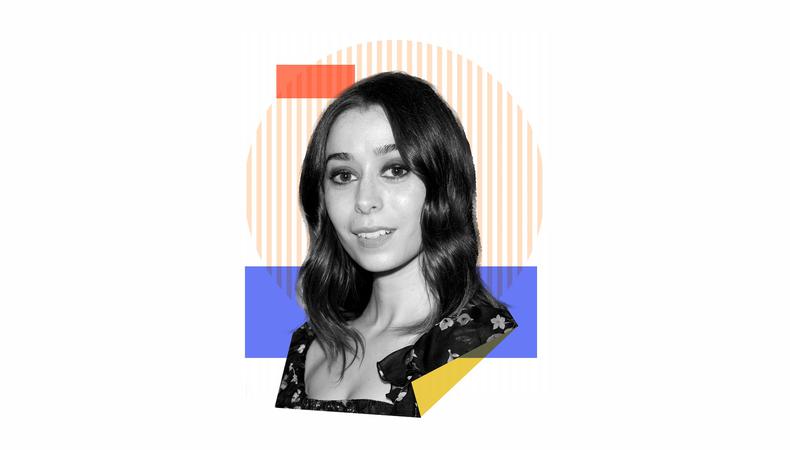 After one year of studying acting at New York University, Cristin Milioti trusted her gut and dropped out, secured an agent, booked a small recurring role on "The Sopranos," and cut her teeth on the New York stage, eventually booking top billing in the Tony Award–winning musical "Once." Now adding to her screen credits, which include "How I Met Your Mother" and "Black Mirror," she stars in Hulu's "Palm Springs," a trippy rom-com co-starring Andy Samberg.
"I've usually had a very good experience, but I think they sometimes forget you're a human and you worked really hard on this and you're not a piece of meat that walks through the door. The amount of rejection is really tough."
What advice would you give your younger self?
Sometimes I look back at my younger self and say, "I wish I had her confidence now." The fact that I dropped out of college—I was following my gut. I remember thinking, This doesn't feel right to me, I'm going to leave. I would tell her—and I would say it to myself now—to stop comparing yourself to everyone. I think that I, for years, went into auditions giving people what I thought they wanted as opposed to my interpretation of it. To say I regret that is strong, but I definitely do. I should've been going in there as myself with my interpretations from day one, but that's part of the learning process. You want to hear a yes, and you want to work. I just wanted to act all the time—I still do! I want to act all the time. You do what you think they're looking for, and usually what they're looking for is an original interpretation of the material. Do you know Meg Simon, the casting director? I came in and auditioned for her years ago for a CW thing. She stopped the tape and closed the door. It was the best advice. She said, "I watch you in all these Off-Broadway plays, and it's why I keep bringing you in—and every time I bring you, you give me the TV version of yourself. I'm bringing you in because of what I'm seeing you do onstage. Come in and show me your interpretation. Stop trying to do some Blake Lively impression. That's not why I'm bringing you in." That was huge for me. That was a turning point. I'm forever grateful to her for that. She was very kind with it, but clear, too. It changed how I thought about auditioning.
Who was the casting director who cast you in your first big break?
My first big professional job, I had just dropped out of college and I booked this really tiny role on "The Sopranos." Georgianne Walken was the casting director for that. I remember auditioning—I was really nervous, it was one of my first auditions. The whole way it happened was so strange. I had done this really weird show in the mainstage of NYU undergrad right before I dropped out, and this agent had seen me in it and she called me and said, "Can I send you out on a couple of things and see how you do?" I was already dropping out at that point, and she sent me on this random audition for "The Sopranos," and I was so nervous and I got called back and I auditioned for Steve Buscemi, who directed the episode I was in. That was the first big job. And then I didn't really work for a year after that. It was this wild experience, and then I was doing a bunch of odd jobs.
What was your most memorable survival job?
I was a dog walker for years, which I loved. I was so close with the dogs that I walked. When I left that job, one of my fellow dog walkers made me a photo album of all of my clients. I still have it; I have this photo album of all these dogs I spent every day with. In this stunning turn of events, the show I did last year, "Modern Love," we shot in a building where I used to walk multiple dogs. It was so wild. They picked me up, took me to set, and I was like, "Wow, this address seems so familiar, I don't know why." As we rolled up to set, I was like, "Oh, I know why. I came here every day for two years." It was really beautiful.
How did you first get your SAG-AFTRA card?
I want to say "The Sopranos" got me almost there, and maybe I did a commercial that got me to the actual membership. I wish I had a better memory. I remember getting that card and being immensely grateful and dumbstruck. It was a beautiful moment: I did it, I'm an actor!
"You want to hear a yes, and you want to work. I just wanted to act all the time—I still do! I want to act all the time."
What is your worst audition horror story?
I had to mime eating someone's chest once. It was a werewolf drama. There have definitely been ones where people have said terrible things. I remember a director saying once—I had worked so hard on something, and at the end of it he said, "Pretend you were actually this person and this was happening to you." I've usually had a very good experience, but I think they sometimes forget you're a human and you worked really hard on this and you're not a piece of meat that walks through the door. The amount of rejection is really tough.
When auditioning for musicals like "Once," what was your go-to audition song?
Usually, my audition songs would be "Maybe I'm Amazed," "I Don't Know How to Love Him" [from "Jesus Christ Superstar"], and "Oh! Darling." Two Beatles songs and an Andrew Lloyd Webber. You want to talk about big swings? Here we go: I forgot about this. There's a Regina Spektor song called "Music Box," and it involves the person singing it choking on soap. I used to use that one constantly. That was my go-to. I loved that song so much, and I felt it was very indicative of the stuff I wanted to do; it was weird and dark and funny. I used that one constantly and never booked a job with it. I don't regret that at all. The stanzas where I'm choking on soap, the room would go ice-cold.
What singing tricks or practices do you use to keep up stamina and vocal health?
When I started doing "Once," I was introduced to Liz Caplan, a vocal coach in New York. She changed my whole approach. She is an incredible teacher. Growing up, I sang, and I remember one of the things when I got to NYU, I felt like a lot of the vocal teachers tried to change my sound. They'd say, "You don't sound the way you look," which is so strange. My voice was low and my voice was a little smoky—they were like, "You can't be in musicals with that. You have to learn how to sing like a soprano." They were trying to expand my repertoire and open my mind, but I felt very boxed in. [Liz] taught me how to protect and use my instrument and not how to change the way I sounded or change the way I sang. She taught me about placement and breathing. The way I protected [my voice during "Once"] was I went to vocal lessons with her and I didn't see anyone for a year. I lived like a monk. I didn't drink, I didn't go out. I really shut it down. I was a homebody for a full year. That's how I protected my voice. That show, in particular, was so emotional. It was a real journey each night. I don't think I would've been able to go out afterward; I so fully gave everything to that show.
READ: What Are Special Skills + Which Ones Should an Actor Have?
What's the wildest thing you've ever done to get a role?
For some role years ago, they were like, "You have to be really good at horseback riding, are you?" And without missing a beat, I was like, "Oh, yeah." And I'm not at all. I've tried multiple times. I was like, "If I get it, I'll learn." I remember doing a commercial at one point for that HPV vaccine, Gardasil, directed by the director who did "Blue Valentine" [Derek Cianfrance]. They asked if I was good at yoga, and I had taken one yoga class in my life and I was like, "Yeah, I'm great at yoga." And they were like, "Great, we're going to film you doing yoga and talking about yoga like you're a yoga teacher." When I got there, it was so immediately clear I had no idea what I was doing, and I was completely cut out. [Laughs]
What performance should every actor see and why?
Frances McDormand in "Fargo," Laura Dern in "Enlightened," Uma Thurman in "Kill Bill," Joan Cusack in "Addams Family Values," Madeline Kahn in "Clue," Catherine O'Hara in "Schitt's Creek"—or anything Catherine O'Hara has ever done. Those are performances that really resonated with me growing up and even as an adult. They are so unabashedly brave and fearless, those performances, and they're completely not vain at all, even if they're playing a vain person. They are so mind-blowingly imaginative and original and creative and can only be performed by those women.
This story originally appeared in the July 23 issue of Backstage Magazine. Subscribe here.
Looking for remote work? Backstage has got you covered! Click here for auditions you can do from home!