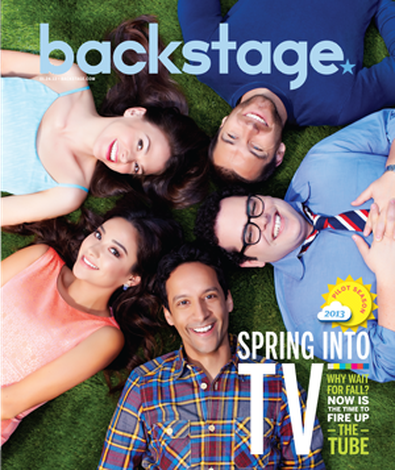 Backstage recently sat down with TV stars Sutton Foster ("Bunheads"), Josh Gad ("1600 Penn"), Shay Mitchell ("Pretty Little Liars"), Danny Pudi ("Community"), and Antony Starr ("Banshee") to talk about their premiering shows and how the television industry is changing. Here is an excerpt from the freewheeling conversation.

Why are so many actors now, including actors we know from years of film work, gravitating toward TV?
Danny Pudi: I said it before—content. There's a lot of great stuff on television. There are so many good, interesting stories being told. As an actor, who doesn't want to be a part of that?
Josh Gad: The flip side is there's not a lot of film being made anymore.
Antony Starr: The guts of the independent film market are gone. Between the top- and bottom-dollar films that are being made, that whole middle bracket—forget it. It's gone. There's this plethora of talent with nowhere to go. So you get great film writers coming into TV, and the whole quality of everything has risen. And with times changing and technology changing, people aren't going to the cinema. The future is not in the cinema.
Gad: It's a little disheartening. You have all of these movie stars who are moving into TV and theater. I would be very afraid if I was just moving out here or moving to New York. I would be a lot more scared than I was when I did, because it just seems like there's a lot more competition for a lot fewer roles now.
Sutton Foster: All the rules have changed. Movie stars are doing TV. TV people are going to Broadway.
Pudi: I just did a Web series with a couple of buddies, because YouTube is starting to create their own content. It's the next great frontier.
Gad: It's the wild, wild West.
Pudi: There's room there for stories that you weren't sure where they were going to be told. Is this a film? Is it a TV show? Maybe this is just an idea that I want to explore. I think that's good for everybody.
For more from this week's issue of Backstage, pick up a copy on newsstands Thursday!