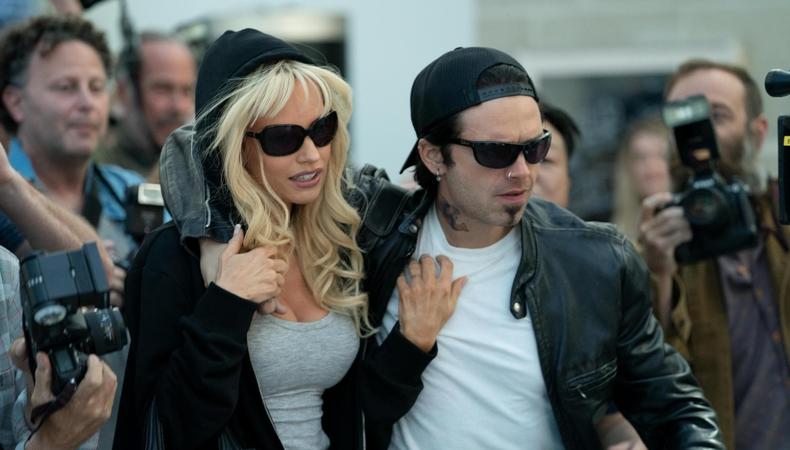 Television doesn't sleep. Backstage is breaking down, month by month, the buzzy shows and performances that merit attention from awards voters and couch potatoes in the ever-growing landscape of the small screen.
As winter churns on, so does TV—and this February will see plenty of buzzy new series kick off, as well as a few long-awaited returns. BBC America's "Killing Eve" and FX's "Better Things" will both launch their final seasons; meanwhile, Amazon will debut the delayed fourth season of its Emmy-winning "The Marvelous Mrs. Maisel," and franchise originator "Law & Order" will make a comeback on NBC following a very long (12-year!) hiatus.
Over at Starz, the popular "Power" series will get its third spinoff, "Power Book IV: Force," and Netflix will debut a sequel to historical drama "Vikings" with "Vikings: Valhalla." A host of other dramas are also premiering, including kidnapping thriller "Suspicion" on Apple TV+, psychological horror "The Girl Before" on HBO Max; "Bel-Air," a dramatic reimagining of "Fresh Prince" on Peacock; and corporate scam miniseries "Super Pumped: The Battle for Uber" on Showtime. Read on for a full February TV premiere schedule and our top three picks of new series to watch.
"Pam & Tommy"
"I, Tonya" director Craig Gillespie is returning to the real-life '90s scandal well with "Pam & Tommy," Hulu's miniseries about the roller-coaster romance between model-actor Pamela Anderson and rocker Tommy Lee. Premiering Feb 2., the show stars Lily James and Sebastian Stan as the infamous couple whose leaked sex tape, in an absurd twist, helped usher in the age of the internet. Robert Siegel (of "The Wrestler") penned the series, which also stars Nick Offerman, Taylor Schilling, and Seth Rogen.
"Inventing Anna"
After a decade spent mostly in the producer's chair, TV titan Shonda Rhimes is stepping up once more as a creator with a new Netflix miniseries. "Inventing Anna," dropping Feb. 11, harnesses the combined acting power of Emmy winner Julia Garner and Emmy nominees Anna Chlumsky and Laverne Cox to tell the story of Anna Delvey, an infamous con woman who posed as a German heiress and cheated a lot of rich people out of a lot of money. Garner stars as Anna, and Chlumsky plays the journalist who's trying to get to the bottom of her schemes.
"Severance"
Apple TV+ is going full "Eternal Sunshine of the Spotless Mind" with a trippy new series created by none other than Ben Stiller, premiering Feb. 18. "Severance" stars Adam Scott as Mark, a corporate drone who agrees to have his existence literally divided between work and his personal life via an implant that separates his memories of the two. Naturally, things take a sinister turn, and Mark must get to the bottom of what's really going on. The thriller also stars Oscar winners Patricia Arquette and Christopher Walken and Emmy winner John Turturro, plus Dichen Lachman, Zach Cherry, and Britt Lower.
ALLBLK

Feb. 3 – "Double Cross" Season 3
Apple TV+
Feb. 4 – "Suspicion" premiere
Feb. 18 – "Severance" premiere
Amazon Prime Video
Feb. 4 – "Reacher" premiere
Feb. 18 – "The Marvelous Mrs. Maisel" Season 4
BBC America
Feb. 27 – "Killing Eve" Season 4
Comedy Central
Feb. 2 – "South Park" Season 25
The CW
Feb. 21 – "All American: Homecoming" premiere
EPIX
Feb. 20 – "From" premiere
FX
Feb. 23 – "Snowfall" Season 5
Feb. 28 – "Better Things" Season 5
HBO/HBO Max
Feb. 3 – "Raised by Wolves" Season 2
Feb. 10 – "Adventure of the Ring" premiere
Feb. 10 – "The Girl Before" premiere
Feb. 17 – "Dream Raider" premiere
Feb. 24 – "Las Bravas" premiere
Hulu
Feb. 2 – "Pam & Tommy" premiere
Feb. 11 – "Dollface" Season 2
NBC
Feb. 21 – "The Endgame" premiere
Feb. 24 – "Law & Order" Season 21
Netflix
Feb. 2 – "Dark Desire" Season 2
Feb. 3 – "Finding Ola" premiere
Feb. 3 – "Murderville" premiere
Feb. 4 – "Sweat Magnolias" Season 2
Feb. 9 – "Disenchantment" Season 4
Feb. 10 – "Until Life Do Us Part" premiere
Feb. 11 – "Inventing Anna" premiere
Feb. 11 – "Toy Boy" Season 2
Feb. 14 – "Devotion, a Story of Love and Desire" premiere
Feb. 14 – "Fishbowl Wives" premiere
Feb. 16 – "Secrets of Summer" premiere
Feb. 17 – "Young Wallander" premiere
Feb. 18 – "Space Force" Season 2
Feb. 25 – "Vikings: Valhalla" premiere
Peacock
Feb. 13 – "Bel-Air" premiere
Showtime
Feb. 27 – "Super Pumped: The Battle for Uber" premiere
Spectrum
Feb. 7 – "Angela Black" premiere
Starz
Feb. 6 – "Power Book IV: Force" premiere
Sundance Now
Feb 14 – "State of the Union" premiere (airs simultaneously on AMC+)