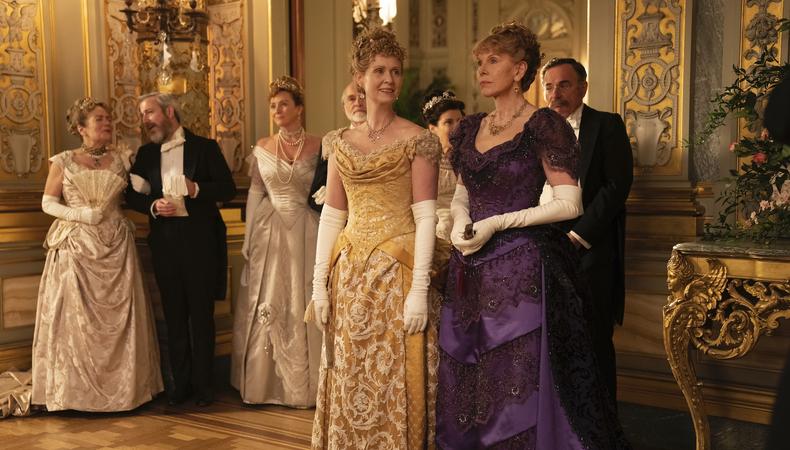 Television doesn't sleep. Backstage is breaking down, month by month, the buzzy shows and performances that merit attention from awards voters and couch potatoes in the ever-growing landscape of the small screen.
Most TV series took a well-earned holiday break in December, but the small screen is back in action for the start of 2022. January sees the midseason returns of plenty of shows, plus of the final seasons of long-running series "Black-ish" (ABC), "This Is Us" (NBC), and "Search Party" (HBO Max).
Other faves making their returns include Emmy winners "Ozark" (Netflix) and "Euphoria" (HBO), plus Showtime's "Billions" and TNT's "Snowpiercer." A host of new network sitcoms are making their bids to be the next big thing, including ABC's "Abbott Elementary," Fox's "Pivoting," and NBC's "American Auto." And for spinoff lovers, Hulu is premiering a twist on the classic "How I Met Your Mother" with "How I Met Your Father," starring Hilary Duff, Kim Cattrall, and Christopher Lowell. Read on for our picks of January 2022 must-see premieres.
"Women of the Movement"
ABC is taking on America's history of racist violence with "Women of the Movement," a new anthology series premiering Jan. 6. Executive produced by Jay-Z and Will Smith, the first season will focus on Mamie Till Mobley, the mother of Emmett Till, whose 1955 lynching caught the attention of the whole country. Till Mobley became an outspoken activist in the early days of the civil rights movement as she sought justice for her son's brutal murder. Two Tony winners take center stage in the series: Adrienne Warren ("Tina—The Tina Turner Musical") as Till Mobley, and Tonya Pinkins ("Caroline, or Change") as her mother, Alma Carthan. Created by Marissa Jo Cerar ("The Handmaid's Tale"), who also serves as an executive producer and showrunner, the series features Black women in the director's chair, including Gina Prince-Bythewood ("The Old Guard") and Kasi Lemmons ("Eve's Bayou").
"Somebody Somewhere"
Alt-cabaret legend and rising character actor Bridget Everett ("Unbelievable," "Patti Cake$") is finally getting a TV vehicle of her own with HBO's "Somebody Somewhere." Dropping Jan. 16, the series is inspired by Everett's own life. She plays Sam, a Kansas woman who's struggling to find her place in the world while grieving the death of her sister. The show also features Murray Hill, another New York City cabaret mainstay, plus Mike Hagerty, Jeff Hiller, and Mary Katherine Garrison. Everett created "Somebody Somewhere" alongside Hannah Bos and Paul Thureen—both of another HBO cult series, "High Maintenance."
"The Gilded Age"
While you're waiting on the next season of "Bridgerton," HBO is here to scratch your dishy period drama itch with "The Gilded Age." The new series from none other than "Downton Abbey" creator Julian Fellowes follows the lives of the upper crust in 1880s New York City. It's a battle of old money versus new money when the established Brook family comes up against their new railroad tycoon neighbors. The gossip is to die for, and so is the cast: Led by the great Christine Baranski, the sprawling ensemble also includes Carrie Coon, Cynthia Nixon, Audra McDonald, Jeanne Tripplehorn, Donna Murphy, Michael Cerveris, Bill Irwin, Denée Benton, and newcomer Louisa Jacobson (who also happens to be Meryl Streep's daughter).
Check out the full schedule of TV series debuting and returning in the first month of the new year:
ABC
Jan. 4 – "Abbott Elementary" premiere
Jan. 4 – "Black-ish" Season 8
Jan. 6 – "Women of the Movement" premiere
Jan. 24 – "Promised Land" premiere
Acorn TV
Jan. 10 – "Queens of Mystery" Season 2
Amazon Prime Video
Jan. 20 – "As We See It" premiere
Jan. 28 – "The Legend of Vox Machina" premiere
AMC+
Jan. 8 – "A Discovery of Witches" Season 3 (also on Shudder and Sundance Now)
Jan. 20 – "La Fortuna" premiere
Apple TV+
Jan. 21 – "Servant" Season 3
Jan. 28 – "The Afterparty" premiere
CBS
Jan. 5 – "Good Sam" premiere
The CW
Jan. 11 – "Naomi" premiere
Jan. 11 – "Superman & Lois" Season 2
Jan. 16 – "Two Sentence Horror Stories" Season 3
Epix
Jan. 16 – "Britannia" Season 3
Freeform
Jan. 20 – "Single Drunk Female" premiere
Fox
Jan. 3 – "9-1-1: Lone Star" Season 3
Jan. 3 – "The Cleaning Lady" premiere
Jan. 9 – "Call Me Kat" Season 2
Jan. 9 – "Pivoting" premiere
Jan. 30 – "Monarch" premiere
HBO/HBO Max
Jan. 7 – "Search Party" Season 5
Jan. 9 – "Euphoria" Season 2
Jan. 9 – "The Righteous Gemstones" Season 2
Jan. 13 – "Peacemaker" premiere
Jan. 16 – "Somebody Somewhere" premiere
Jan. 20 – "On the Job" premiere
Jan. 24 – "The Gilded Age" premiere
Jan. 27 – "Bunker" premiere
Jan. 27 – "Gomorrah" Season 5
Hulu
Jan. 18 – "How I Met Your Father" premiere
Jan. 27 – "Grown-ish" Season 4 (also on Freeform)
NBC
Jan. 3 – "Kenan" Season 2
Jan. 4 – "American Auto" premiere
Jan. 4 – "Grand Crew" premiere
Jan. 4 – "This Is Us" Season 6
Netflix
Jan. 1 – "The Hookup Plan" Season 3
Jan. 5 – "Rebelde" premiere
Jan. 6 – "The Club" Season 2
Jan. 10 – "Undercover" Season 3
Jan. 13 – "The Journalist" premiere
Jan. 14 – "After Life" Season 3
Jan. 14 – "Archive 81" premiere
Jan. 14 – "The House" premiere
Jan. 19 – "El Marginal" Season 4
Jan. 21 – "Ozark" Season 4
Jan. 21 – "Summer Heat" premiere
Jan. 28 – "The Woman in the House Across the Street From the Girl in the Window" premiere
OWN
Jan. 11 – "The Kings of Napa" premiere
PBS
Jan. 2 – "Around the World in 80 Days" premiere
Jan. 9 – "All Creatures Great and Small" Season 2
Peacock
Jan. 13 – "Wolf Like Me" premiere
Showtime
Jan. 23 – "Billions" Season 6
Syfy
Jan. 26 – "Astrid & Lilly Save the World" premiere
Jan. 26 – "Resident Alien" Season 2
TBS
Jan. 24 – "American Dad!" Season 18
TNT
Jan. 24 – "Snowpiercer" Season 3