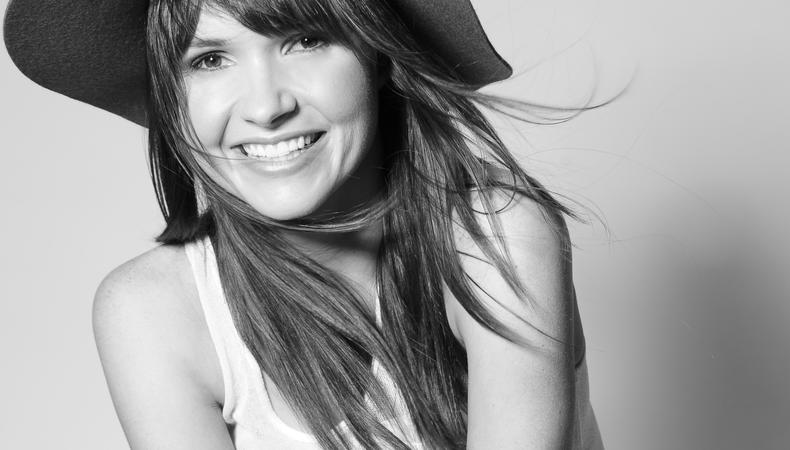 Bubbly Connecticut native Valerie Azlynn moved to Brooklyn, New York to attend film school at age 17. While there, she immersed herself in the world of theater, though afterward, she relocated to Los Angeles to pursue television and film. Azlynn has recently been cast as Melanie Sutton in TBS' "Sullivan & Son," a comedy about a New York lawyer who quits his job to run the family bar, and the patrons he encounters.
Full of optimistic advice for young actors, Azlynn discussed the acting technique a sitcom requires, as well as the distinct energy and voice the show offers.
What was the audition process like for "Sullivan & Son"?
Valerie Azlynn: On the day of the audition for "Sullivan and Son," I had three other auditions all around Los Angeles. It was so hectic. I remember changing in my car before I went in to read. Our casting director, Julie Ashton, is actually incredible. It was a treat to read with her. She's very engaged and wants the best out of your performance. I met [Steve Byrne] and the producers, and they were amazing from the get go. When I left the room I had a feeling it had gone really well, and I had a feeling I would see them again.
What did you do to prepare for the role Melanie Sutton, a no-nonsense paramedic?
Azlynn: I love watching old sitcoms. It's very inspiring to watch "Mary Tyler Moore" and "Golden Girls." I have watched them over and over again for years. So I broke out my box sets and re-watched my favorites. The cadence and the rhythm of the character's speech is what I tend to focus on. Melanie's life is outside of the bar, and she comes to the bar to get relief. I spent a lot of time figuring that out, but also balancing it with how tough she is. My idol is Bea Arthur. I really tried to follow her example. She is one of my comedy "she-roes."
What sets the show apart from other comedies on television?
Azlynn: We have really large ensemble cast. The characters are up to ten people every week on a sitcom. That's a lot of people to fill into a script. It keeps the energy moving, and it allows for a lot of other storylines that makes it really unique to watch. It doesn't get stale. The voice of the show pushes a lot of boundaries. It says stuff that hasn't been said in sitcoms. We talk about a lot of racial stereotypes. Steve Byrne, being half Korean, half Irish, it's so nice to have him be the leading man of the show. He hasn't been cast as just a sidekick. That's really new. He's such a strong leading man, too. He's so grounded and yet he can go so big with comedy.
How did you acclimate yourself to the feel of a sitcom set in a bar?
Azlynn: I watched some episodes of "Cheers" to try to understand the comfort level that comes with spending all of your time in one place. That is the most important thing in the show -- you are supposed to believe these people are there everyday at this bar drinking. And when you spend all of your time with people, you are very comfortable around them. It was such a testament to the rest of the cast. Everyone hit it off immediately, and we all have excellent chemistry. We are very lucky that all of the younger guys on the show do standup and they know each other really well.
What is the energy like on set?
Azlynn: Ours is not a set to walk onto if you are sensitive. All the comedians do is pick on each other, and it's hysterical. When the rest of us walk in, we are easy targets too. It keeps you on your toes. It really felt like seeing my family everyday. When we stopped shooting, I felt like I had withdrawals. The cast feels like my brothers. If I could kidnap Bryan Doyle-Murray and force him to be in my family, I would. I love him, I really do. There is not another human being alive right now who can deliver a line like he can. That's something for young actors to watch and look up to.
What other advice do you have for emerging actors?
Azlynn: I think most importantly, your biggest obstacle is yourself. Do not let yourself get in your own way. Don't judge yourself and knock yourself down. There is enough of that out there already. Remember you are an artist, and you bring something special to this craft. Take in notes and criticism, but don't let them define you. Don't try to become a watered down version of yourself.
What is your acting training?
Azlynn: I started in high school and regional theater. Anything that came into town, I wanted to be involved in, because I just wanted to learn. When I moved to Brooklyn to go to film school, I went to a ton of Backstage auditions, so thank you guys. In one of them I played a Santa's Helper in a bikini, so, no thank you for that. But, it was a great experience to be in New York, and I think there are a lot of opportunities here in Los Angeles, too.
You recently appeared in the indie film "Caroline and Jackie." What was that experience like?
Azlynn: When they said shoestring budget, they were not kidding. But our director Adam Christian Clark is a natural director. Some people just have it, and he has it. I would recommend going out for more independent films. You can get bigger roles and really work your acting chops and build a reel. In the film, I got to explore drama.
What other projects are you working on?
Azlynn: I did a couple of episodes on the show "Castle" last year. I played a cop who moonlights as a superhero. I actually went back for the season opener of "Castle." That's another great cast. I am also working with a writing partner. I'm writing a female comedy script, and that should be fun.
"Sullivan & Son" airs on TBS on Thursday at 10/9C.