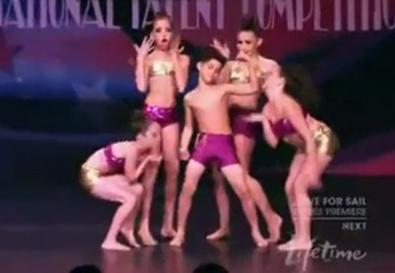 Lucas Triana, 10-year-old star of "Dance Moms: Miami," has quickly found fame not only in the "Dance Moms" world, but unfortunately through questionable websites that feature shirtless boys and whose chatter focuses on the child's physical attributes rather than professional accolades.
"It never crossed my mind that actual child predators would use the images [of my child] recorded during [an episode of 'Law & Order: SVU'] for their gratification," confesses a parent of a child actor who asked not to be identified. "After realizing that my child's stills from an episode of 'Law & Order: SVU' ended up on [site name], I was mortified. Clearly, it's a suspect fan site for predators.
"Because 'Law & Order: SVU' handles children very carefully on set, my husband and I thought that it was an innocuous situation for our child," she added. The parent reached out to BizParentz Foundation, a nonprofit that provides support to parents and children in entertainment, and the parent explains "we will handle this sort of situation quite differently if it ever arises again."
Anne Henry and Paula Dorn, founders of BizParentz, became aware of websites that post photos and video of child performers for nefarious purposes when they found their respective sons' photos for sale on eBay. "I would guess there are about 50 compilation websites that are focused on entertainment kids or modeling kids, that make me uncomfortable," says Henry, who along with Dorn, has been a champion of child performer safety for 10 years.
The photos are "generally 'erotica' and not actual pornography, so it is tough to speculate about their intent," says Henry. "I can confidently say it makes most parents uncomfortable though." BizParentz asked that websites names not be included in this article, as it would draw unwanted attention to children depicted on those sites. Their site, www.bizparentz.org, teaches parents how to deal with the threat pedophiles pose in the industry and how to protect children.
If you think there's no such thing as bad publicity, think again. Henry recalls a now defunct site in which the photographs of more than 1000 children were found. Henry explains that the "site captured profiles and photos from imdb.com" and then added a link to click to see if the actor was nude in the film. This link was a porn advertisement. "When a future employer or college admissions officer Googles your child, do you want a porn related site to be the #1 hit on Google?" asks Henry.
"I think most people would be surprised to know that pedophilia in the entertainment industry is much more about boys than it is about girls," says Henry. Henry is most disturbed when she sees men not only sharing photos but information about where a child can be found such as a publicity appearance or their school's football game. "It really makes you aware that predators use several sources to follow their prey and that they do seek to meet them in person," warns Henry. "That's a 'fan' you don't want,"
"People tend to think they can grab screen shots and reproduce them but, in fact, those shots are protected under copyright law just as a regular photograph would be," explains Cameron Stracher, a media attorney in New York. "In general, posting a screen shot from another website is a copyright violation. The best way to get the photo taken down is to notify the site that has posted it that it is infringing the copyright in the original photo. But to do that, you need the permission of the copyright holder."
Parents may be concerned about their child's reputation after finding their image on a questionable website. "Depending on what is said about the photo, the child or the parents might have a claim for defamation," says Stracher, "but if the comments are sexual in nature, those are likely to be protected opinion and not actionable."
Stracher suggests contacting the website to ask that photos that do not compile with the site's "terms of use" be removed. Henry finds filing a "cease and desist" order helpful as "predators don't like the attention when a light is shone on them."
Website Red Flags from BizParentz
Pictures on the site reflect common pedophilia fetishes such as shirtless boys, water, bare feet, tights on little girls, photos taken looking down at the child (which represents submission), photos with a sultry or overly sexualized look, and children in bed or in pain.
Resource links on the site include "coming of age" movies and organizations like NAMBLA (North American Man/Boy Love Association).
References to the child as "boy" or "girl" rather than actor or actress.
Screen names may be sexual in nature or connote a fetish such as "Footlicker" and "Sensitive Scotty."
Members only discussion boards.
References to common pedophilia symbols or stories such as Peter Pan, Huck Finn or Alice in Wonderland.

BizParentz' Tips to Protect Your Child
The best defense is a good offense. Education, vigilance, and connection to a network of parents are critical.
Establish a Google Alert for your child to signal when Google finds new results, such as web pages, newspaper articles, or blogs that match your child's name.
Protect your child's image. Only release a few pictures publicly. No collections of 100 photos on IMDB. No family photos on your personal website.
Do not post personal information about your child on websites or social media pages.
Unless you have real fans to manage, there is no need for a fan site of your own, so skip the Facebook Fan Page.
www.bizparentz.org
www.imdb.com