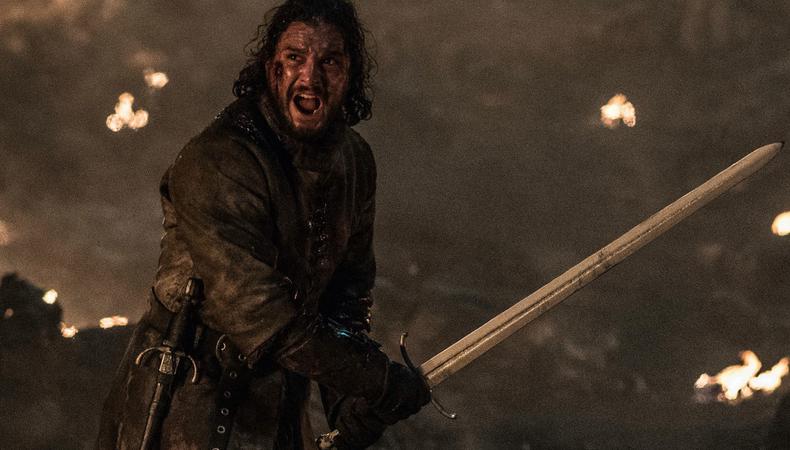 Prop Master Job Description: What Does a Prop Master Do?
During production, the weapons master oversees all weapons—firearms and edge weapons—on set, and ensures they're all being used properly and safely by training actors on proper handling and use. Every time a weapon is used during production, the weapons master will be on set to prep and hand it to the actor or stuntman when directed and handle it between and after takes. They are also responsible for coming up with a list of weapons that make sense for a production's theme and era.
Tommy Dunne, weapons master for "Game of Thrones," says, "the key factor about a weapon is what the character is going to do with it. If it's something for show that's gonna hang on a wall, we can go overboard. But if they have to wield it, fight with it and ride off into the sunset with it on a horse, then it has to be practical."
Sometimes, the weapons master is also involved in the ideation and design of a fictional weapon and must consider practicality as well as character appropriateness during the process. "The Lannisters were rich, so their world is flamboyant, but you're also then dealing with the likes of the Starks, who are homey and down to earth, grounded and traditional—less opulent," Dunne says of designing the show's ancestral house swords.
As far as the industry goes, the weapons master is a relatively new position: up until the 1980s, prop masters were responsible for weapons. It's only in the last few decades that prop teams started bringing in specialists to oversee everything weapons-related and also have a deep knowledge of the use and history of weapons.
Department
Art
Alternate Titles for Armorer
Weapons Master, Weapons Wrangler, Weapons Specialist
Crew Hierarchy
Though the weapons masters is a member of the art department, they typically operate as a team of one unless they're working with an intern or apprentice. They report to the prop master or art director, especially when multiple versions of a weapon might be necessary. For example, there may be a principal weapon that's made with the traditional materials so it's the correct weight, etc. Then there may be replica versions in different materials so an actor can move easier with it, not get injured if they're being hit with it—different stunts and stunt teams have different requirements.
When it comes to weapons that require the use of stunt performers or body doubles, the weapons master will also train those performers in everything from how to use the weapons to how to properly walk with a sword.
The weapons master also coordinates the location manager to ensure all weapons can safely make it to location. "Things that you think might be simple [might be] an absolute nightmare," says armorer Natalia Lee. "How do we disassemble it? How do we get it into a field? How do we get it into another country? How's it gonna travel? Will it fit through gates? On roads?"
Weapons Master Salary
A weapons master's earnings are dependent on experience, location, and the size of the productions they work on. However, "because there are so few [weapons masters] and having one on set is a requirement for weapons being present," many can dictate their pay," says weapons master/master armorer Mike Tristano. "It usually correlates to different budgets and union tiers, but the overall wage fluctuates from $200 per day to $500 per eight or ten-hour day."
Weapons masters are represented by IATSE, meaning union members are guaranteed mandatory minimum payments on union productions.
How to Become a Weapons Master
Weapons masters are highly skilled and experts in their field. To advance to this senior level, internships and apprenticeships with Master Armorers are necessary. Alternatively, weapons masters may come up through stunt work, or even a military, police, or security background.
"I was in the Marine Corps and I have a sniper background. I was also a police officer for a long time," says Steve Seapker ("Shooter"). "[Getting into the industry] was not one of those things where I was a PA and I climbed the ladder.... It was an opportunity that came about and was completely unexpected, but I jumped in with both feet."
Lee followed a similar path, working in maritime security and police armory. Those jobs "gave me exposure to a wide variety of weapons and defensive armor and equipment. I began assisting film armorers on big productions and eventually became one myself."
Weapons Master Required Experience + Skills
While there's no formal training path for a weapons master, prior experience in security or military work is common, as is stunt work. Deep knowledge about weapons and the history of weapons is also crucial—many weapons masters are skilled in a specific weapon or genre.
"There's no better place to learn things than on set," weapons master Anthony DeLongis ("Fearless," "iCarly") says, but that approach won't work unless you have a foundation first. "Don't think you're going to learn something that involves high skills after you get the job."
A weapons master must also have the proper licenses and permits to operate. For example, California requires a weapons master to hold an Entertainment Firearms Permit (EFP) to be legally employed by a production.
For more on how to get work on a film crew, visit Backstage's crew hub!