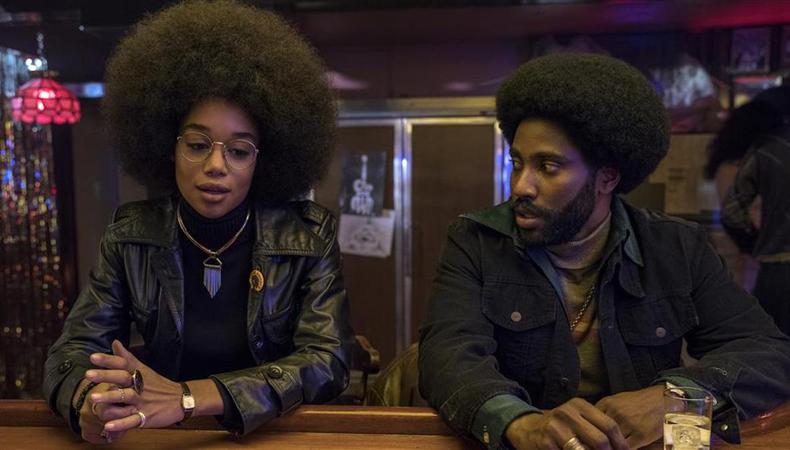 TV and film hairdressing jobs can be some of the most fun on any set. In addition to creating a character's coif—absolutely crucial for any portrayal—hairstylists are often the first folks whom the actors see every morning. It is well known that the hair and makeup (HMU) trailer is a sanctuary for the actor, one where they can relax before a shoot or unwind with gossip (and even a glass of wine) on a Friday evening after a long week.
By that same measure, hairdressing jobs are highly sought-after and the competition to get them is cutthroat. If you think you're cut out for hairdressing, you have come to the right place. Here, we will walk you through everything you need to know about how to become a key hairstylist.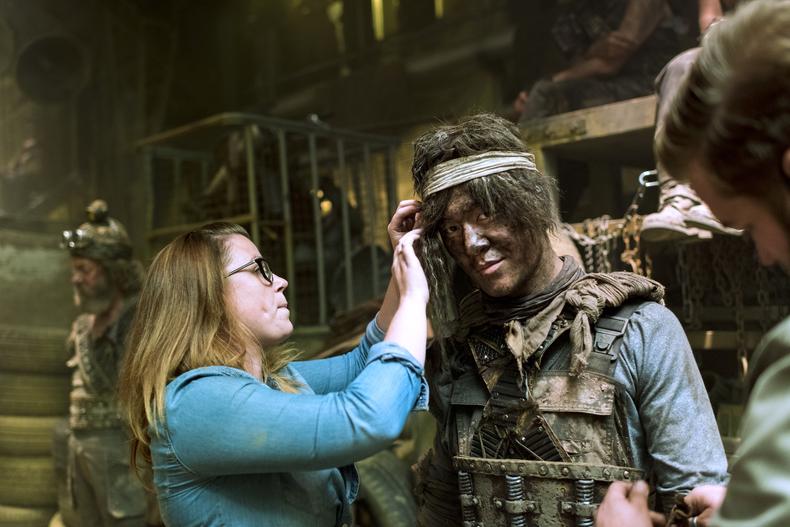 BTS of "Into the Badlands" Credit: Antony Platt/AMC
The key hairstylist is in charge of creating and styling every character's hair on set. They are the head of the hair team within the hair and makeup department. (Technically, hair and makeup are two different departments, but are often referred to as one.)
"We provide the look for the film, as far as the hair goes," LaWanda Pierre, key hairstylist on "Uncut Gems" and "BlacKkKlansman," told Backstage. This involves design and execution, including hiring a team to cover every single actor on set, extras included. "Everyone has to look like they're not in a Halloween costume but like real people, and we can't have one person's appearance mess it up."
During both preproduction and shooting days, the key hairstylist often collaborates with the wardrobe department to ensure the project maintains a cohesive aesthetic. "I'm usually mindful of costumes since hair and outfits often complement each other," hairstylist Araxi Lindsey ("The Harder They Fall") told Byrdie. "If a character with long hair is wearing a high collar, I like to pull hair away from the neck area. If a woman with long hair is wearing a backless dress or something elaborate, I like to pull the hair in a different direction to accent the details.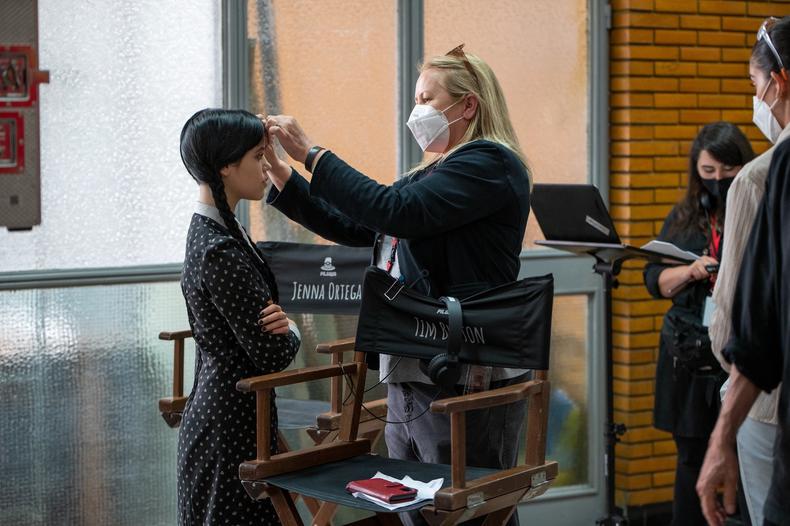 BTS of "Wednesday" Credit: Vlad Cioplea/Netflix
During preproduction: The key hairstylist analyzes the script to create and test designs, cuts, and coloring for the cast's hair. This process often involves compiling reference images, particularly if the project calls for a specific time period or follows a historical figure.
They also hire the team of hairstylists and hair assistants who will be executing much of the day-to-day styling on set.
On set: The key hairstylist is present during shooting to maintain the actors' hair between takes, as well as execute the hairstyling themselves for any of the main cast. As the head of their team, they are in charge of delegating any responsibilities having to do with the project's hair looks.
Often, the key hairstylist keeps photos of all hair and wigs for continuity in the event reshoots are necessary.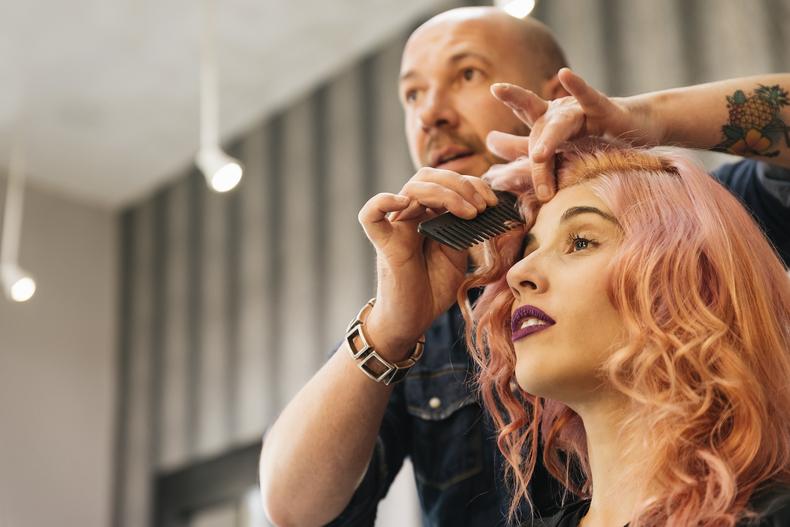 santypan/Shutterstock
Hairstylists working in the motion picture industry make an average yearly salary of $76,670, or an average hourly rate of $38.86, according to the U.S. Bureau of Labor Statistics. That said, hairstylists are represented by IATSE Local 706, also known as the Makeup Artists and Hairstylists Guild, which means if you're a union member, there are mandatory minimums for payment. Head to the union's website for more information on joining Local 706.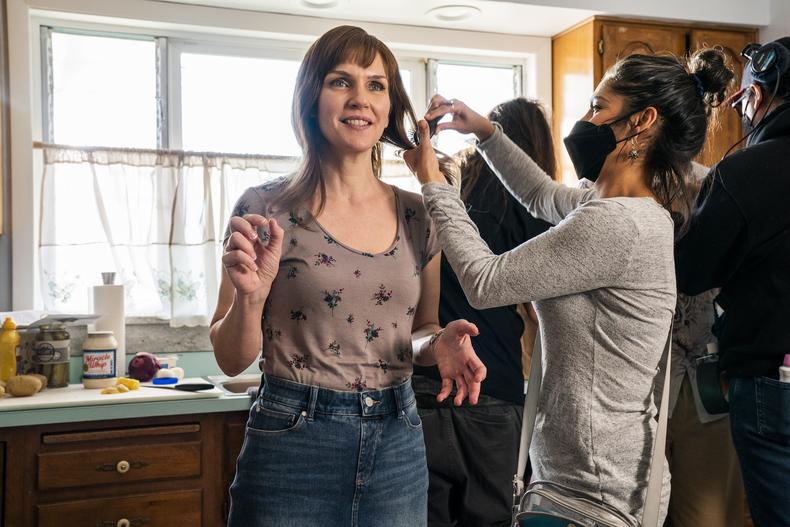 BTS of "Better Call Saul" Credit: Greg Lewis/AMC/Sony Pictures Television
In most states, a cosmetology license is required to professionally cut and style hair. The requirements to gain your license vary from state to state, so make sure to check depending on your location. In both New York and California, for example, the state requires you to complete 1,000 hours of training at an approved cosmetology school before taking written and practical examinations.
Cosmetology school also provides a solid foundation for the job, especially since there is little opportunity to work with wigs and bald caps outside of an academic setting. No matter what, the ability to cut and style hair—as well as come up with original looks—is an essential part of the job. A background as a salon hairstylist is incredibly useful in honing those skills and gaining experience, and can also serve as a steady stream of income between shoots.
Another crucial skill? Speed. "You can't have a stylist holding up [shooting] because it's taking them over an hour to do an actor's hair. That's unacceptable," says Kerry Mendenhall, an Emmy-winning key hairstylist ("Nashville," "Dead to Me"). Most actors "want to get through [hair] quickly and have it look fabulous. That combination of skill and speed takes years of practice."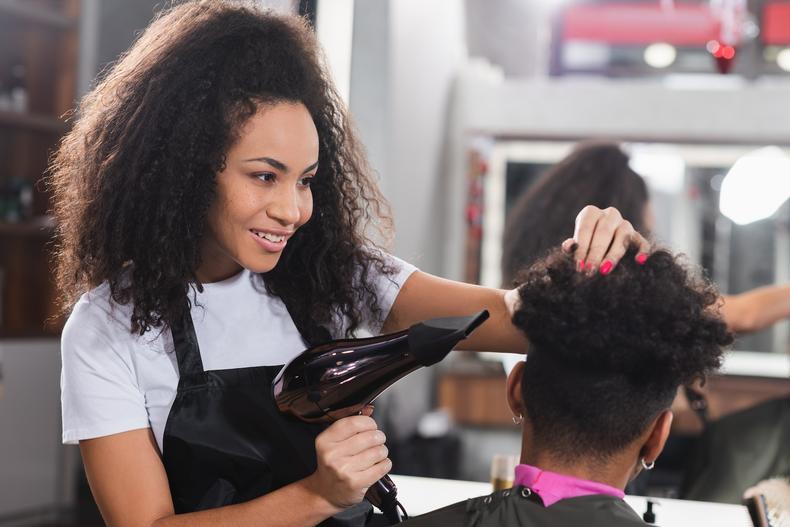 LightField Studios/Shutterstock
Most key hairstylists start their careers working in salons before transitioning to production or theatrical work. From there, they often begin as hair assistants or PAs who work within the hair and makeup department before becoming hairstylists. To make the jump from the salon to sets, Pierre suggests looking for work on student films and indies whenever possible, with the goal of joining the union in mind.
"Always continue to learn and educate yourself on trends, whether that is wig-making or grooming, and always educate yourself on how to do new things," she said. "First and foremost is the skill, and then you try to make your way into the union. I would say do a lot of independent films first in order to get your days, and do student films and learn. Get your days up so that you can join the union, and then you can do more union work."
If you want to get started as a key hairstylist, build out a lookbook portfolio to show your work. Even if you're just borrowing your friends for a few hours to photograph for future reference, having photographic proof of what you can do is nothing short of necessary. In this portfolio, it's ideal to have a vast array of looks; from natural to outlandish, you want the breadth of your abilities to be on display.
In some instances, key hairstylists are brought onto productions by actors who are their private clients. Pierre, for example, got work on her first film—Spike Lee's "Red Hook Summer"—because one of her salon clients was a cast member. "Spike had a hairstylist who wasn't available every day of the 18 days to shoot. So I came to do my particular actor's hair and then ended up doing everyone because she wasn't available to finish the job," she says. "From then, he really liked me and he liked my work so he asked me to do 'Sweet Blood of Jesus' right after that."