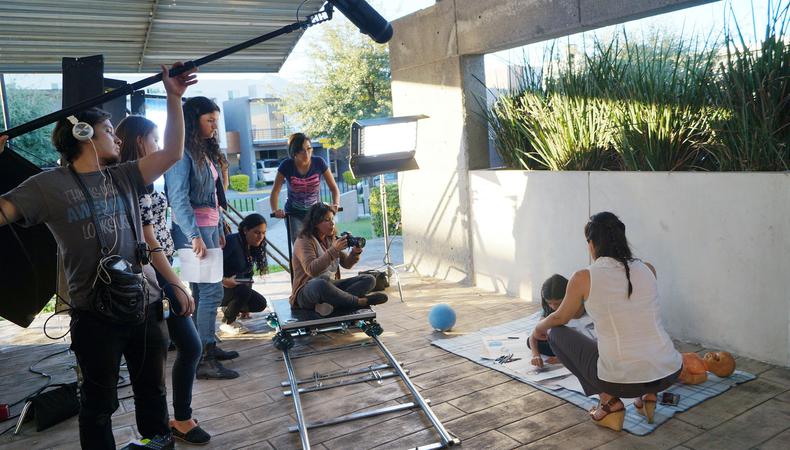 It's normal to hold on to some hope that your student film will be discovered by a big Hollywood name who wants to help you make your first professional project. But there's also a reason that's largely a fantasy scenario. While these stories do exist (Hello, Lena Dunham!), they are few and far between. So, while you're waiting for that big-break moment, there are many more accessible ways for your work to be seen and for you to get a foot in the door. From film festivals to networking to showcasing your work online, faculty from New York Film Academy, SCAD, and Florida State University share with Backstage how you can use your student film work to help you transition into the industry you've been working toward.
"Festivals serve as a meeting place for producers, agents, managers, development executives, everybody who's in the industry, looking for emerging talent. Festivals are not just a celebration of cinema, but also part of entering the business."
Film festivals are your best bet when leaving school.
For student projects, film festivals are the best way to introduce your work to a wider audience of people involved in the industry, from actors to fellow filmmakers, producers, and studios. But it's not as simple as applying to Sundance and calling it a day. "Over the last 20–25 years, the film festival world has expanded exponentially," says Crickett Rumley, director of the department of film festivals at New York Film Academy.
From her outpost at NYFA's L.A. branch, Rumley helps students strategize when applying to festivals and helps people understand the context of festivals within the broader industry. It's not just about the film and the life of the film, because "festivals serve as a meeting place for producers, agents, managers, development executives—everybody who's in the industry looking for emerging talent," she says. "It's a great place for networking. Festivals are not just a celebration of cinema, but also part of entering the business."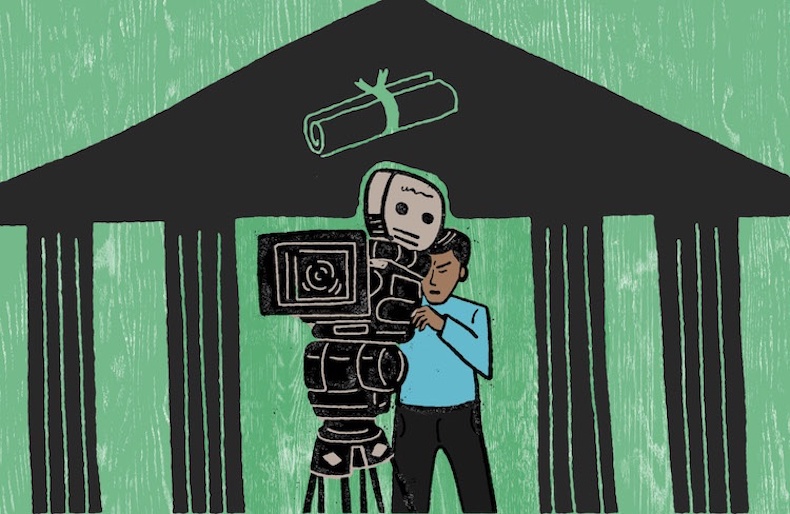 30 Film Schools You Should Know
The value of festivals is felt at programs across the country. D.W. Moffett, an actor, director, and chair of the film and television department at Savannah College of Art and Design's School of Entertainment Arts, can vouch for the opportunities festivals create for aspiring filmmakers—so much so that SCAD even has an international festival of its own. "Students gain invaluable experience in the world of film festivals, which opens endless doors through networking, exposure of their work, and potential career opportunities when rubbing shoulders with established and professional talent," he says, echoing Rumley. Nicola Rinciari, a SCAD graduate from Italy whose short film "Our Side" was chosen for the SCAD Film Festival, adds that his festival run "really boosted the life of the project by giving it a notable platform to be seen." The project was later nominated at the 2020 Student Academy Awards and in the U.S.A. Film Festival in Texas, as well as some international film festivals in Italy.
Know your options and have a strategy.
Rumley wants students to know all of the festivals available to them, and her goal is to get students' work into the best film festivals for their project. This requires an understanding of the landscape and how to maximize the resources going into submissions. Strategies include having extra resources for the film such as websites, media kits, and trailers, and most major festivals come with a submission fee, many of which (but not all) offer discounts to students or young filmmakers.
Decide the best festival path for your film or project—is it a genre film? Maybe look for genre film festivals to submit. Big festivals like Sundance are great, but if you get into a major festival, you'll be competing for attention with thousands of other works. Your project might be able to shine somewhere smaller, and several film festivals are dedicated to the work of young filmmakers or have special categories for student and early-career works. You can find options on sites like Film Freeway, but be warned that not every festival you find online is legitimate, and if there are red flags, like a first year festival that's using similar naming or language to popular legacy festivals, or a festival that wants you to pay to win a prize, you want to steer clear. Do your due diligence and research where you're submitting.
"The thing I say to our students from the beginning is that there's not a direct path here. All of us in the arts know that there's no direct path—do that, do that, and then you're winning an Oscar, it doesn't work that way. Festivals are a bridge between the school and the professional world."
Take advantage of all the things that festivals offer.
More than anything, as a filmmaker, festivals are an opportunity to meet people and network. Success comes in many forms, and a long life for your project isn't the only one; meeting future collaborators is another. With that in mind, always be thinking ahead for your own goals, not just your project's. "I recommend that everyone go into a festival run with their next project. It's best to have a script for your next pilot, web series, or feature ready to roll so that when people love your film and they say, 'What's next?' you can be ready to pitch," Rumley says.
Part of strategizing is being smart about who is seeing your film and when, especially in the age of sharing and virality. If you want to have a festival run, Rumley advises that you keep your film off the internet. Don't put it up on Vimeo or YouTube. Don't throw it up on Instagram; wait until its festival run is finished.
Manage your expectations.
To go back to the idea that your student film will be the ticket that gets you discovered, it's important to understand just how rare that is. If you're going into any festival experience with that as a priority, you may want to reconsider your approach. "I encourage [students] to focus on the benefits of the experience of making their student films and the opportunities for networking that having their films play in festivals affords them," says Brenda Mills, director of industry relations at Florida State University's College of Motion Picture Arts, which counts Oscar winners like Barry Jenkins among its alumni.
Rumley agrees, noting, "I think that it's important for people to understand [discovery] might happen to the very lucky few. What are other measures of success that festivals or a finished piece of work can achieve? Think about that instead of hoping to skip all the steps and now you're a professional feature filmmaker as soon as you're stepping out of school. That almost never happens."
It might not work out, and that's OK.
Mills wants students to take advantage of what FSU's film program can do for developing their work while acknowledging that there are limitations. "We own the rights to our students' films, we provide the equipment and budgets for production, and we pay to enter them into film festivals and contests. However, I warn them every year that their student film is unlikely to open many doors for them as they enter the industry," she cautions. "They do benefit from attending festivals and networking with other filmmakers and the decision-makers who also attend. I encourage our students to focus on honing their craft in film school, taking creative chances with their films, and waiting until later to worry too much about wowing the world with their creativity."
In the instance of a rejection, Rumley likes to do a review with the filmmaker to see where there's room for improvement. "The first thing is to try to identify or come up with a theory about why this happened and course-correct from there. If a film is too long, can there be another cut of it? We are talking about new filmmakers, emerging filmmakers. We all fall in love with things in our work. Is there something about the work that's kind of holding it back? And if so, can we fix it?"
And remember: Festivals aren't the end-all, be-all of opportunities for a finished work. "Look around at the various avenues available to you for distribution. Pick that one that feels right and get your work out there. Get it seen, build an audience, and keep pumping out the work. Reach out to your connections," encourages Moffett. "At SCAD, we encourage students to build a strong, multidisciplinary team while they are in school and keep those connections. Many of our alumni are still collaborating with fellow SCAD grads in the professional world."
"I think students should be focusing more on the process than the product. When they've found their voices, established working relationships, and figured out how to make the kind of film they want to make, then they can make something they'll be proud of for the long haul."
Relationships, not your projects, are the real legacy of film school.
That being said, relationships and connections are the real sign of success for a student's experience at film school. Many of today's best-known filmmakers and showrunners have go-to collaborators whom they've worked with for decades, sometimes even out of their own film school.
"In our production programs, the undergrads leave with four finished films–three fiction narrative films and one documentary narrative film, and the MFAs leave with three finished films, all narrative fiction. But more importantly, they leave with a group of classmates they've built working relationships with, and the ability to make films together pretty cheaply and efficiently even after they've left the safe confines of the school," says Mills.
READ: How to Get Into a Major Film Festival,
According to a Producer
Rinciari can vouch with his own experience. "The team I collaborate with on current projects outside of work are all SCAD students and alumni, and the industry professionals I reach out to for advice are either faculty or industry experts I met at the SCAD Film Festival," he says.
And you never know where your schoolwork will lead, even if it's not a finished film project. "During my Senior 3 class at SCAD, we were tasked with interviewing one industry professional that we admired and report back to the class. I interviewed Chris Edwards, CEO of The Third Floor, to whom I showed my previsualization portfolio I made throughout the senior curriculum. One week after I graduated, The Third Floor hired me and Chris Edwards is now my boss," Rinciari recounts. He now works with studios like Disney, Pixar, and Warner Bros. in his day job while continuing to create outside of work.
Be realistic and rely on your training.
You chose to attend film school for a reason. There's no doubt that the industry is tough, and it takes a lot of hard work to reach the goal of making your first feature, which is the opportunity for more hard work. That whole time, you have years of training to fall back on that will help you move up in the industry. "I think all of us wish that somebody would go ahead and just hand us money to make our first feature," says Rumley. "That doesn't happen a whole lot. It's important to figure out a way to support yourself as well as your art until you're at a point where you are supporting yourself with your art."
This work will pave the way for when the opportunity does come to create and show your work. Mills insists that you shouldn't just latch onto the pieces you've created as a student to speak for all you can do. "I think students should be focusing more on the process than the product," she says. "When they've found their voices, established working relationships, and figured out how to make the kind of film they want to make, then they can make something they'll be proud of for the long haul. That student film you're so proud of when you're 22? You'll probably be embarrassed by it when you're 32."
"Students don't realize that your attitude is as important as your portfolio—maybe even more important in your early years! If you are easy to work with, your path will be made much, much easier."
Take advice from the pros.
In the end, look at your student work as what it is: a jumping-off point. Do what you can to give it the best chance to be seen and represent who you are as a filmmaker at this moment, but be ready to let go of the hope it will launch you immediately into the awards circuit. It's possible, but "overnight" success rarely happens overnight, and never when you're waiting for it to come to you.
"Always do your work. Write, study, develop. The film industry is mercurial and challenging. There's always something to learn, and the best thing to do is just keep your eyes on your work," Rumley advises.
Mills echoes that idea while encouraging aspiring filmmakers to keep an open mind. You might submit to a film festival hoping to be the next big director only to get a job in the industry and learn you love casting or cinematography. "Students don't know that it's going to be a longer and more circuitous route than they imagine. Many of them will discover what they love to do is different from what they thought they'd be doing when they were in school."
So what do you do with all the work you've put into student film projects upon leaving film school? Instead of worrying about how your work will propel you to filmmaking fame, remember to embrace the opportunities working on student films afford you; they're all a steppingstone to where you want to be in your filmmaking journey.
Looking for remote work? Backstage has got you covered! Click here for auditions you can do from home!