Thea McLeod has had five distinct careers in the entertainment industry, though you might know her best now as the casting director finding talent for the internationally-loved Australian soap opera, "Neighbours" (where now-global stars like Margot Robbie and Chris Hemsworth honed their acting skills). Before she was discovering Australia's next generation of stars, she was an actor herself, as early as a teenager, where she'd actually appeared on "Neighbours" in front of the camera. She moved to the U.K. to make it in acting, and that's where she discovered casting and established herself for more than a decade before returning to Australia to set up shop in casting back home, where she now produces as well. Today, she finds all the faces you see on "Neighbours," but she also works on other projects in casting and producing. With her experiences in front of and behind the camera, she knows the key to a successful performance, and she shared some of her expertise with Backstage.
How to become an actor in Australia.
How is casting a soap opera different from a primetime TV show or film?
Casting a show like "Neighbours," is a fast pace because we're shooting six episodes per week. We work 43 weeks of the year and every week it's six episodes. We have somewhere between 21 and 23 regular cast members, and each week we'll have different guests, bit parts, and dailies. So it's the volume and the pace which is really different. Whereas, if you're doing a feature film, you've got that lead-up time they attach in development, then you're slowly putting together names and it's a longer, slower process. The other thing that I see is different is I won't have a director or producer in the room. It is very much myself and the actor because we have rotating directors, so every week the actors are working with a different director. I'm presenting to a new director every week.
"As an actor, you've got to work hard, look at your career like a mini business, and really pitch yourself. Agents can do so much, but as the actor, you've got to put yourself out there as well."
What challenges come with casting "Neighbours"?
The biggest thing probably is the fast pace. Then a funny thing, which is not so much a challenge, but there are so many brilliant actors and you can't cast them all. That can become really frustrating as a casting director because you're like, "Oh my God, I love them all." And then you're like, "I've only got one job [to offer.]" It is actually a very creative environment on a show like "Neighbours" because they can write people in or we might spot someone in an audition where we're like, "Oh my God we love this person but they're not quite right for that role." I've seen Jason find a way to write those characters in. It is such a creative process on a production like "Neighbours," because they have that freedom. They're doing forward planning so we can say, "Oh I've got that character coming up, so she'd be good for that." It's quite fun.
What can soap operas add to an actor's skills and experience?
On a show like "Neighbours," you have to work with so many directors, which is a fantastic thing for the actor. It's really quite disciplined and such a good training ground for young actors because you could be doing seven scenes all in one day and you've got to get those scripts down. You have to learn that really fast-paced kind of way. Also on a show like "Neighbours," we're very lucky [because] we have great drama coaches and voice coaches. It's like the best drama school ever. It's also a very supportive environment; it's got that sort of family feel. When you look at our Australian actors and a lot of the bigger stars, like Margot Robbie, were on "Neighbours" because they work so hard, they learn that craft, and they take it really seriously. The scripts are so good and they really do work with the actors well. I've got such respect for the actors. No one realizes it's such hard work for them. Even in the casting process, I'm looking for the person as much as I'm looking for the actor because we need to make sure that person gets along with everyone on set and we've got a nice environment.
Where do you find talent outside of submissions from agents?
A lot through acting schools. There are different three-year courses and then the part-time course and all of that. And now, because there are so many different ones out there, that's kind of a great place to discover people. The theater as well, normal theater but then also musicals. I try and get out and see as much theater as I can. It's also word-of-mouth because someone might recommend someone else and I'm pretty open. I don't mind if actors email me directly. Sometimes I shoot myself in the foot a bit because I get millions of them emailing me because they know I've got that very open-door policy. But it's great because you never know, I could be looking for someone on that day when they shoot me an email and I don't have time to respond to them all but it's great that I can just check out someone's work. Some casting directors might have their go-to agents, but I brief Australia-wide every single character. If it's going to be a big part or a regular, I'll make sure that I give every agent and actor the opportunity to at least pitch themselves to me. That's how I learned to cast in the U.K. Obviously you've got your A-list or B-list, but you've got to give them the opportunities because you never know where you're going to find people.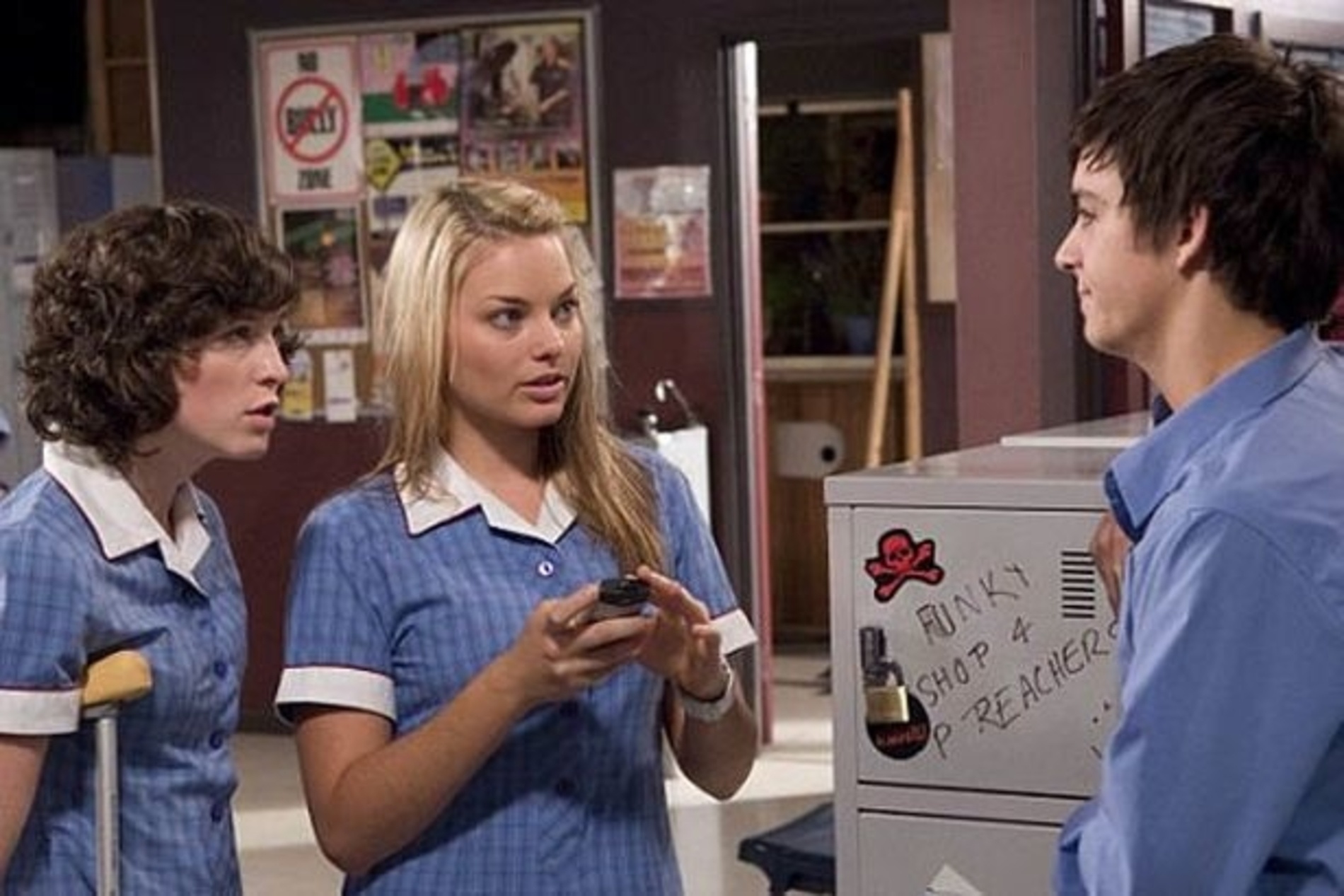 How can actors have the best chance of getting noticed by someone like you, especially without representation?
As an actor, you've got to work hard, look at your career like a mini business, and really pitch yourself. Agents can do so much, but as the actor, you've got to put yourself out there as well. I know that from my acting background.
How does your experience as an actor inform how you cast?
I understand the process and I really have respect for the actors so I want to give them all a go. I know that they've only got 10 or 20 minutes with me, but they've spent days upon days learning those scripts and making choices. I know the pressure that they put on themselves. I want to make sure that I give them the very best opportunity ever. In the room, I want them to feel comfortable and have a good experience. It's not like the old days of casting where it's like an exam, it's more about working together. I understand the whole behind-the-scenes part of it. As an actor, you put such pressure and you start to analyze every little thing you did in the audition. You don't realize that there are so many different reasons why you do or don't get that role. Sometimes an actor could come in and be the best person for the role but I actually want to save her for a different role down the track, or it might be that maybe the director and the producer love her but we just can't get her through the network. It's very unusual because normally we would all work together on that, but sometimes that can happen. It's like putting a jigsaw puzzle together with the cast as well. We could be looking for a different element, so that person might be too similar to someone else who we've already got in the cast.
Health and wellbeing resources Australian actors can access right now.
What career advice do you have for actors, especially those just starting out?
You have to keep up the training and get yourself out there. Really make sure you have the package together—really good headshots, a good showreel. Look at it like a little mini business for yourself. I think that's really important because, as I said before, your agents can do so much, but I think you really need to market yourself. In Australia, our industry is not massive. It's not like the U.S. and the U.K., but still, you need to stand out. I think having that training and learning and just keeping yourself open to that whole world is really important.
What audition advice do you have for actors?
Think of the audition as the performance rather than the end result. Enjoy that time when you're actually in the room with the casting director; that's the heart of what you're doing. Also, you can learn a script, make choices, and all of that, but always do be flexible to take direction. Don't get too set in the way in which you think the script is. I might want to play around with you because I don't have a director in the room and I'm not sure how that director wants to work with you. Being flexible is really important.
What can an actor expect from auditioning for you?
When they come into the room with me, generally, we'll do a little chat to camera. That really is used to just make them feel comfortable and for me to get a sense of their personality and what they're like as a person. I obviously already know what credits they've got. Then we'd play around with the scene so I'd do a couple of takes. Normally in the room you'd just have me and one of my assistants. Sometimes I'll read opposite. I do enjoy reading opposite actors because I have an acting background, or I might get one of my assistants to read opposite, depending on what the character is.
What shouldn't people do in an audition for you?
It's the most obvious, but be unprepared. It's a total waste of time for them and for me, as well. There's a difference between someone getting nervous and losing their lines or clearly not being prepared. Hundreds of people will be put forward to me and I'm only going to see 10 or 20 or 30, depending on the character. Being unprepared is the most disrespectful thing anyone could ever do, and it surprises me because it does happen. It can happen with actors of a very high caliber and then actors who maybe are just starting out. It's just bizarre with the excuses sometimes people come up with. Also, be on time. You've got to stick to a schedule and be there and work. This is like a job interview, really. When people come in the room, they sometimes sort of ramble on. You're [supposed] to have a chat to camera and sometimes I'll ask if they have questions. Instead, they'll start giving me a rundown of what the whole character is about and what the script's about but it's not like I'm asking that question. It's sometimes just nerves and I understand people get like that.
"In Australia, our industry is not massive. It's not like the U.S. and the U.K., but still, you need to stand out. I think having that training and learning and just keeping yourself open to that whole world is really important. "
What are the similarities and differences between the industry in Australia and a bigger market like the U.S. or U.K.?
I don't see them hugely different. Here it's a much smaller market, like the amount of casting directors in Australia is such a small pool, whereas in the U.K. it's so massive. When I was in the U.K., they had all their own little casting studios set up and they do it all and they deliver it to people. Here, I had to start from scratch, so I need to have my own casting studio. I've got to work out the camera and uploads and this and that. So it's that technical side as a casting director. For actors, I think it's more the scale. I do find that with U.S. stuff as well, the difference is they do seem to give actors a lot more scripts to learn than here and their turnaround is much faster as well. Also, in the U.K. they didn't get up and move around as much as Australian actors. They would be more in the chair with the script, it's a little bit more serious. In the U.S., actors there have their script in their hand whereas we would never have scripts in hand. My reader would help them if they lose a line, and you're not having that many pages.
Your guide to the perfect self-tape.
What advice do you have for Australian actors who want to work in a larger market
Coming from an acting background, I think you need to try and do all the groundwork from here before you want to travel. Make sure you've got those credits behind you, you've got a really good showreel, you've got your headshots, and you do the research and setting up meetings with U.S. reps and U.K. reps. The way that everything's so digital and especially in America, people can have reps over there now, so I think you need to make sure you've got that package together. The great thing now is because it's also accessible with self-tapes and all of that. Everyone is doing worldwide searches for so many different projects. There are so many opportunities out there. You need to also make sure you've got those accents, your U.K. accent, and U.S. accent, down pat, like you can't do it halfheartedly at all because you only really get one shot at it. The sort of tricky thing is obviously visa and stuff like that. You need to probably set it all up from here. I think so many actors can make the mistake and go, "I'm just going to go and live there," and they think it's all going to fall in their lap, but it's actually quite hard.